Kichisen

京懐石 吉泉
Kyoto
Japanese Cuisine
The ultimate in seasonal tastes, comfort and hospitality
Kichisen is located near Shimogamo-jinja shrine, a UNESCO world heritage site, on the edge of Kyoto and next to the forest "Tadasu-no-mori," the last remnants of a 2,000-year-old woodland. Yoshimi Tanigawa is the head chef of Kichisen, which has been listed consecutively in the Michelin Guide as 3 Stars from 2014-2019 and is listed in the 2020 Michelin Guide as 2 Michelin Stars. 
Kichisen focuses on serving the authentic hospitality cuisine in the tradition of "cha-kaiseki" and has small private dining rooms and counter seating for up to five guests.
In Japanese, the word "gochisō" (feast) originally meant that the host had raced around on horseback to gather the ingredients for his guests' meals, and thus expressed hospitality. Kichisen follows this philosophy and gathers delicious seasonal ingredients from throughout Japan to serve to its guests.
At Kichisen, you'll find a certain story, rhythm and subtle charm which often pervades the progression of the courses in Kyoto cuisine.
Address
5 Tadasu-no-mori (Morimoto-cho), Shimogamo, Sakyo-ku, Kyoto

Address in Japanese:
京都府京都市左京区 下鴨糺ノ森(森本町)五
Business hours
Lunch: 12:00 PM
Dinner: 18:00 PM, 18:30 PM, 19:00 PM
Closed
Irregular Holidays
Directions
We recommend taking a taxi to the restaurant.
-15 minutes by taxi from JR Kyoto Station.
-5 minutes by taxi from Imadegawa Station on the subway line.
-10-minute walk from Demachi-yanagi Station on the Keihan line.
Price
Lunch Menu
¥15,000 (¥16,500)
¥17,000 (¥18,700)
¥20,000 (¥22,000)

Dinner Menu
¥24,000 (¥26,400)
¥29,000 (¥31,900)
¥35,000 (¥38,500)
¥40,000 (¥44,000)

Kids Menu
¥4,000 (¥4,400)
¥8,000 (¥8,800)

※Restaurant service charge and tax included in the price in parentheses.
Service Charge
15% Service Charge
Seating
4 Private Rooms (One Tea Room) / Counter Seating for 4 guests
Smoking
Prohibited
Children
Children are welcome, however, please confirm at the time of the booking.
※ Please order a course for each child 3 years and older.
Dresscode
please refrain from overly casual attire such as short pants, sandals and sportswear etc.
Please also refrain from the wearing of cologne and perfume and please wear socks.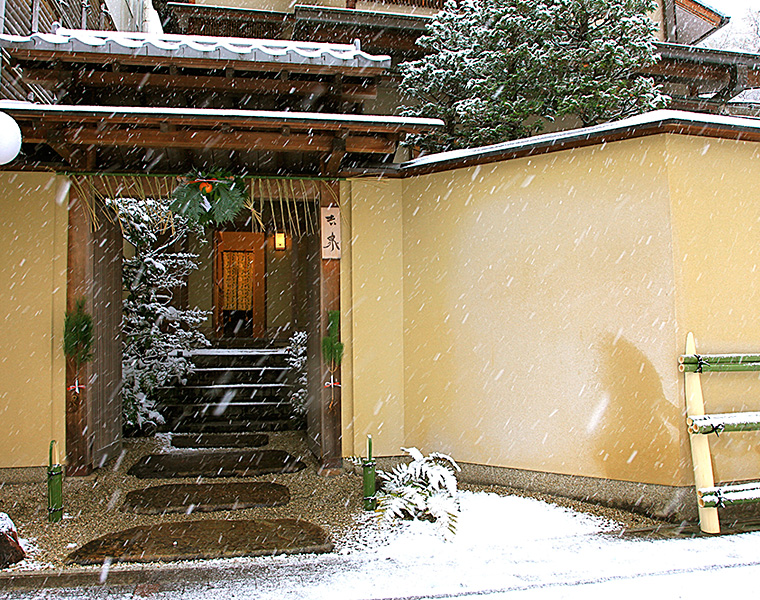 5 Tadasu-no-mori (Morimoto-cho), Shimogamo, Sakyo-ku, Kyoto

Address in Japanese:
京都府京都市左京区 下鴨糺ノ森(森本町)五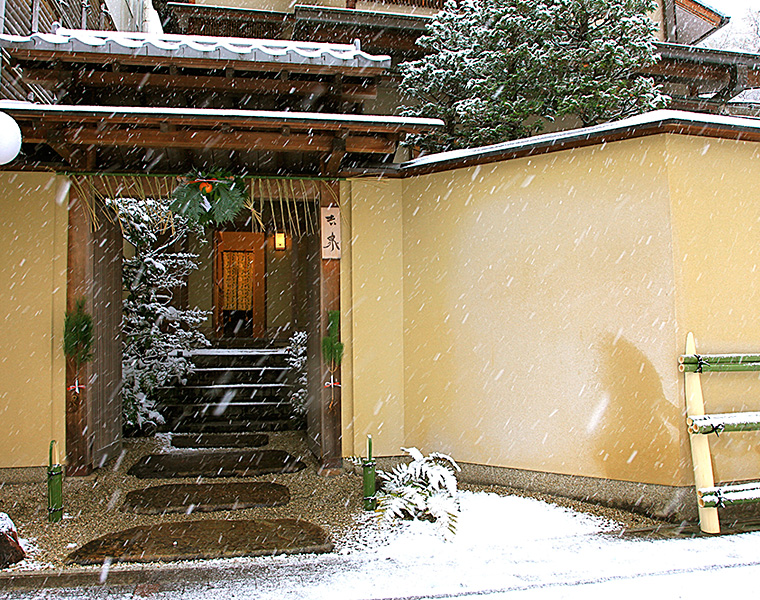 Search
restaurants Nearby