Ichijunisai Ueno Toyonaka is a 1 Michelin Star restaurant nestled in a quiet residential area of Toyonaka City in Osaka. I had heard great things about their traditional Japanese cuisine and so was very excited when the day of my reservation finally arrived.
While I had heard that most guests who were just visiting Osaka generally took a taxi from Umeda or Toyonaka station, as a nearby resident I opted to take the Osaka Monorail to Shoji station, the station closest to the restaurant. The child in me really enjoyed the ride on the elevated tracks and I'm sure railfans and train enthusiasts would likewise. The walk to the restaurant was a 10 min trip, first alongside a very big road and then through a typical Japanese residential area.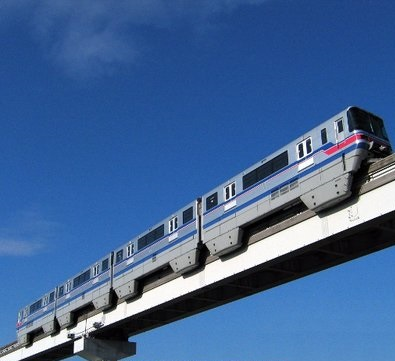 Upon arriving at the restaurant and entering through its bicolor noren curtains, my companion and I were politely greeted by the proprietress and ushered to the counter seats on the first floor where our Osusume lunch course (Chef's recommendation) began.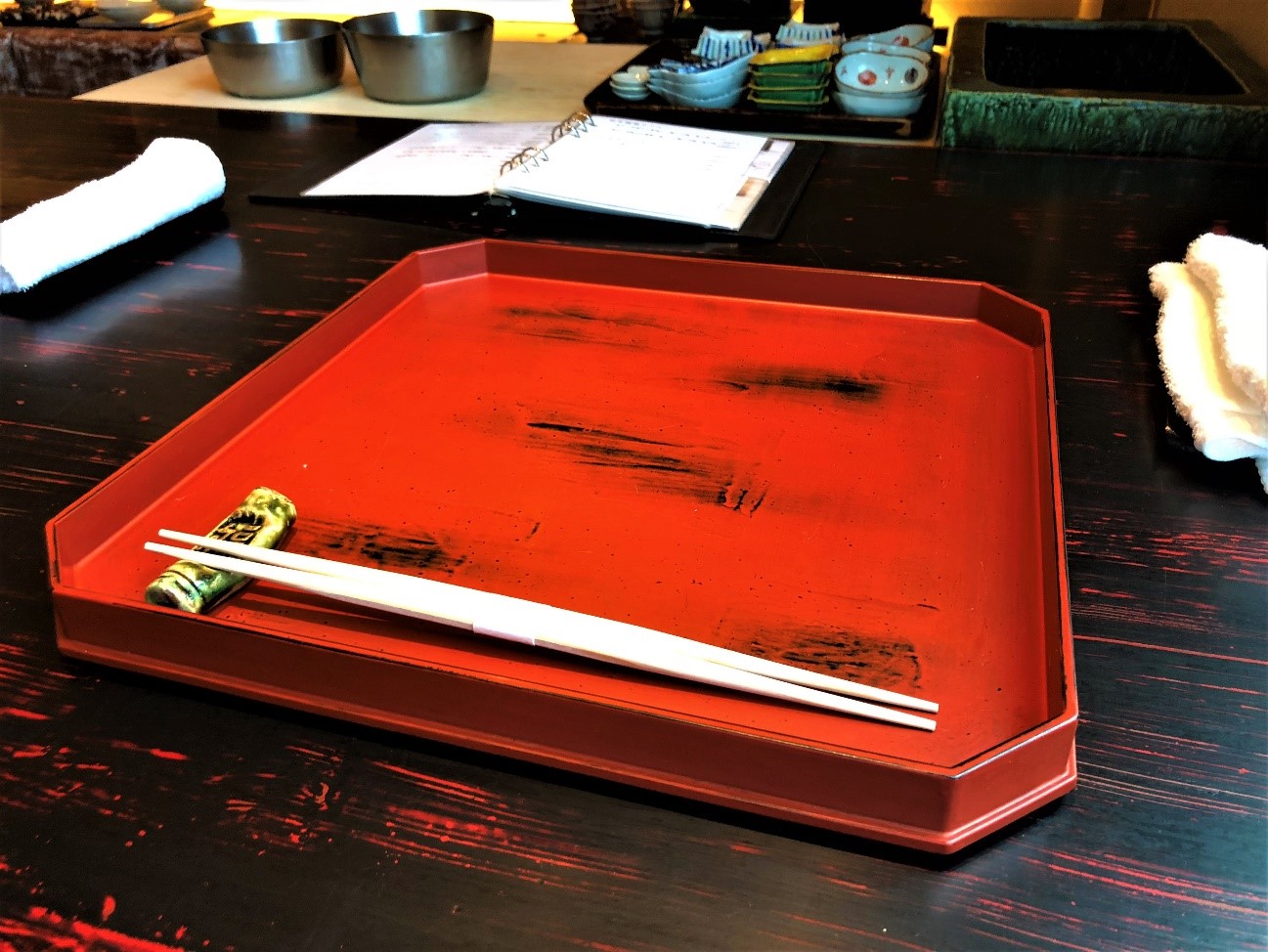 It was here that I learned a very important lesson. As customary, I was asked by the head chef if there was anything I was allergic to or could not eat for health or religious reasons. I replied that I did not, and it was only moments after the chef left our side that I remembered that as a child I would break out into hives by eating mackerel, or saba as it is called in Japan.
However, I was reluctant to call the chef back after he had already began preparing our first dish and so I decided not to bring it up. After all, what were the chances of that one type of fish being served to us in this course?
I am sure you can tell what happened next.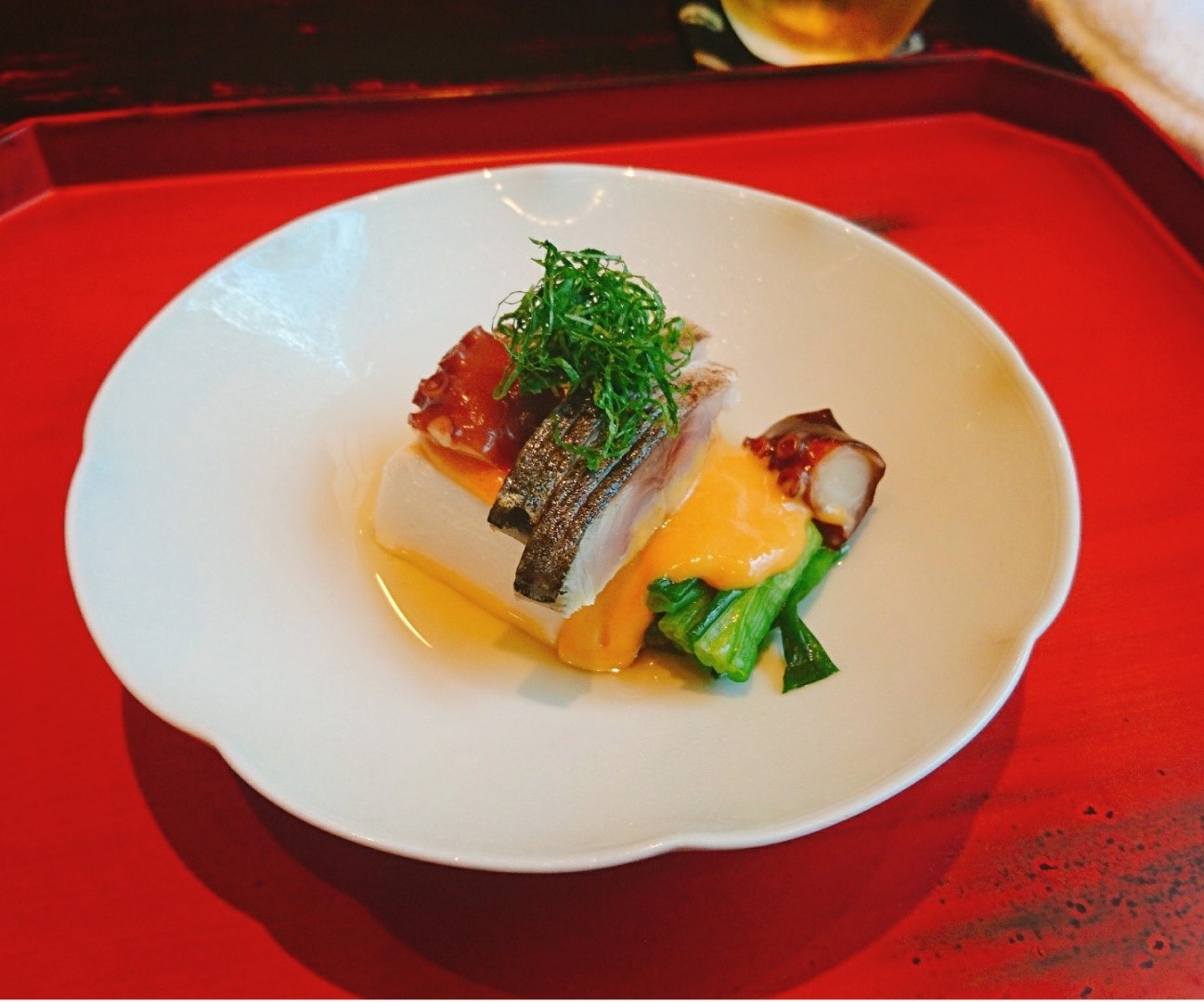 Much to my dismay, the very first dish, the appetizer, was one of two glistening pieces of mackerel placed on tofu, chopped octopus, spinach with a spicy miso sauce. I struggled internally on what to do, as I could most definitely not waste such a beautiful work of art by refusing to eat it and risk offending the chef by doing so.
I decided to confer with my companion who graciously agreed to eat the dish for me while the chef's attention was pointed elsewhere. An itchy disaster had been averted, but I learned a valuable lesson of always being forthcoming regarding allergies.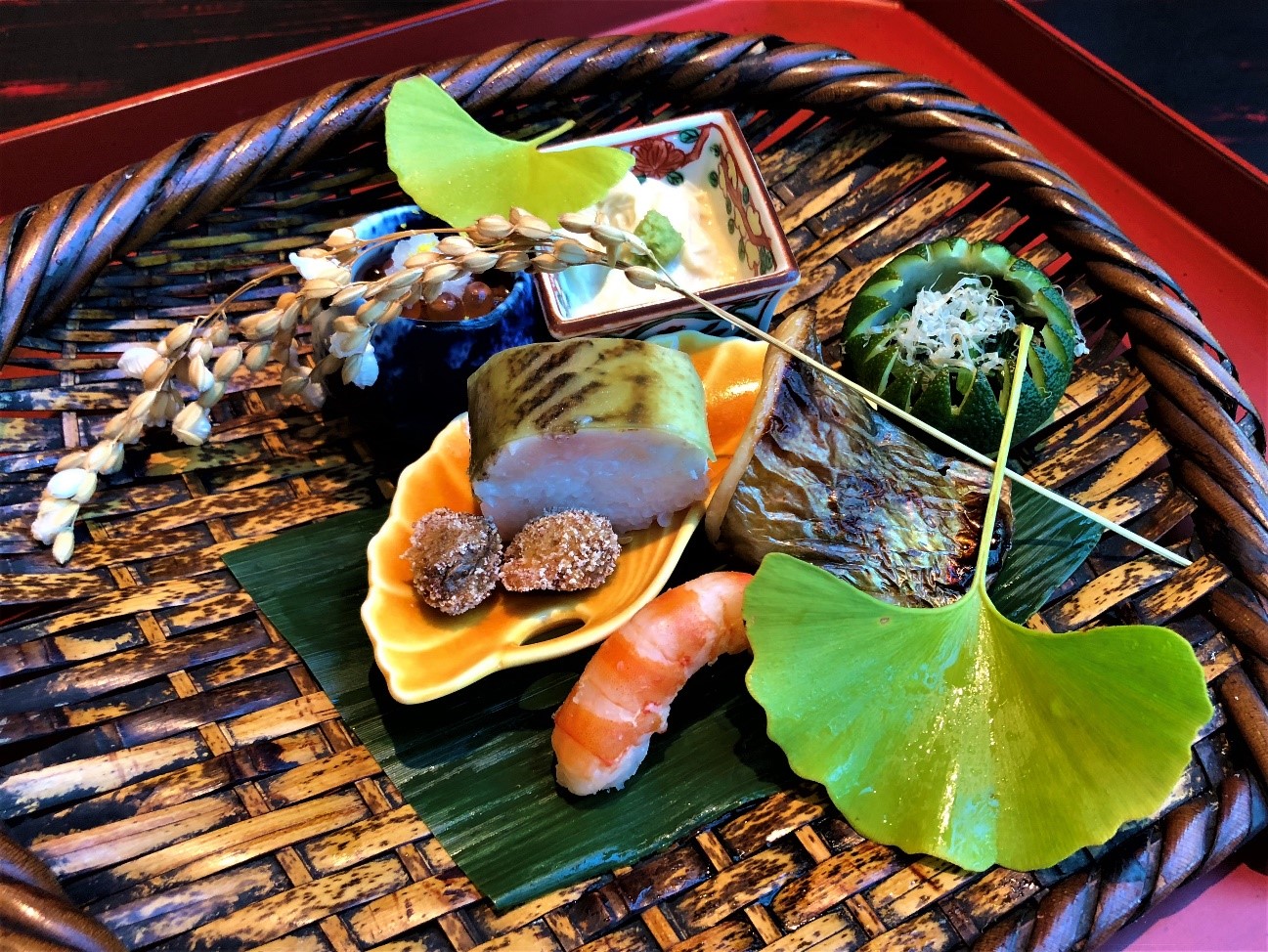 The second dish pictured above was true display of the feel of the current early-autumn season. It placed on a round bamboo wicker tray and decorated with a bamboo leaf, two ginko leaves and a single stalk of rice. The actual dish was of a colorful assortment of foods such as miso-soaked shrimp, seared pike, spinach place inside a blue yuzu fruit, yuba (tofu skin) with fresh wasabi, salmon roe dressed with yuzu juice, all placed around a Japanese barracuda sushi.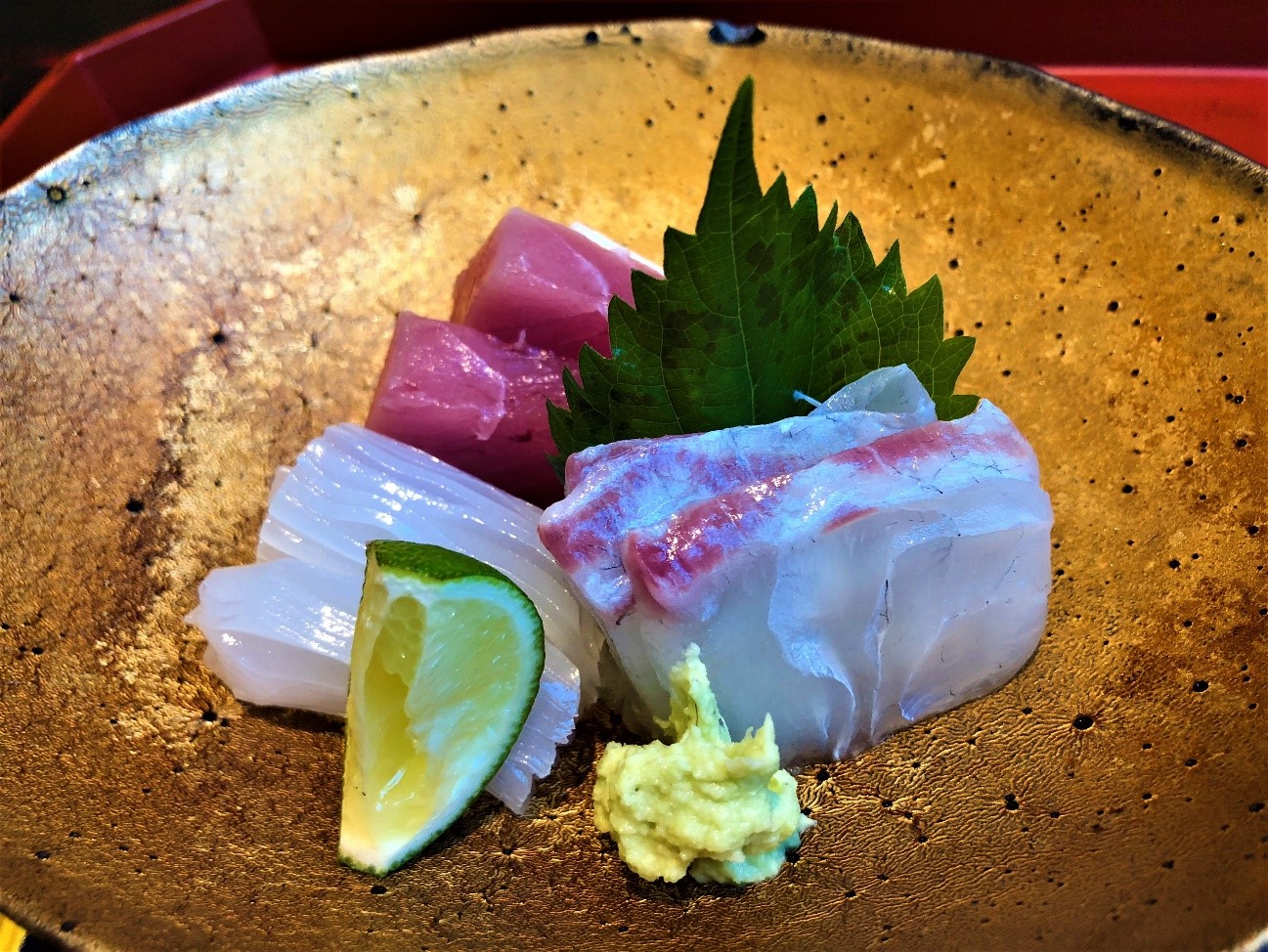 Next came the Otsukuri (pictured above), or the sashimi dish. Unlike the barracuda in the previous dish, the 3 types of seafood it contained were much more familiar to me; Sea bream, tuna and squid. Both the slice of yuzu and grated wasabi on the side was extremely fresh as well and I enjoyed it immensely. The squid in particular was wonderfully chewy and had that thick texture only found in top-quality squid.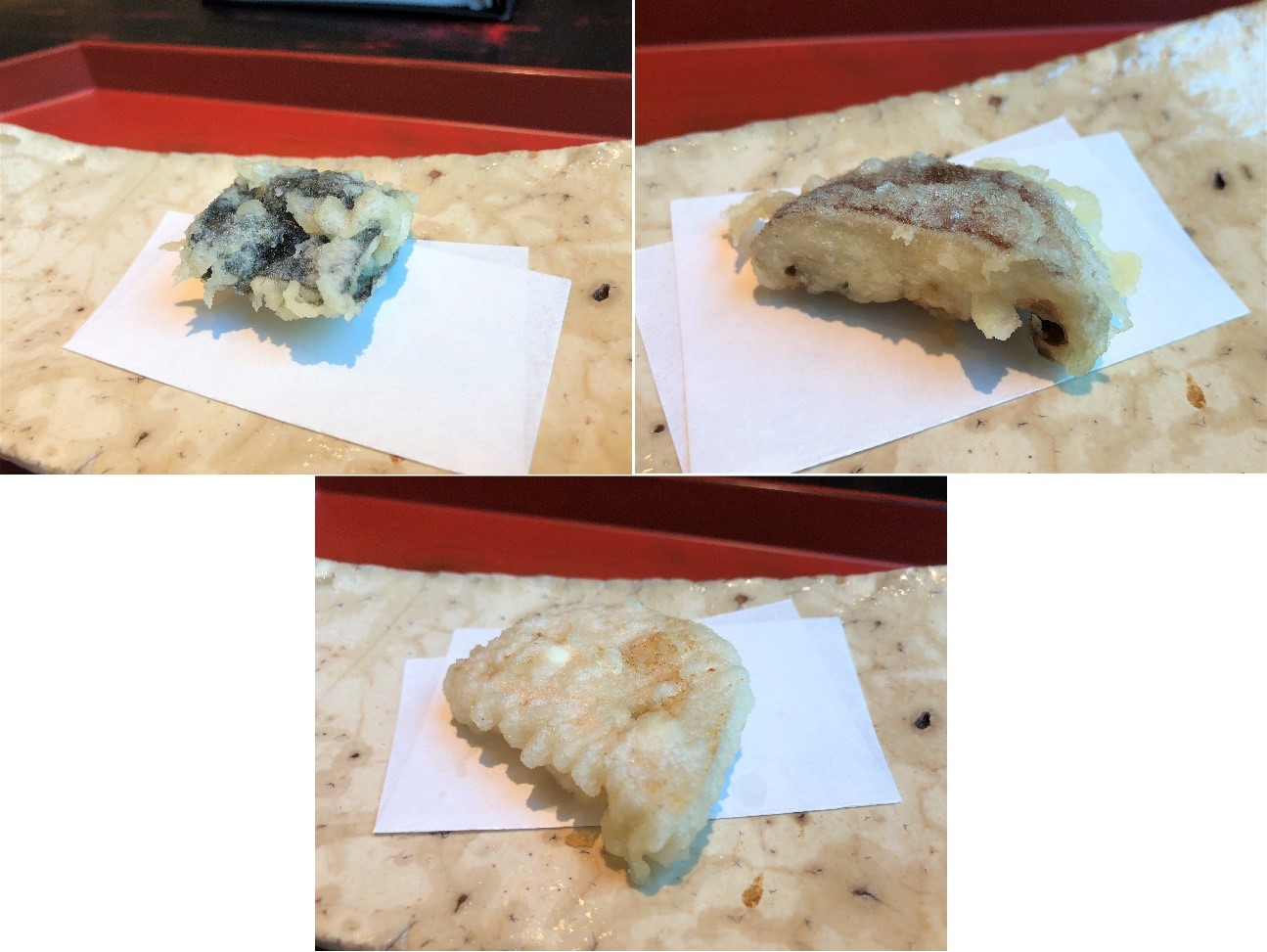 The fourth dish was different 6 types of tempura and they were served to us almost straight out of the pan one by one. Each sizzling piece was cooked perfectly, and I especially enjoyed the fragrance of the shiitake mushroom tempura.
Top-left: Salmon wrapped in seaweed tempura. 
Top-Right: Shiitake mushroom tempura 
Bottom: Lotus root tempura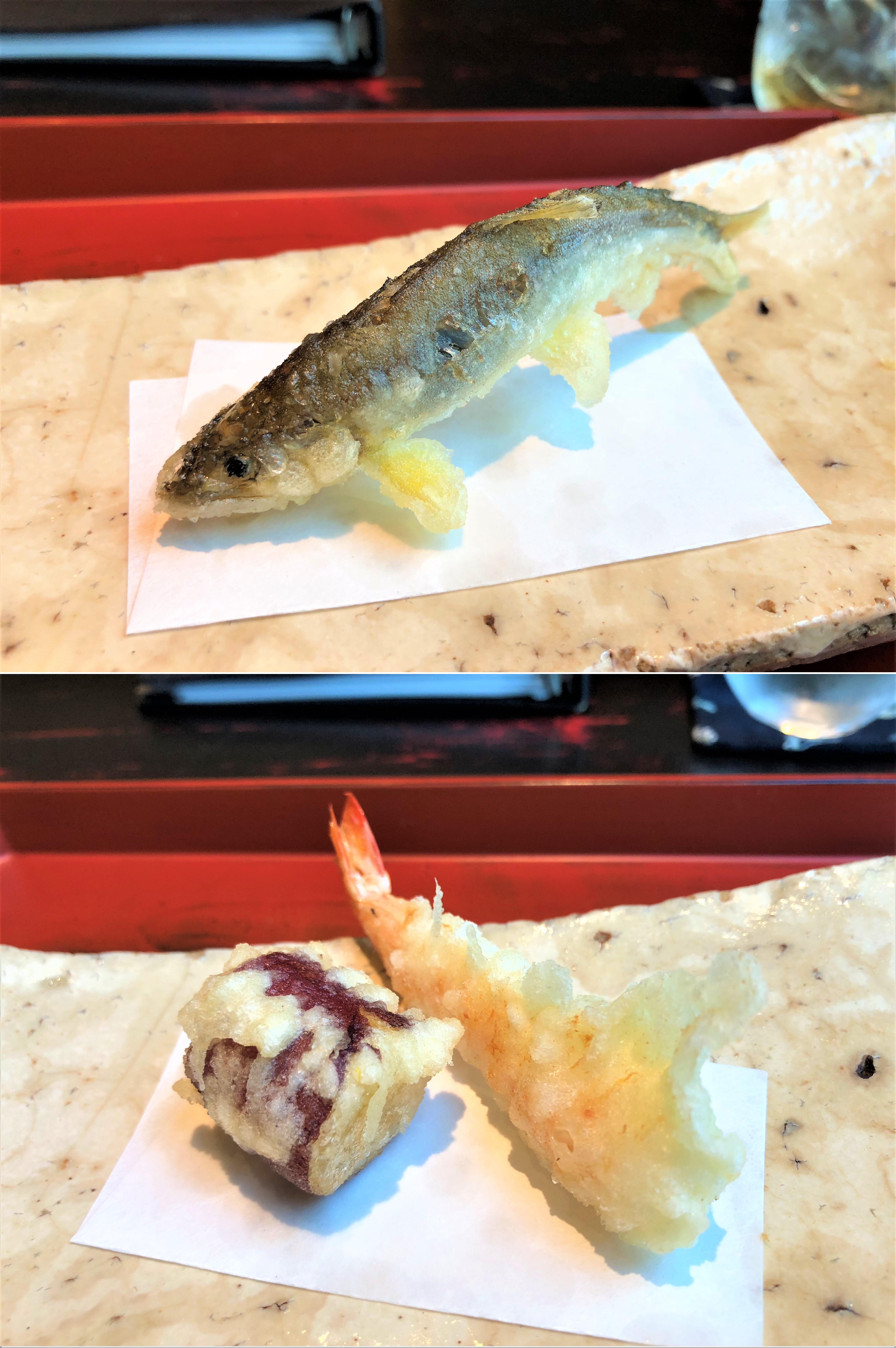 Top: Ayu sweetfish with roe tempura 
Bottom: Shrimp and sweet potato tempura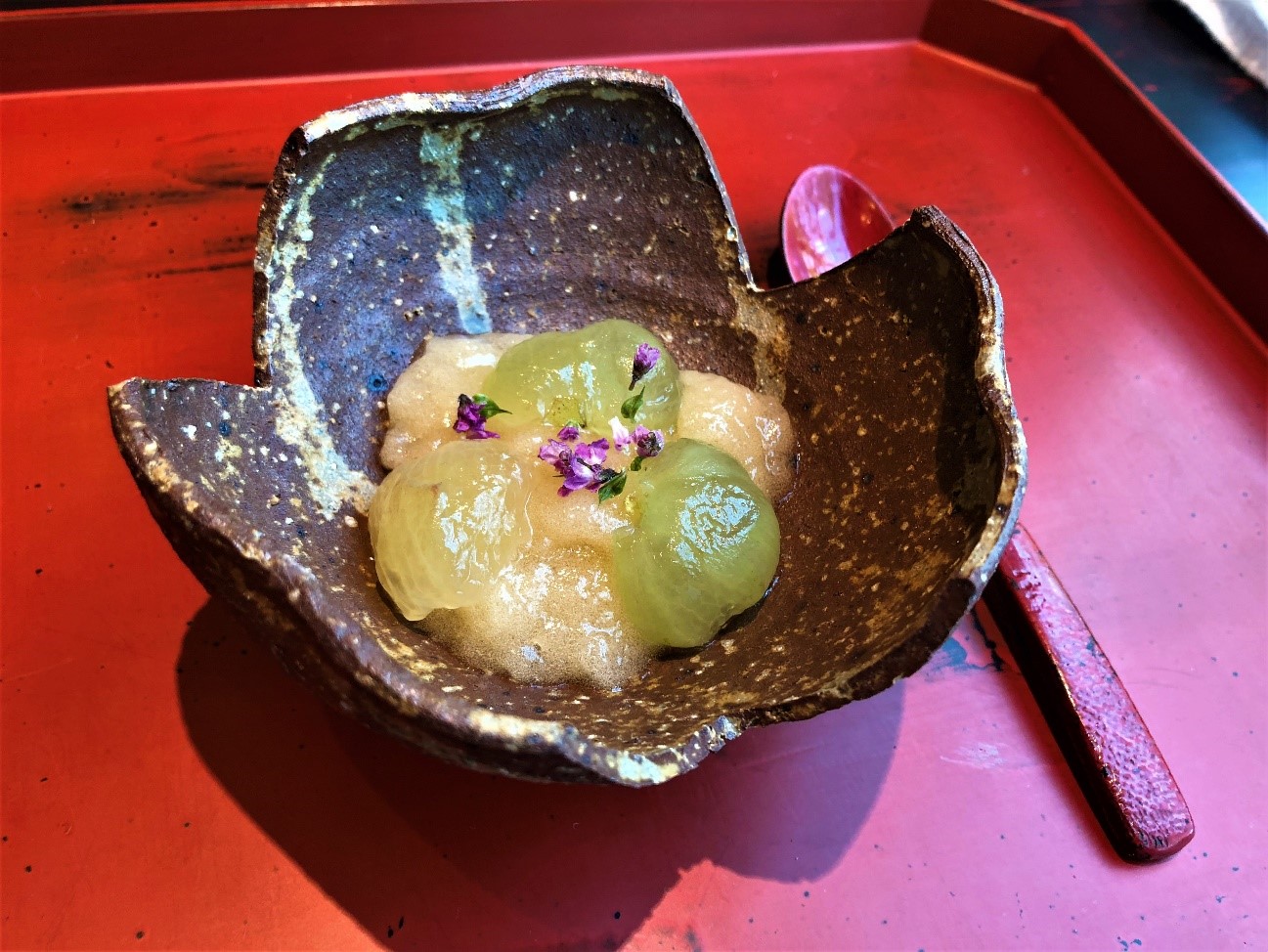 The fifth dish was the one that I found most interesting out of the entire course. Up until this point, while eating I had observed a young cook carefully peeling Muscat grapes and I realized that this was the dish he had been preparing them for. The dish itself was fairly simple, with three peeled grapes placed on top of a ginger-based mousse. However, the taste was a more complex matter with the pungent spiciness of the ginger a stark contrast against the juicy sweetness of the grapes. It was extremely stimulating, and I had never tasted anything quite like it.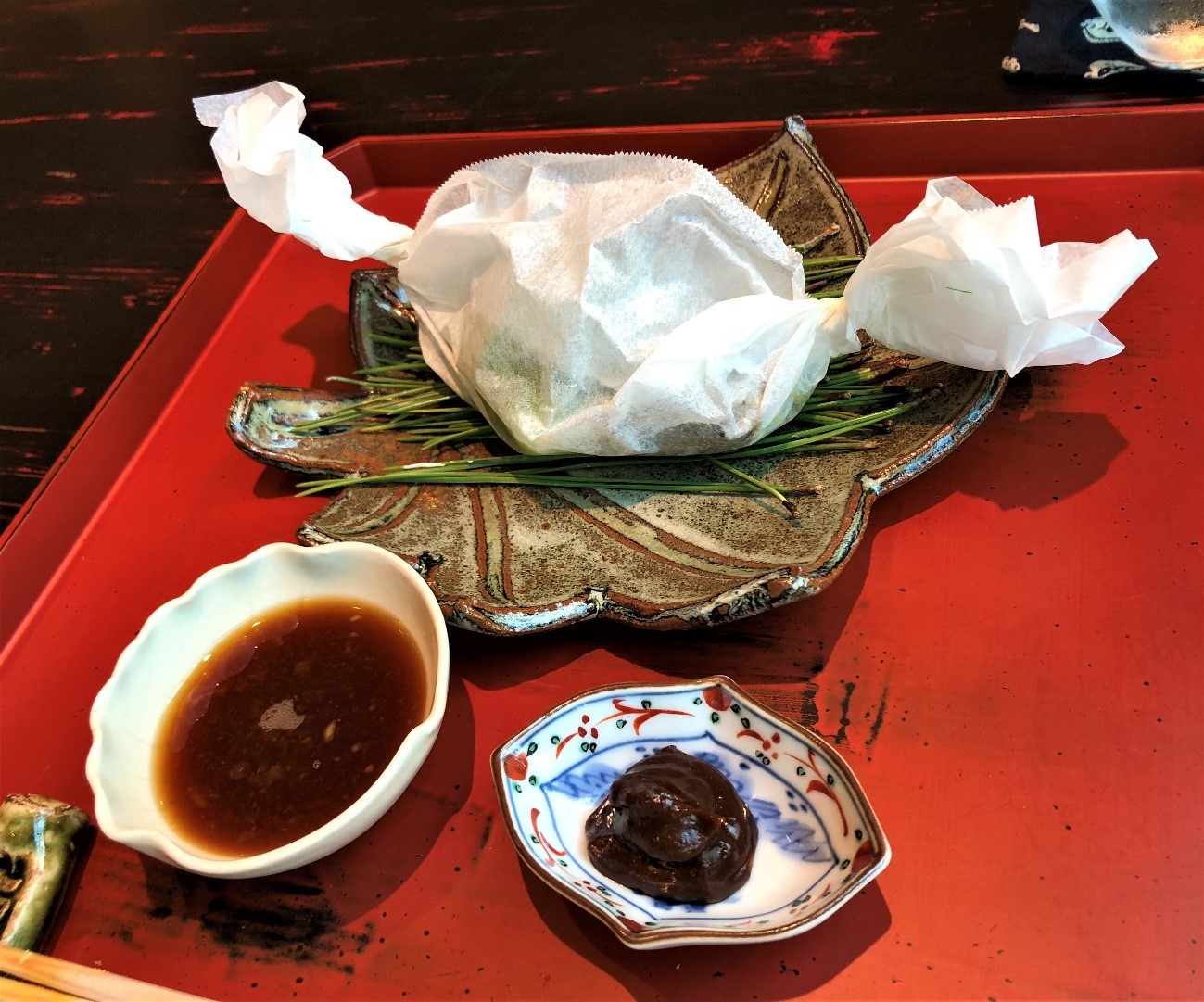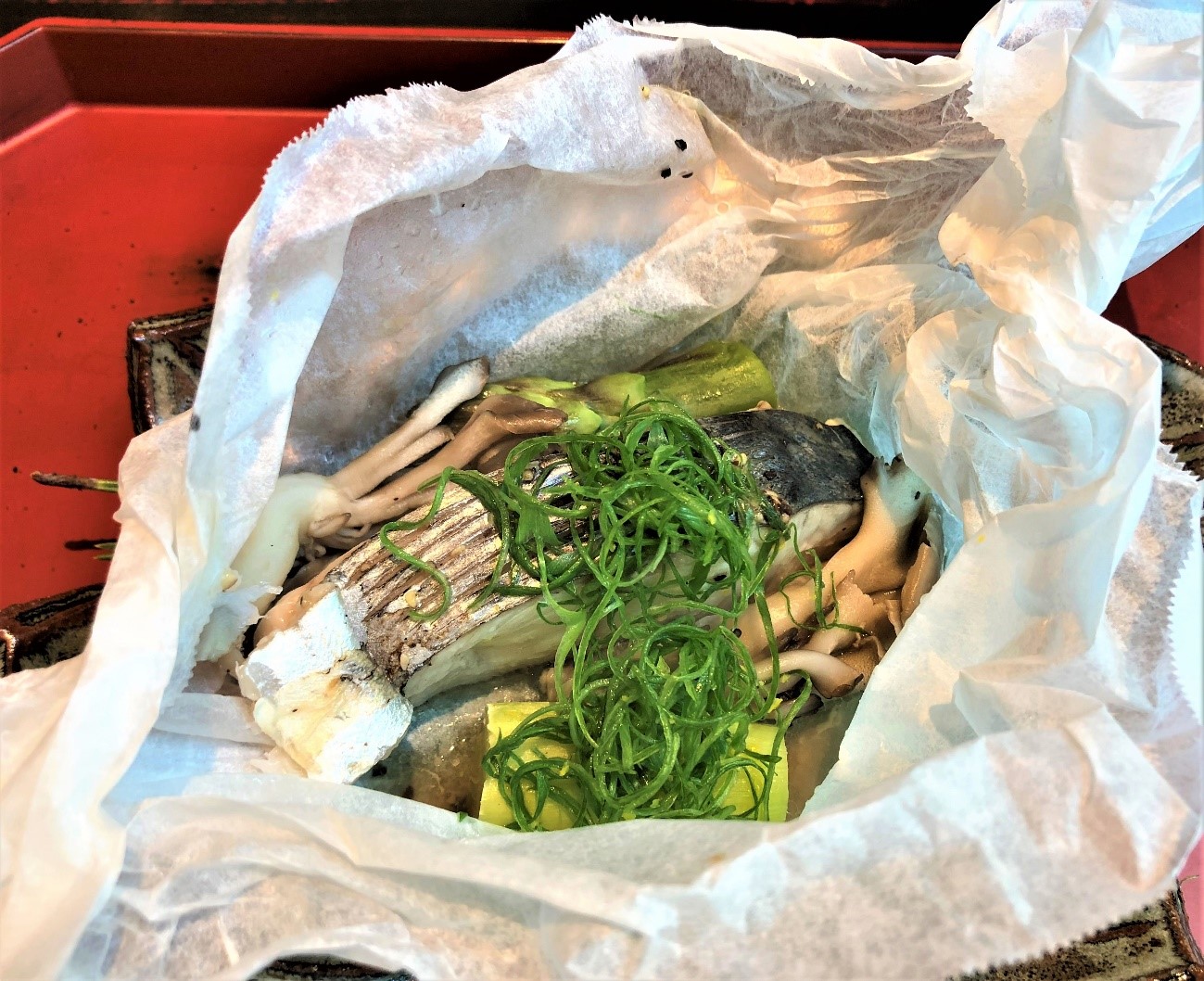 The sixth dish was almost like a secret gift. Opening the pouch of rolled parchment paper placed on top of a Japanese maple leaf-shaped plate and pine needles revealed fish, shimeji mushrooms. asparagus and spring onion wrapped and cooked together. The juicy fish had soaked up the rich flavor of the fresh vegetables and was simply heavenly when dipped into the two sauces of ponzu and miso that it was served with.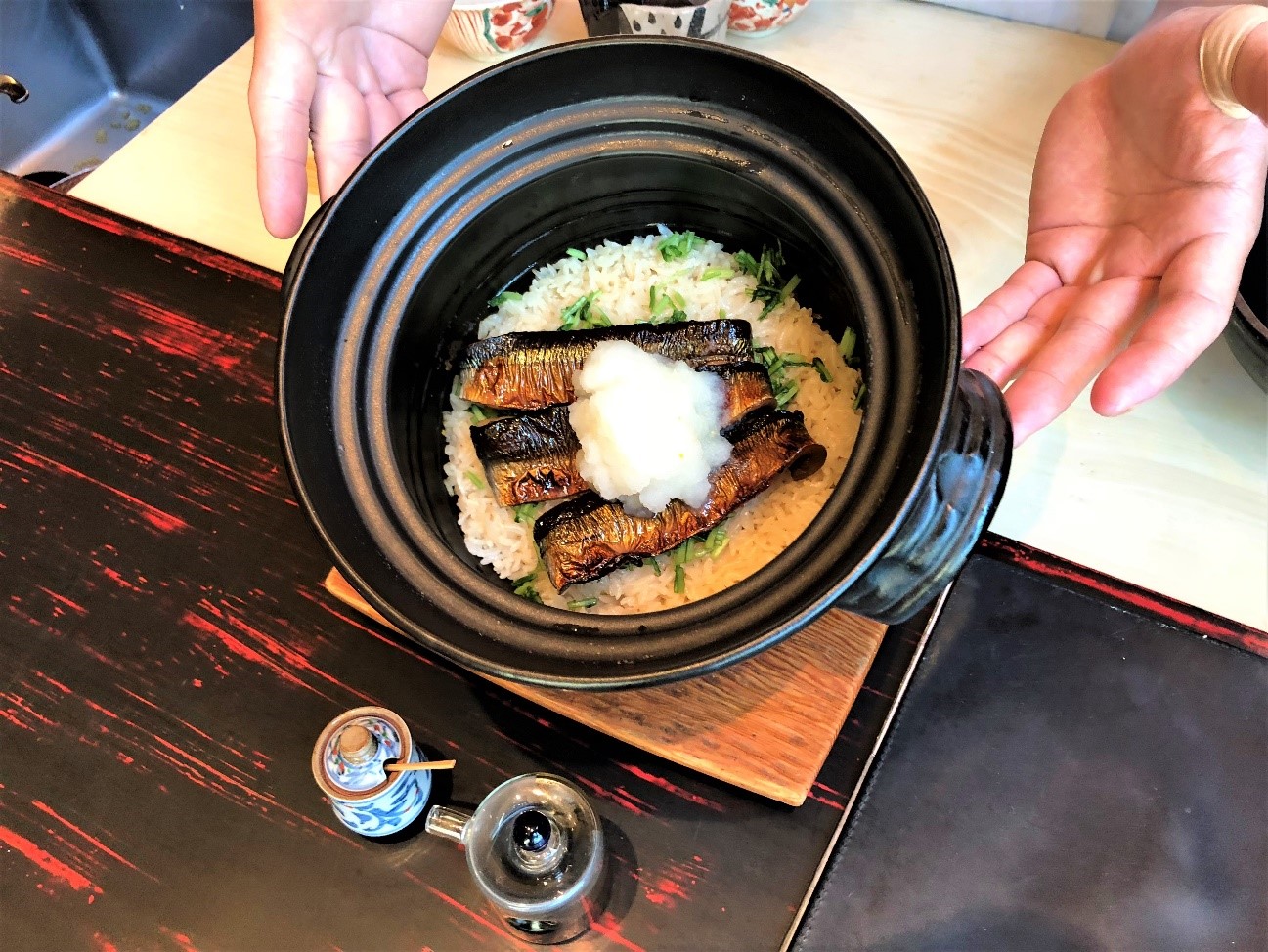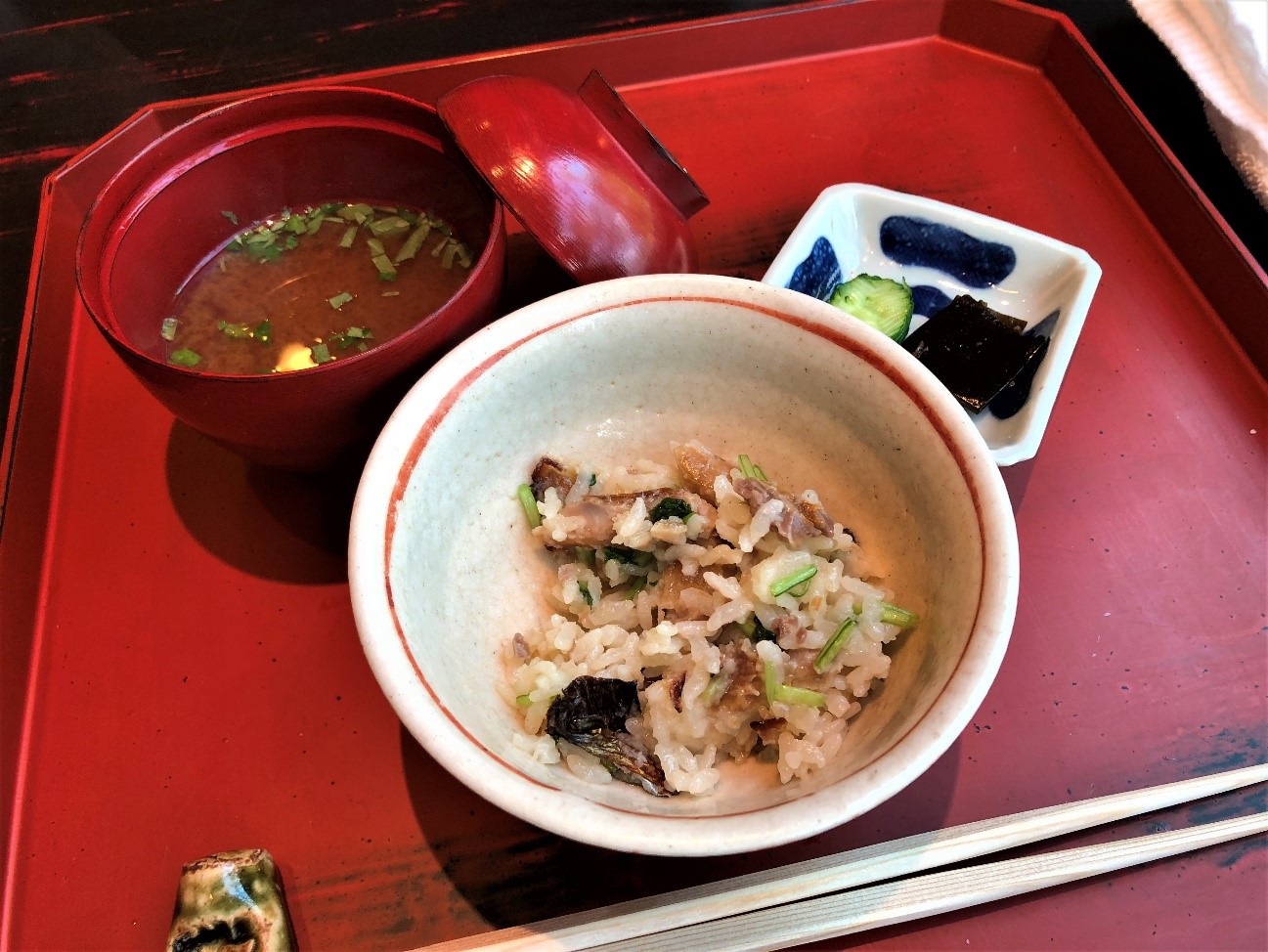 Here the "Shime, the closing dish which typically consists of rice, began to be prepared in front of us by our chef. Cooking in the large black earthenware pot was rice, grilled mackerel pike and greens, topped with grated daikon radish which the chef expertly mixed together when it was ready. The rice itself was of the most premium quality and the traditional style in which it was cooked really brought out its sweetness. The chef let me know that there was still some more left and while I was getting pretty full at this point, I couldn't help myself for a second serving.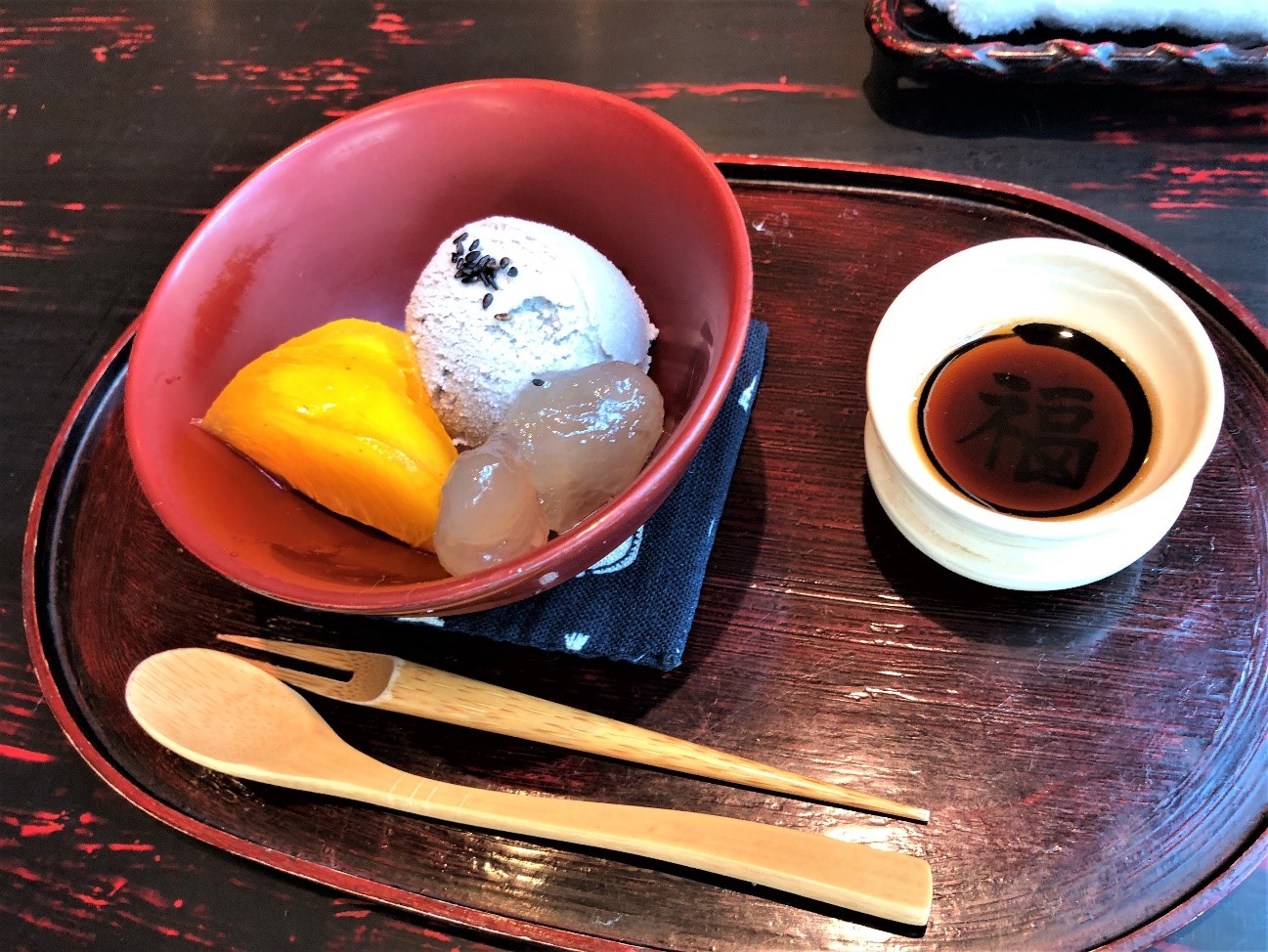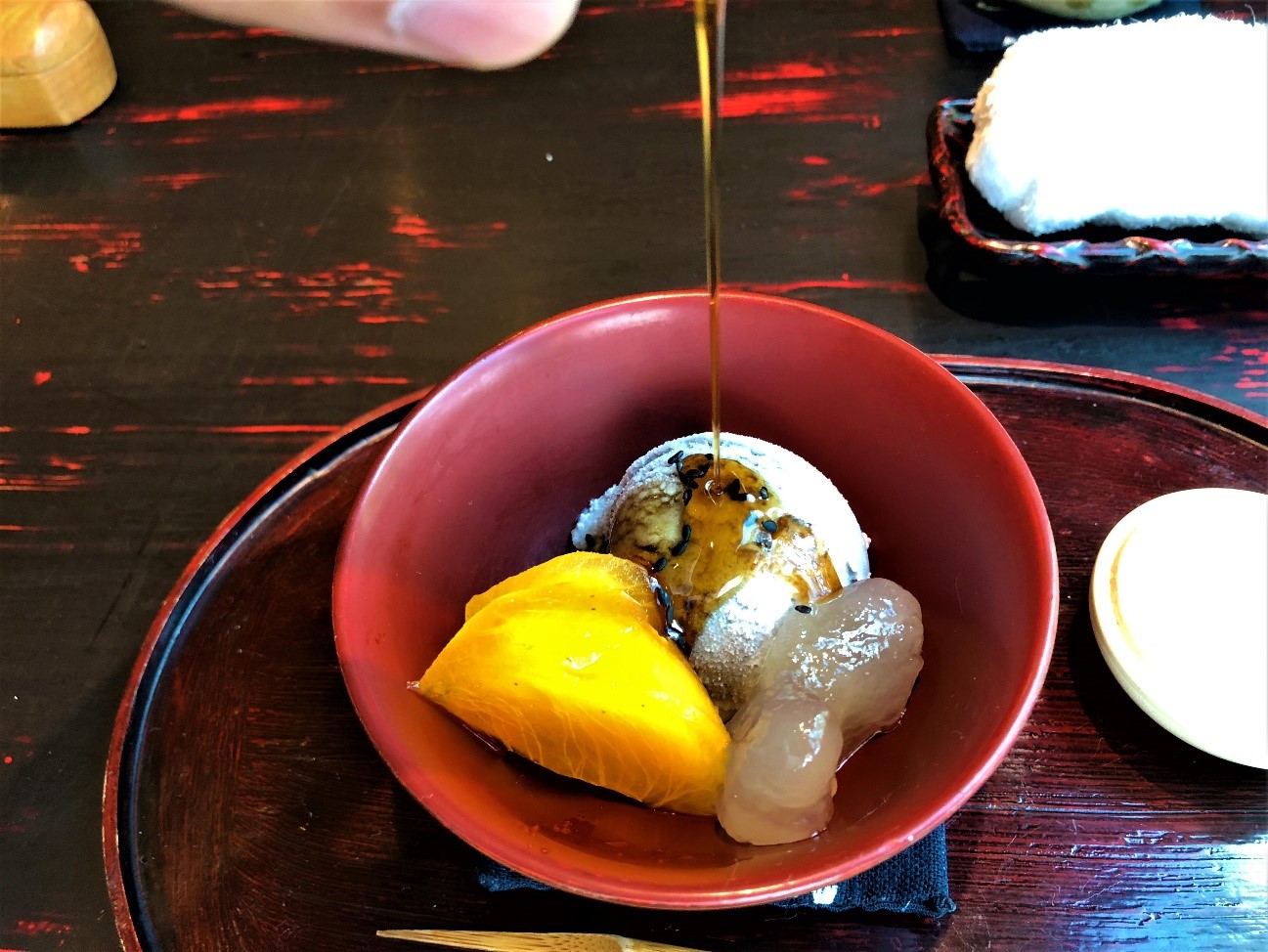 I was now ready for dessert. And it was only appropriate that a traditional Japanese dessert would follow a traditional Japanese meal. Black sesame ice cream, chilled warabi-mochi and seasonal persimmon was served in a red lacquer bowl together with a cup of black sugar syrup which was promptly drizzled onto the ice cream. The slice of the fresh persimmon, or kaki as it is called here in Japan, was quite possibly the sweetest piece of fruit I've tasted so far in my life.
I thoroughly enjoyed my experience at Ichijunisai Ueno Toyonaka from start to finish. I had been seated for my meal at the counter on the first floor, from where I could observe the chefs energetically working, however after my meal I was given the opportunity to have a full tour of the restaurant. I was surprised to see the many different types of rooms they had both on the first and second floor, which ranged from larger rooms with tables to cozier private rooms suitable for couples and families. It was clear they were well-prepared to accommodate any number of guests.
When it was time for us to leave, we were accompanied to the outside of the restaurant's doors by our chef and proprietress in true Japanese hospitality's fashion. Everything about Ichijunisai Ueno Toyonaka; its spirit of hospitality, rooms, dishes and seasonal ingredients, was brimming with the true essence of Japan and it will be an experience I will remember appreciative of for years to come.
Ichijunisai Ueno Toyonaka's Official Website where reservations can be made: