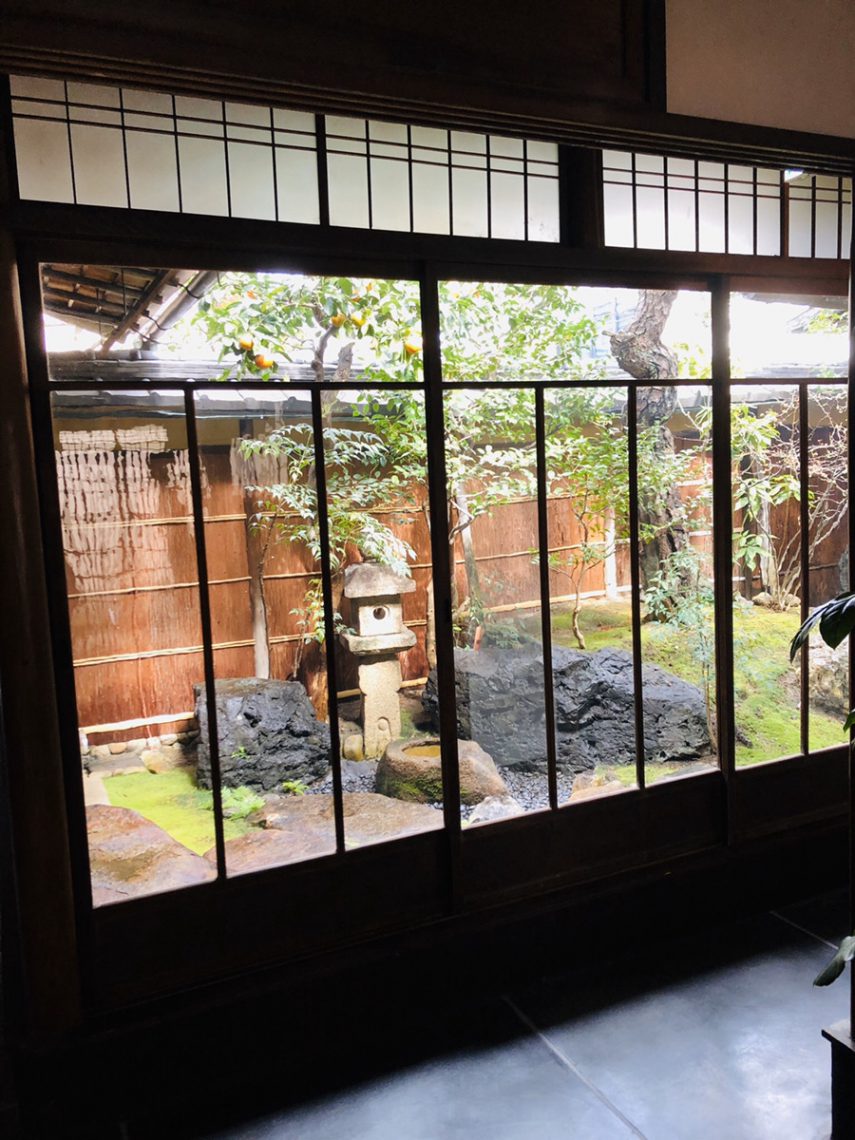 Today we had the pleasure of visiting 2 Star Michelin restaurant Motoi in Kyoto. The chef has over 10 year's experience studying Chinese cuisine which has influenced his cooking style in producing his own innovative style of French and Chinese cuisine.
Those entering the hall of the restaurant can really feel the atmosphere of Kyoto, because of the beautiful garden that comes into view.
Chinese and French fusion cuisine and a beautiful scenic view of the Japanese garden made for a wonderful meal.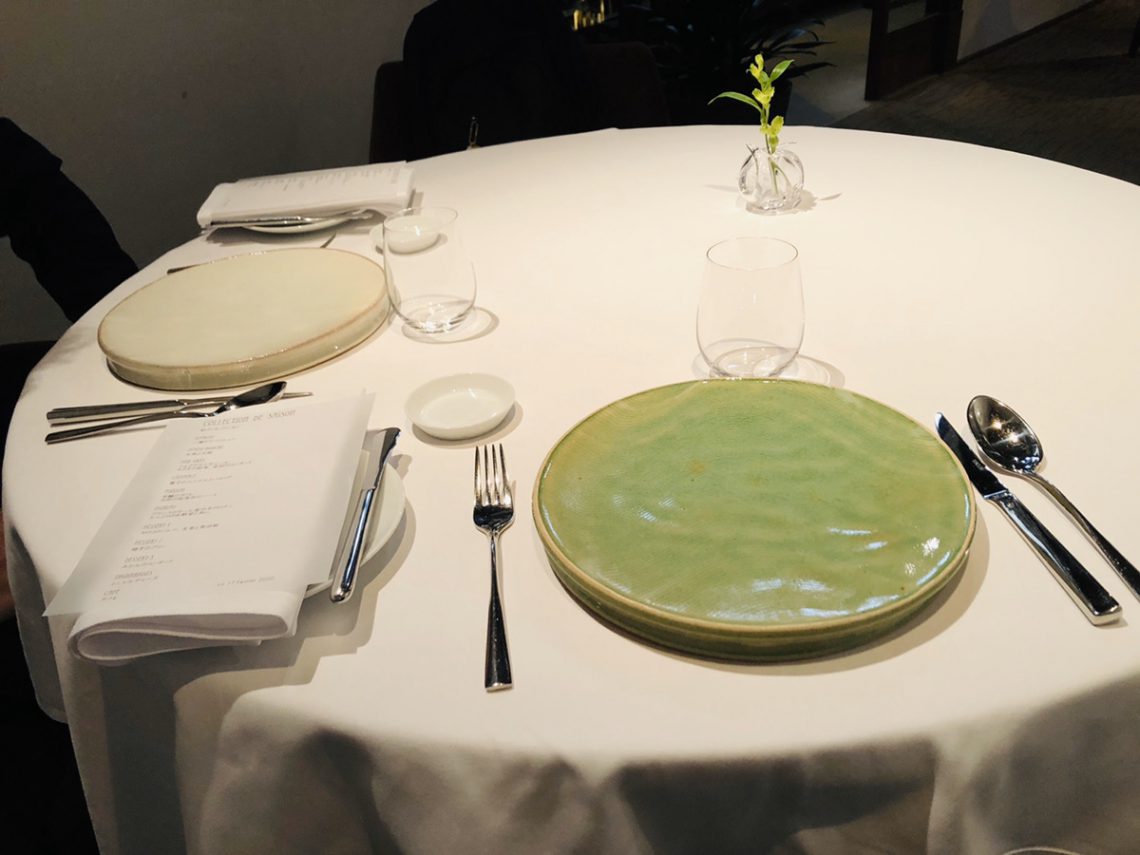 We were taken to our seats and we received the lunch menu.
Since we had made reservations, the seats were waiting for us. Placed on the table in front of us were some glasses, the silverware and the menu on the left side of the picture.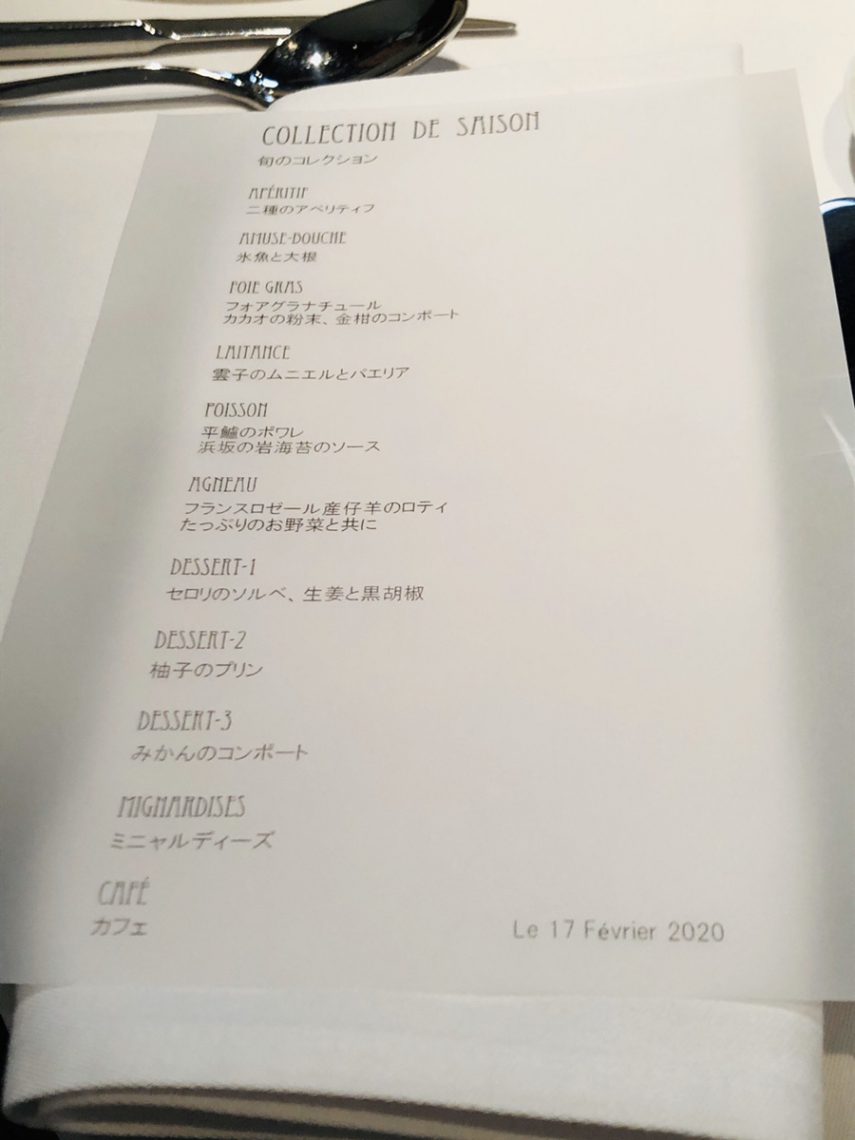 Pictured was the course that was to be provided for our meal.
This is the drink menu. There were a variety of wine on the menu. I really wanted to drink wine but had work to do, therefore I went with a non-alcoholic cocktail.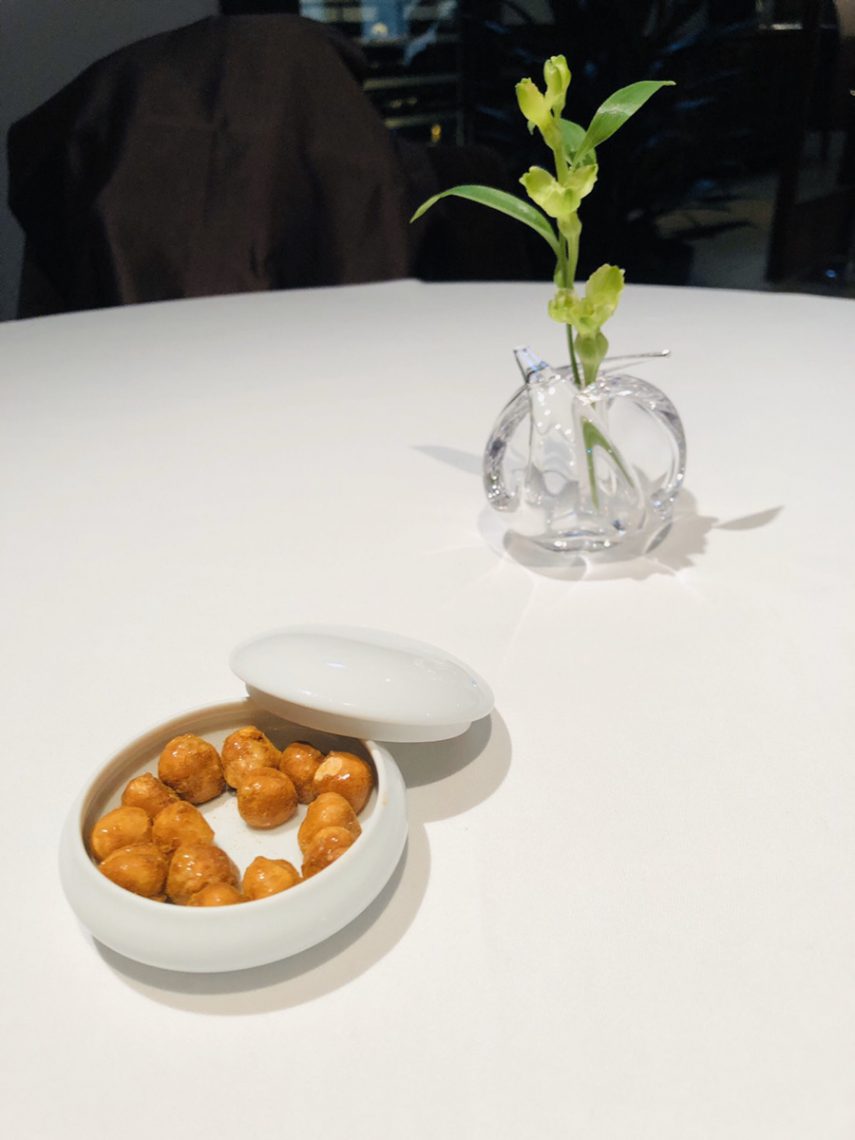 Pictured is some deep-fried nuts to nibble on. It was sweet and smelled fantastic, I couldn't stop myself from taking one after another.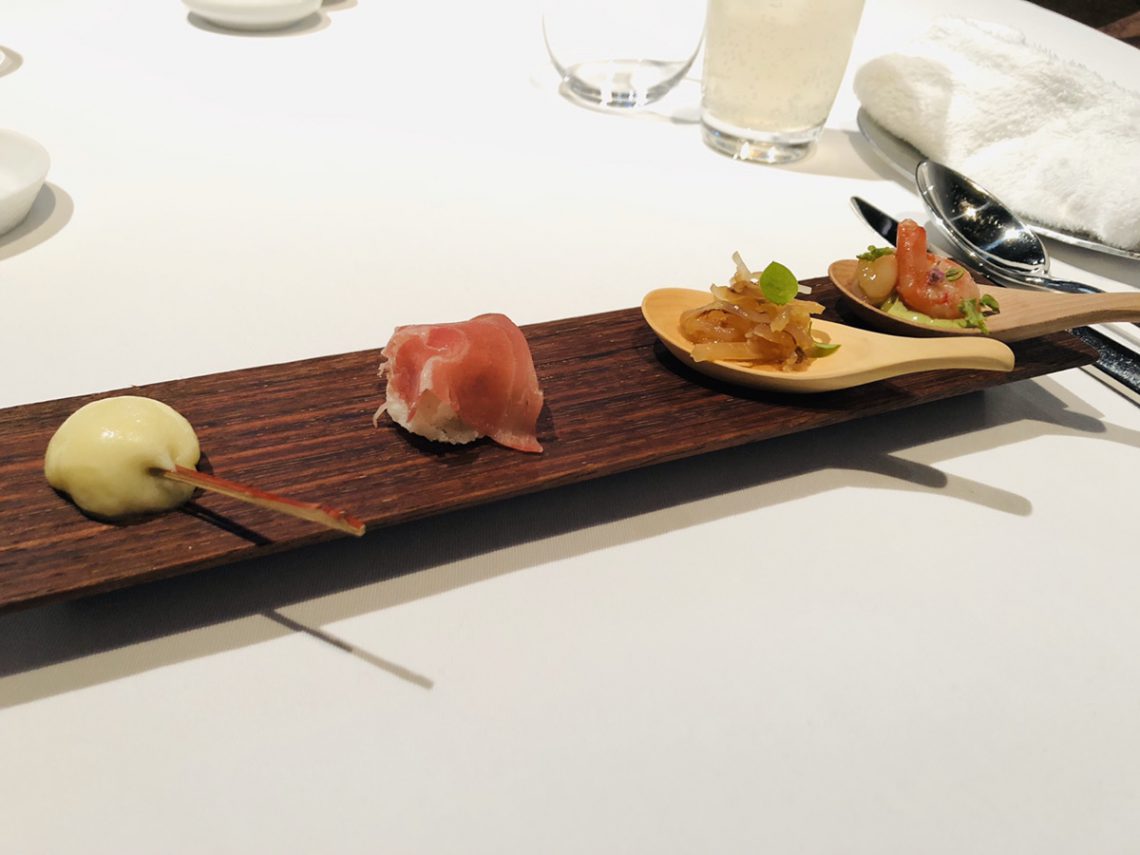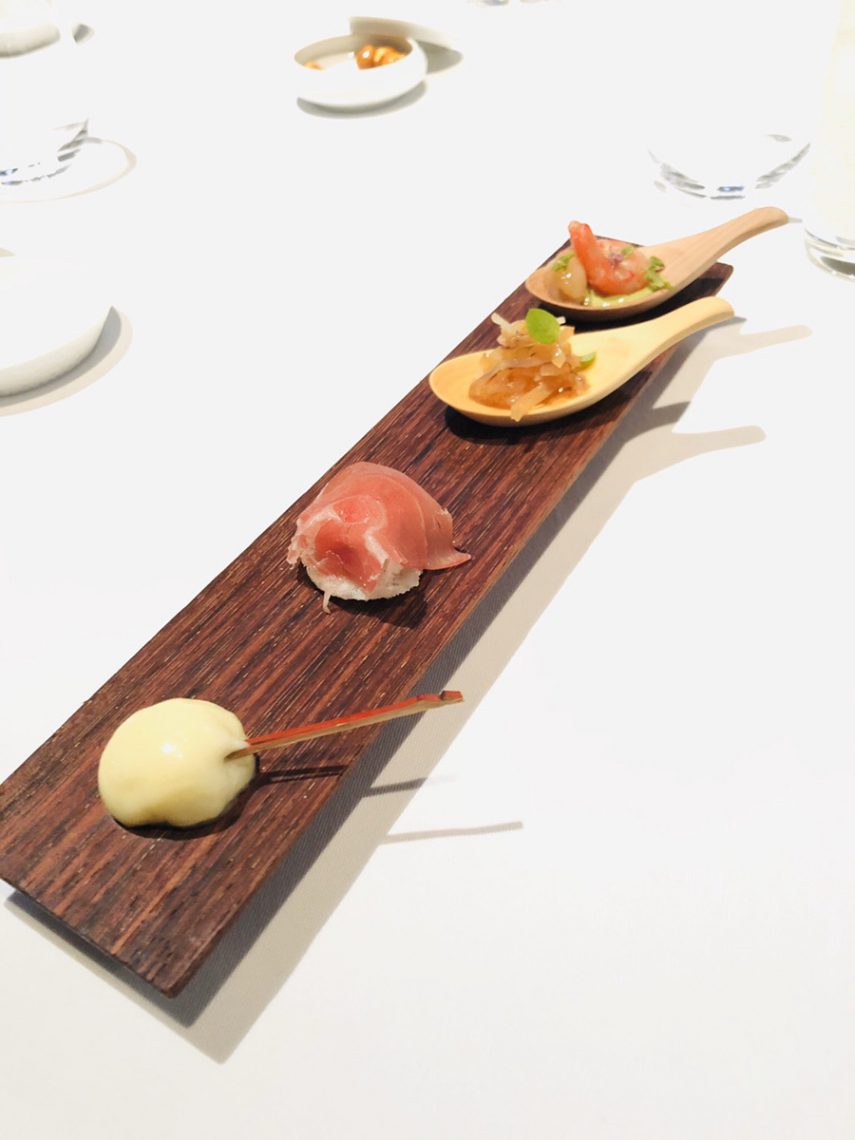 This is the "seasonal collection", which was a collection of various seasonal appetizers.
Pictured on the left is mozzarella. Next to the right is a ham-wrapped dumpling. Next to the right on the spoon is jellyfish. Pictured on the far end is shrimp. As the name on the menu indicated, it was various seasonal items. We enjoyed this dish because not only was it a pretty dish, but the dishes were delicious as well. The sweetness, sourness were just perfect and the softness of the cheese was just right as well.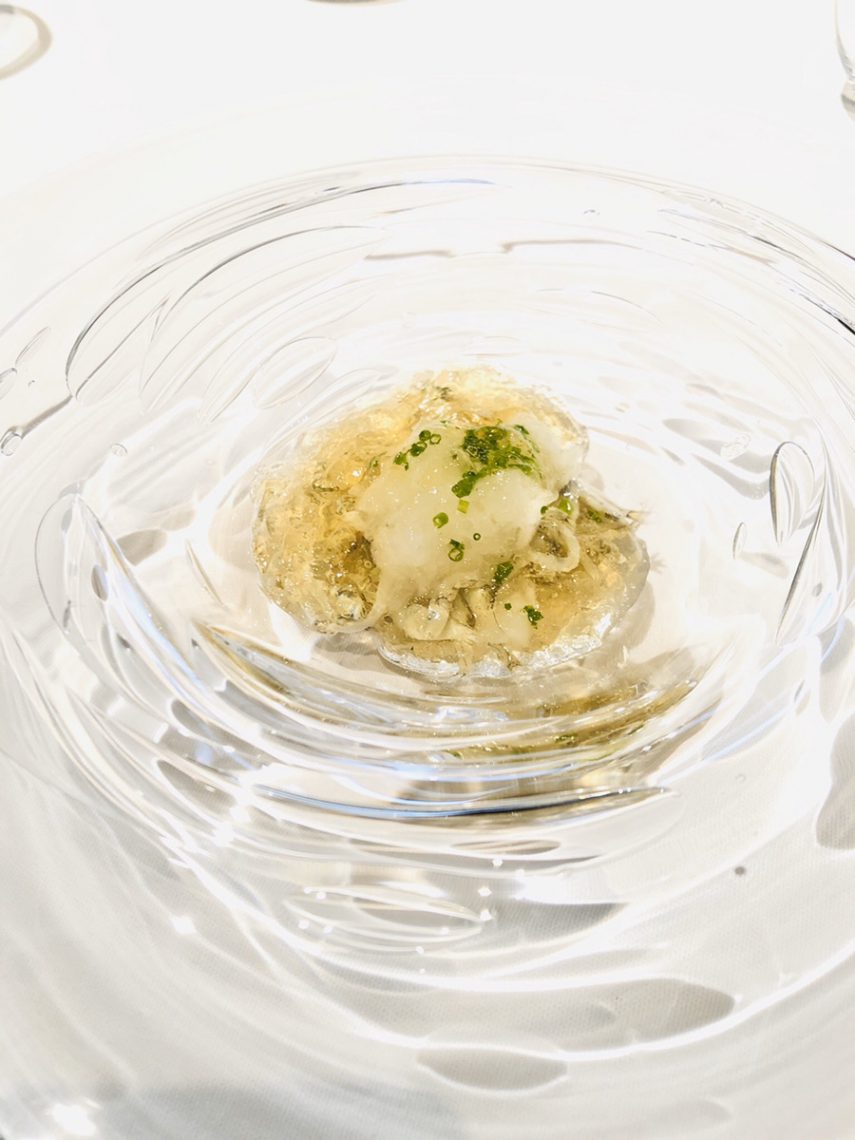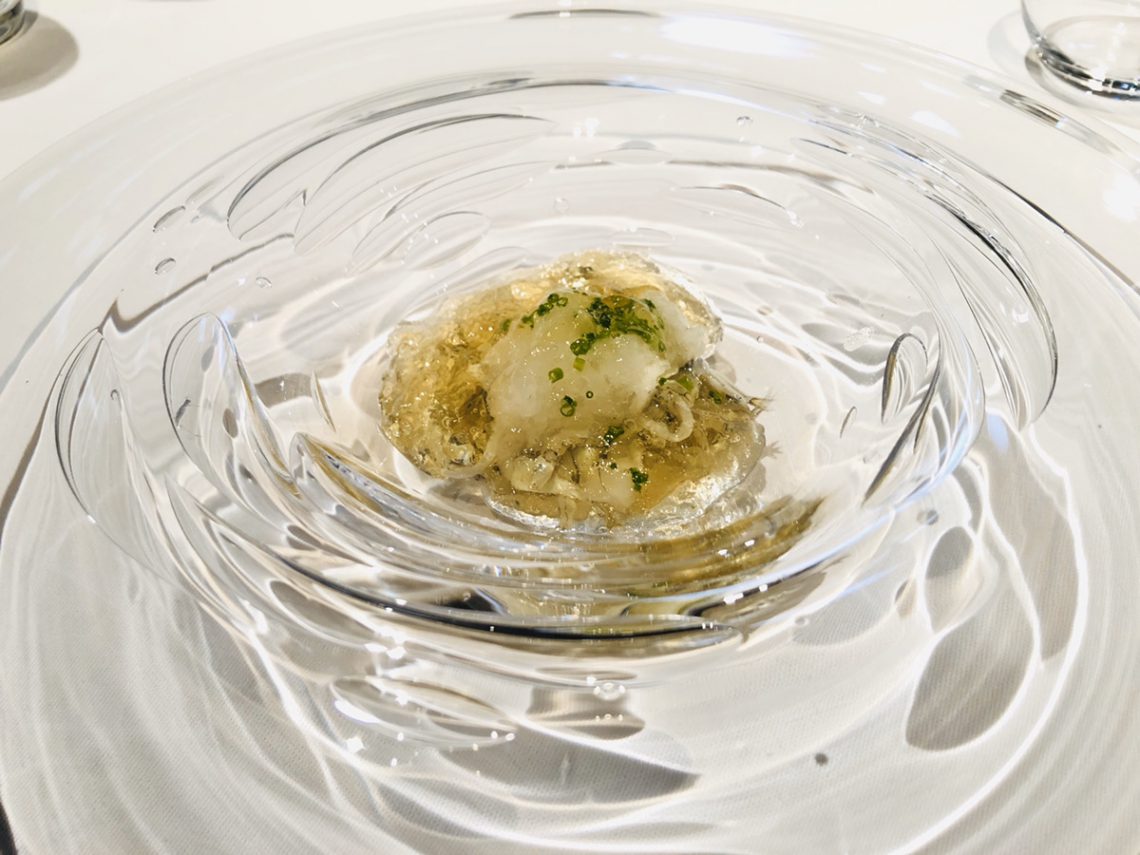 "Immature Sweetfish"and "Daikon" (Japanese Radish)
The dish contained grated radish which gave it a very Japanese look to it, but the taste made me think it was more of a French-style dish.
The fresh taste acted kind of like a palate cleanser. The dish also contained champagne jelly, matched perfectly with the fish and gave it a very enjoyable and unique texture. A very exquisite dish indeed.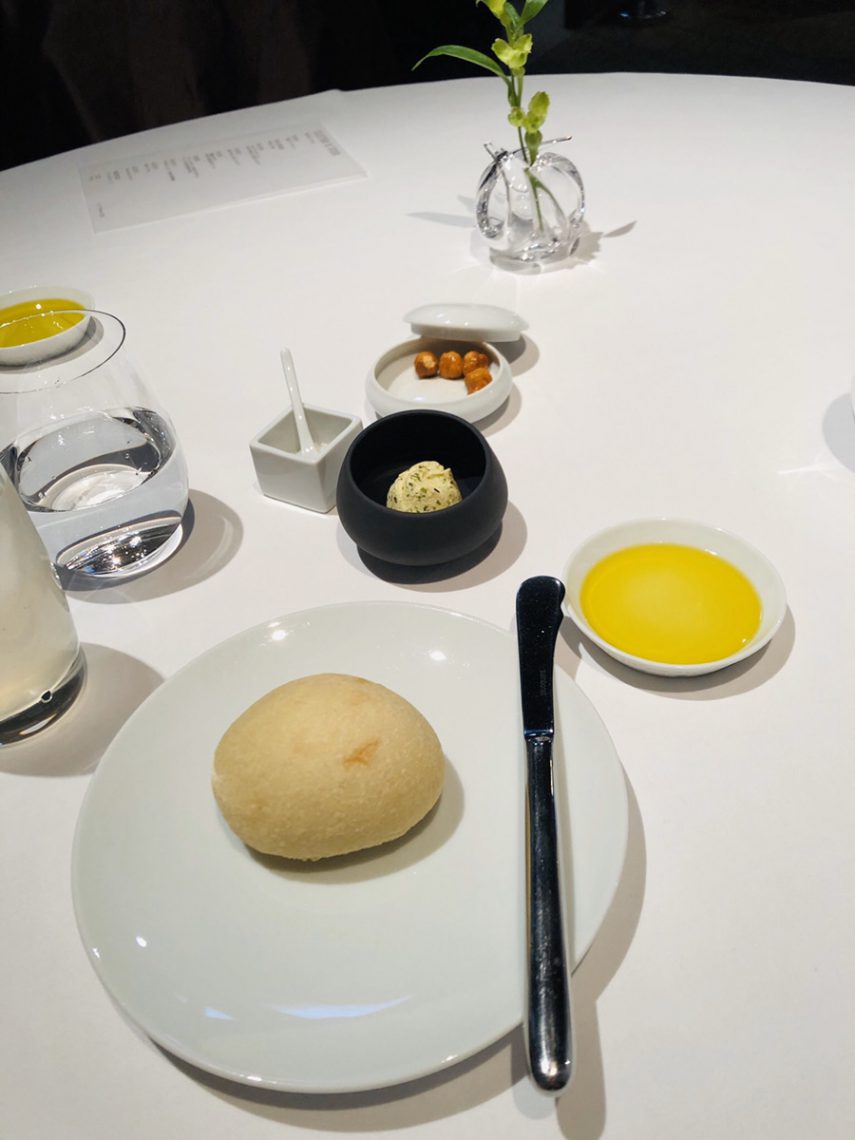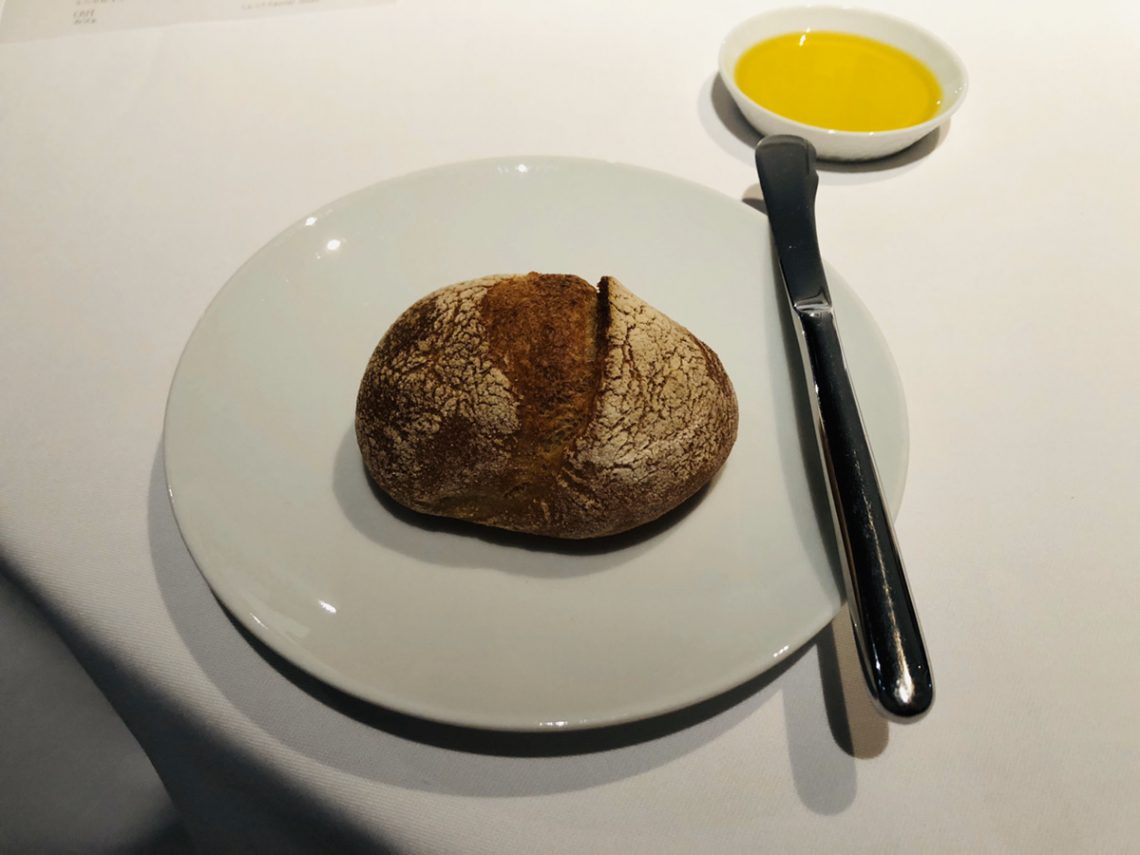 As can be seen pictured, some bread on the plate.
We were given the choice of having some soft bread or more of a harder type of bread such as a baguette. I chose the baguette. Although it wasn't too hard, the inside of the bread was nice and soft. I ate it with some butter and the aroma of the bread and the texture of the butter produced a wonderful combination, very delicious bread.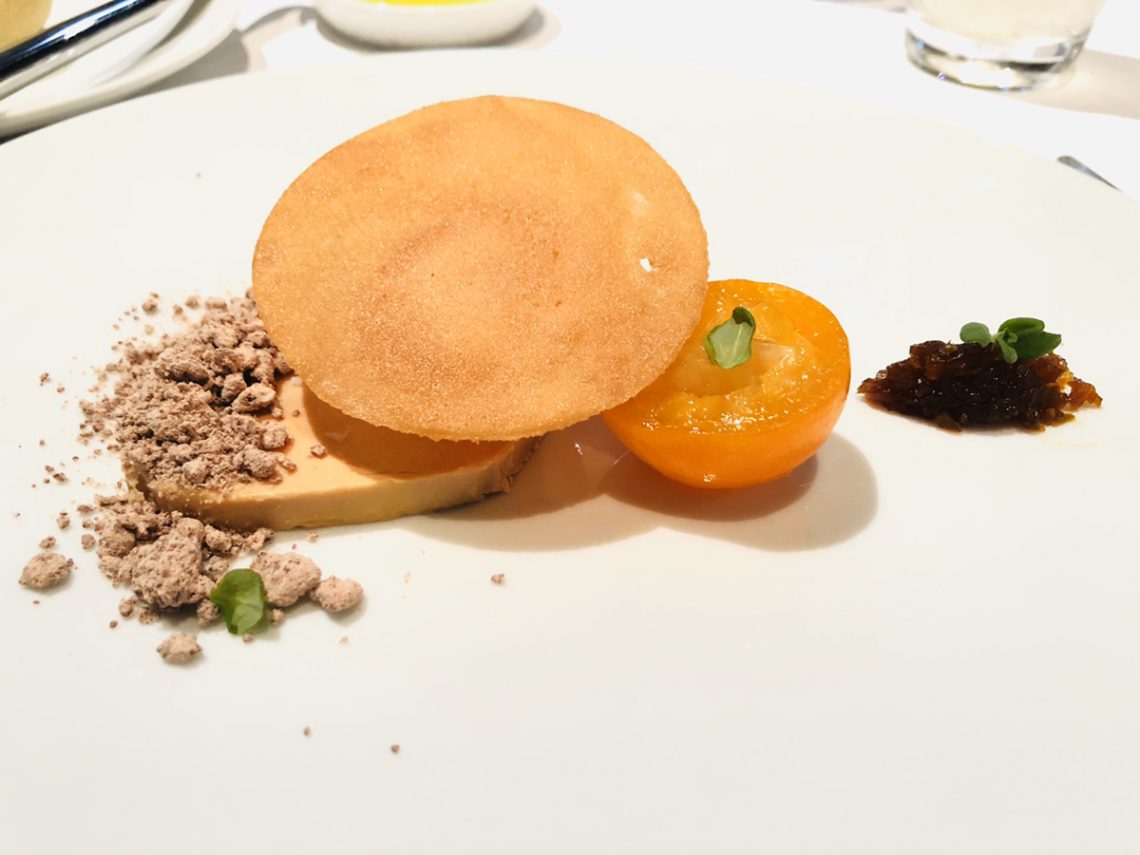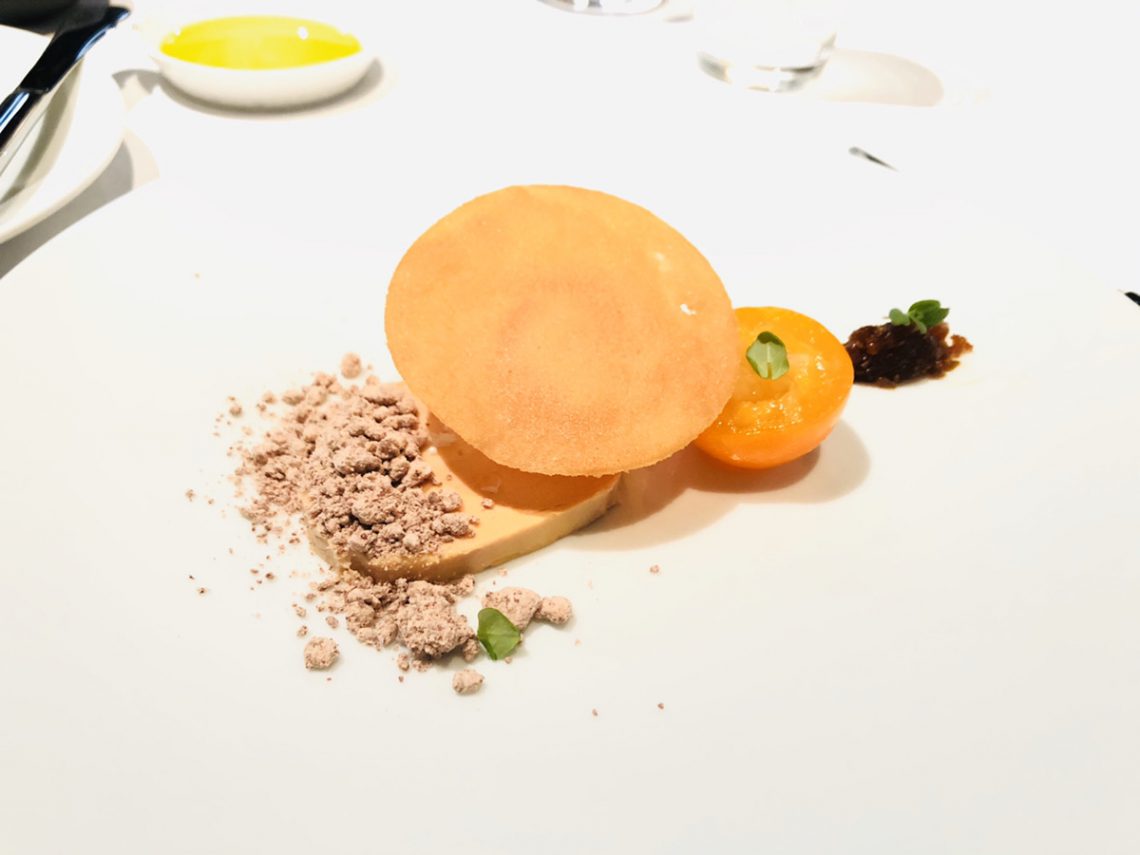 "Foie Gras Nature"
On top of the foie gras was some cocoa. There was also kumquat compote in the dish.
After taking a bite of it, it was strange because I really couldn't tell which part of it was foie gras. It was soft and melted in my mouth.
Moreover, the kumquat and cocoa reminded me of a sweet cheese. It actually seemed more like a dessert to me, and might confuse some.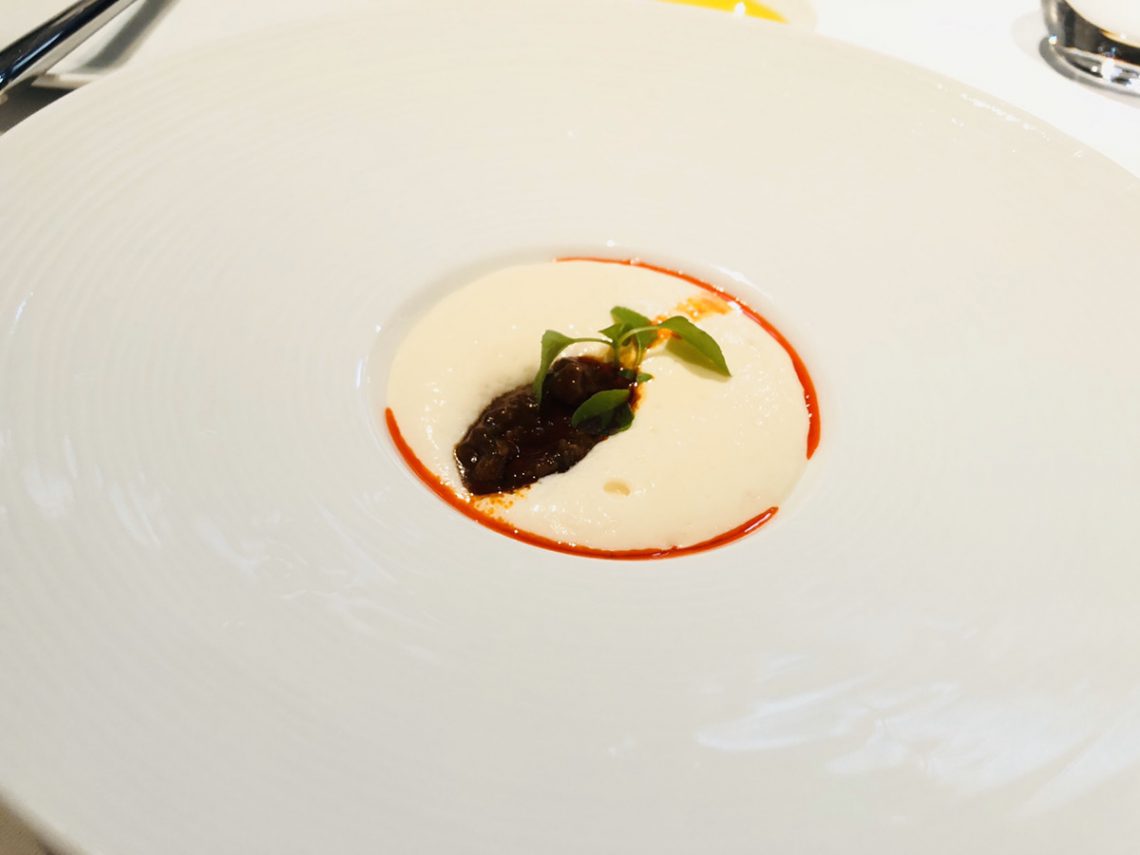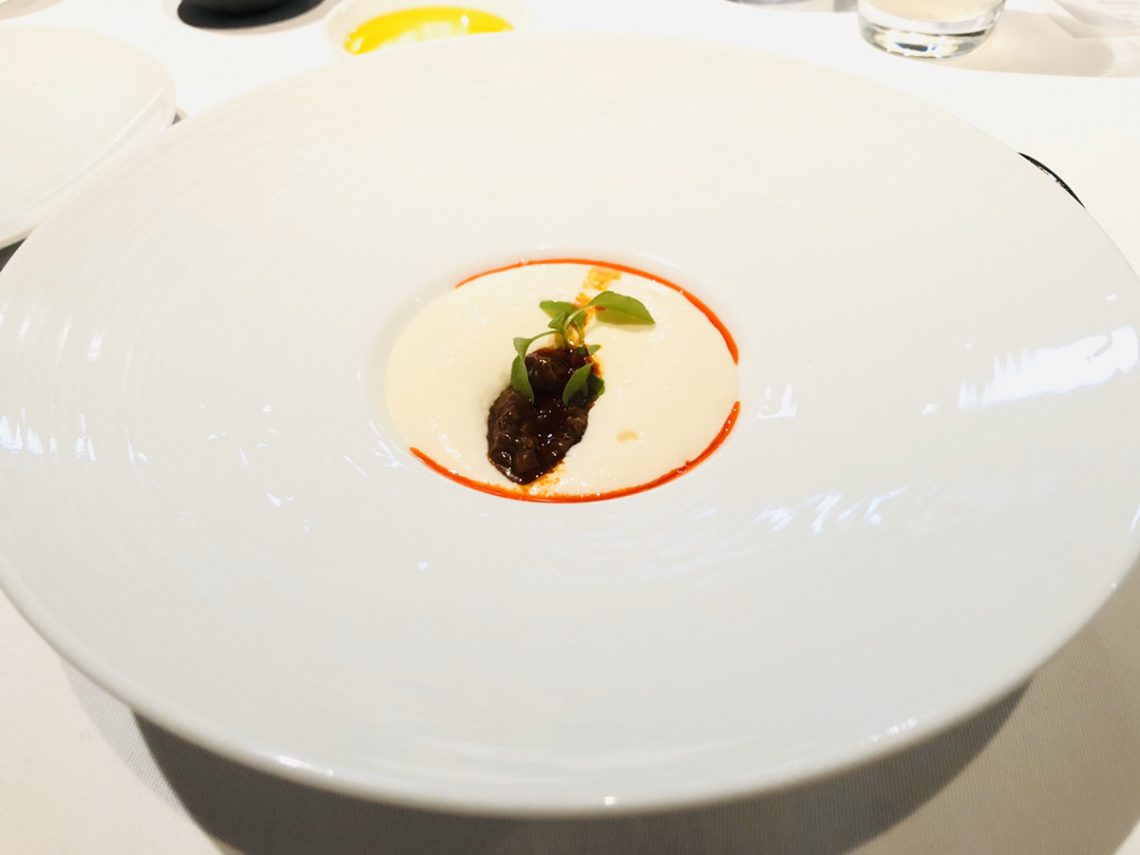 Mapo doufu
This is normally not on the menu. However the chef decided to put this on the menu for our meal.
It actually doesn't look like tofu right? However it definitely was tofu. The texture of it was quite pudding-like. Together with the sauce inside, reminded me of a dish in Chinese cuisine. A fantastic fusion of Chinese and French cuisine.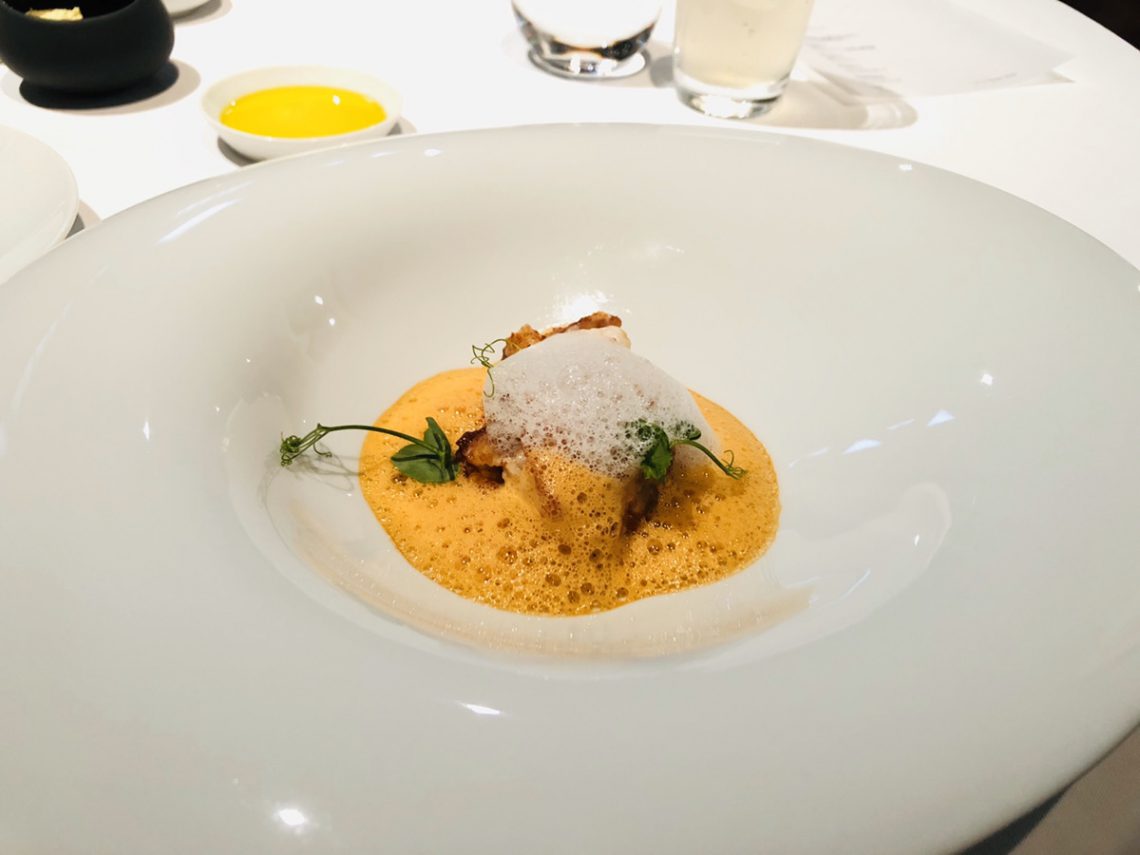 Codfish milt meunière and paella
The aroma gave off hints of what was inside. The aroma of the sauce smelled of shrimp.
The codfish milt was soft and practically melted in my mouth.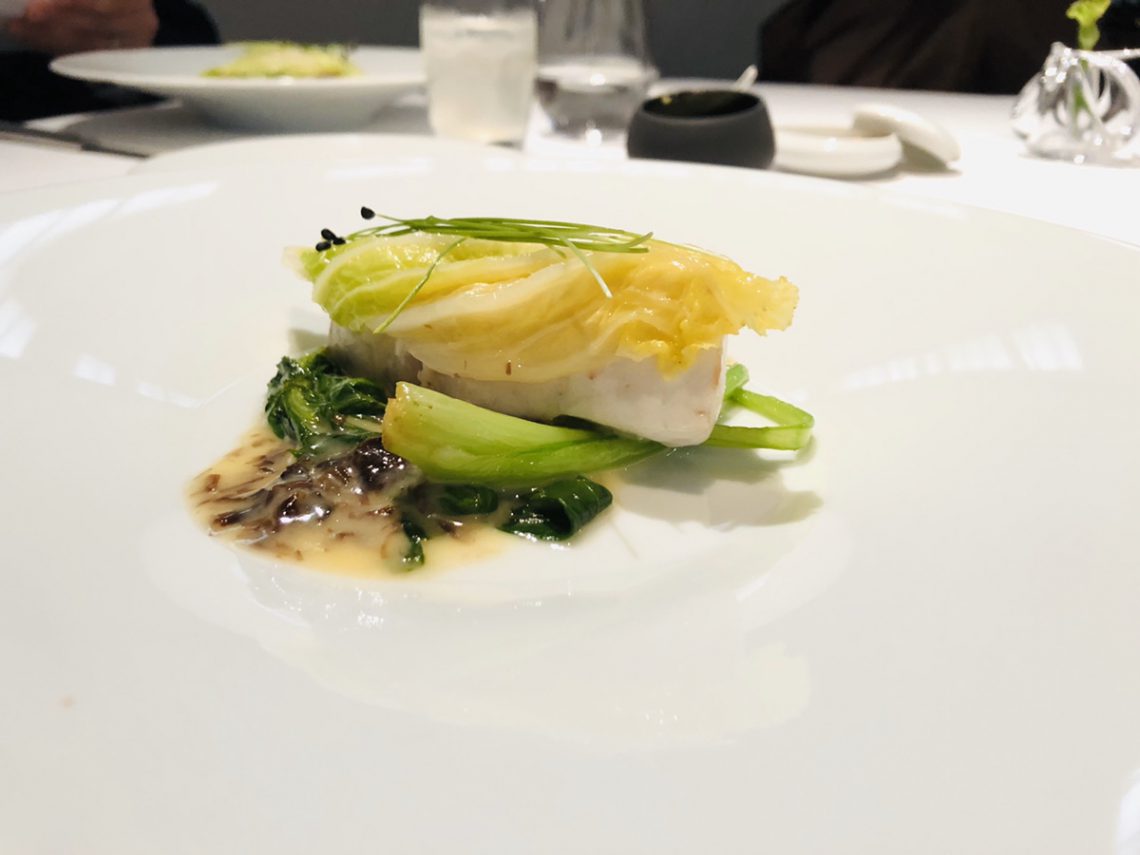 Blackfin Seabass poiré, and wild seaweed from Hamasaka
The color of the green Chinese cabbage and the white color of the Blackfin Seabass contrasted very well and made for a very pretty dish. The taste of the butter sauce with the seaweed went very well together with the dish as a whole. The cooked fish was fried just the right amount and had a very nice, plump, soft chewy texture.
Before the main dish, we the choice of ordering truffle for our meal. It was a 1,000 yen addition per person.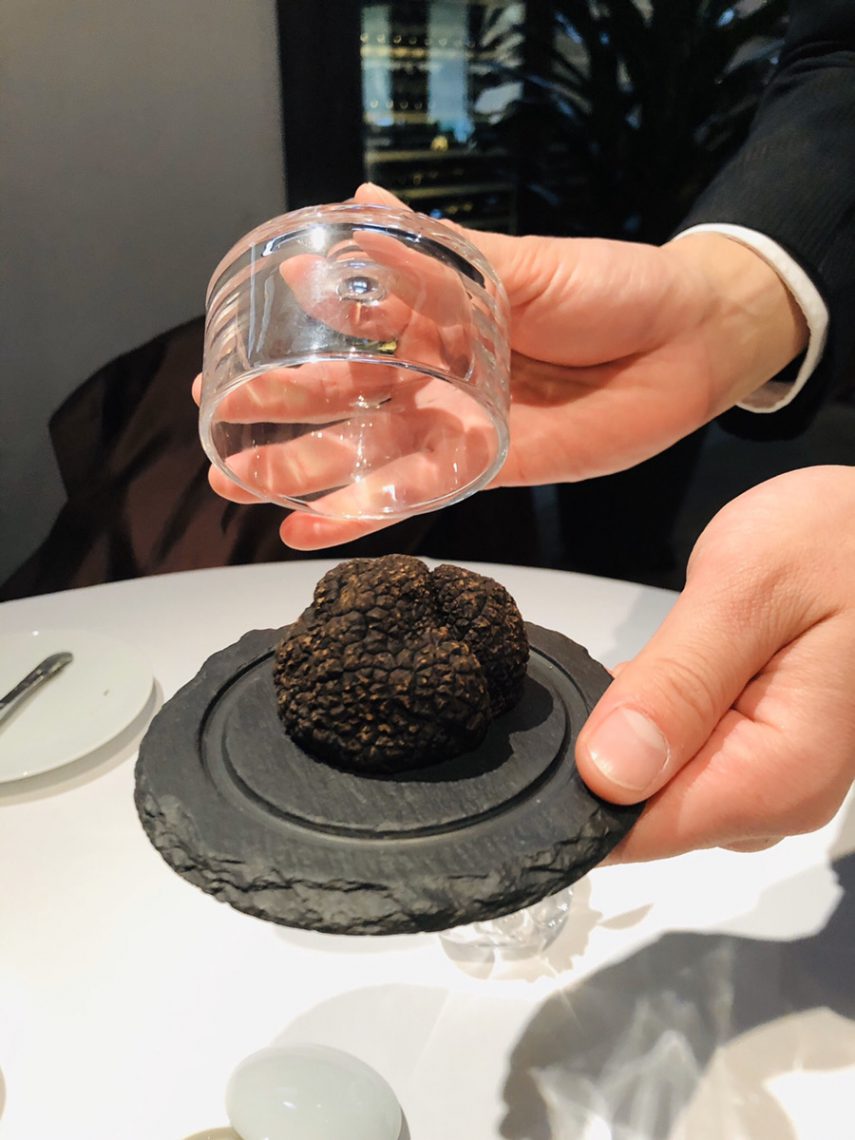 Before the main dish, we the choice of ordering truffle for our meal. It was a 1,000 yen addition per person.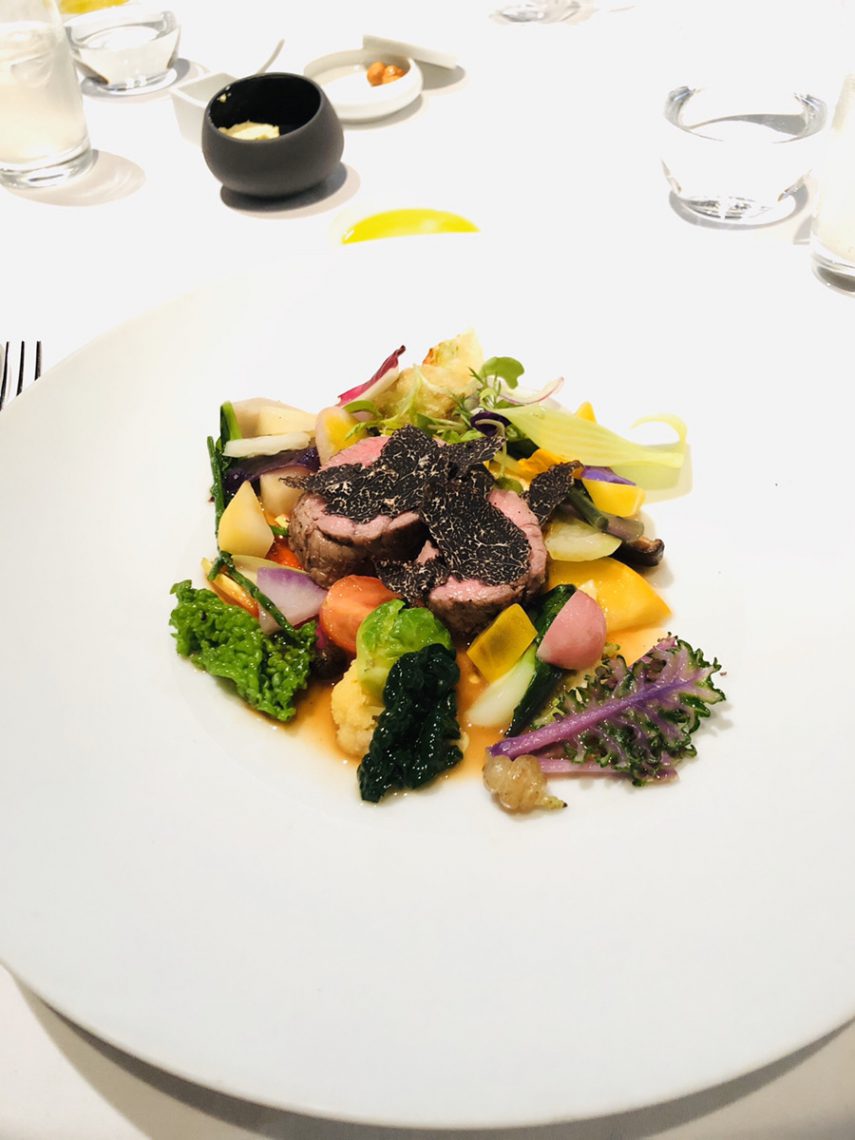 Vegetables and Roasted Lamb from Lozère, France
It kind of looked like a small forest. The dish included roasted lamb, with truffles and an array of seasonal vegetables, all of which were not oily at all, and were very delicious. The lamb had no smell at all, and was very tender; the perfect accompaniment with the truffles.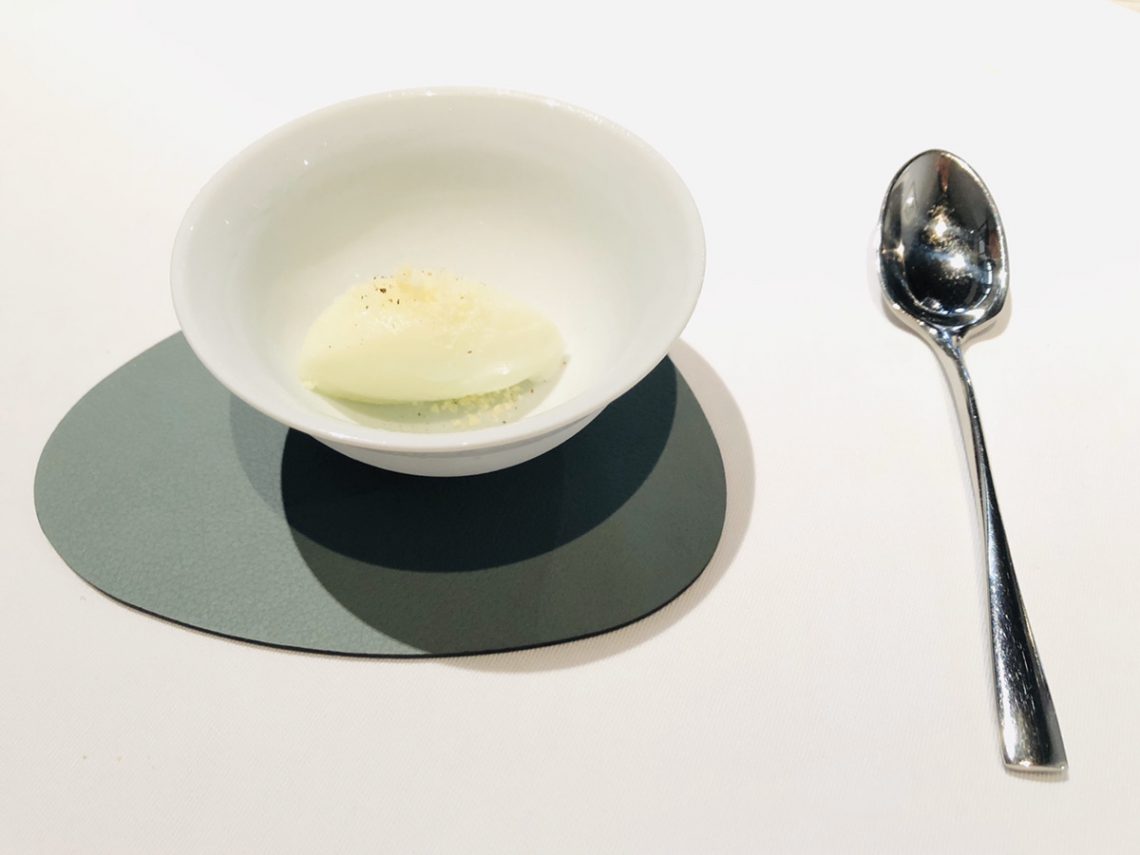 Celery Sorbet with Ginger and Black Pepper
The start of the dessert. The taste was sweet at first, however the taste and aroma of the ginger and black pepper came later.
It wasn't bitter at all, and was a nice refreshing dish.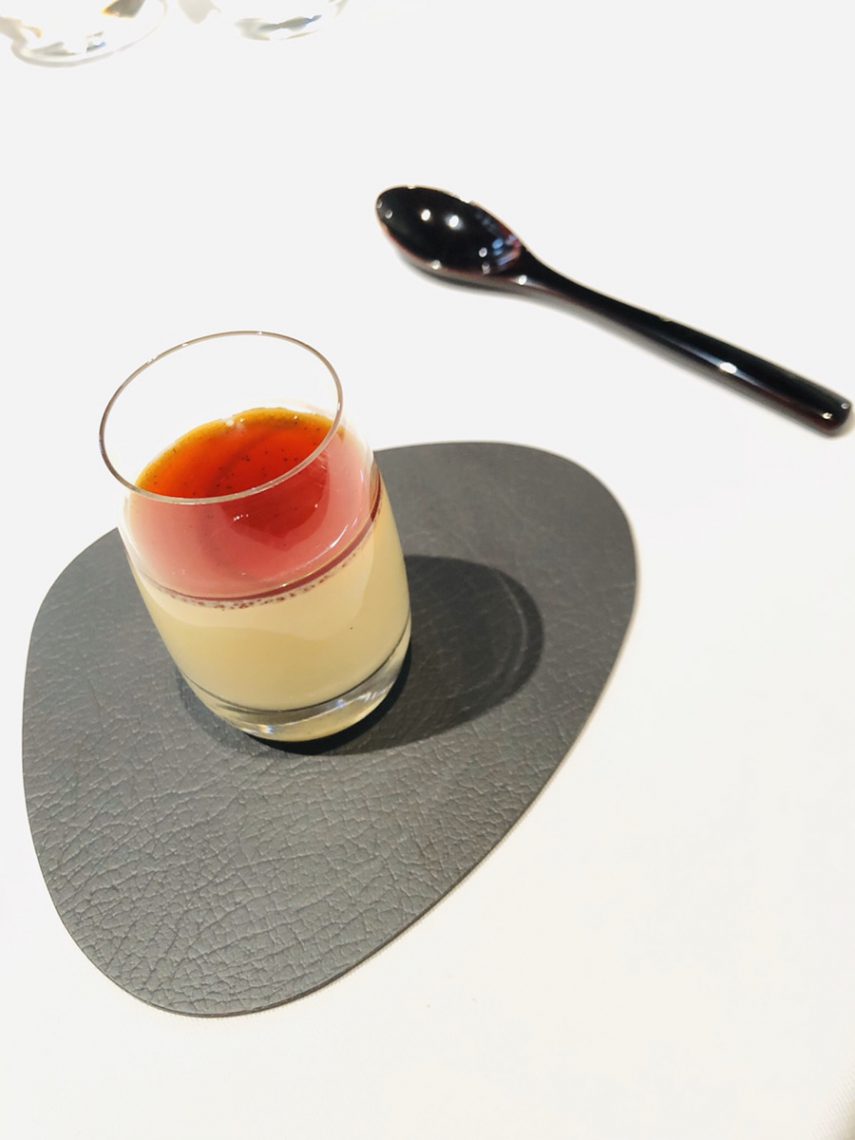 Yuzu pudding
The distinct taste of the yuzu left an impression with me. The dish was just the right level of sweetness, I couldn't put my spoon down.
It acted as a palate cleanser because it took away the oil left in my mouth from the previous dish.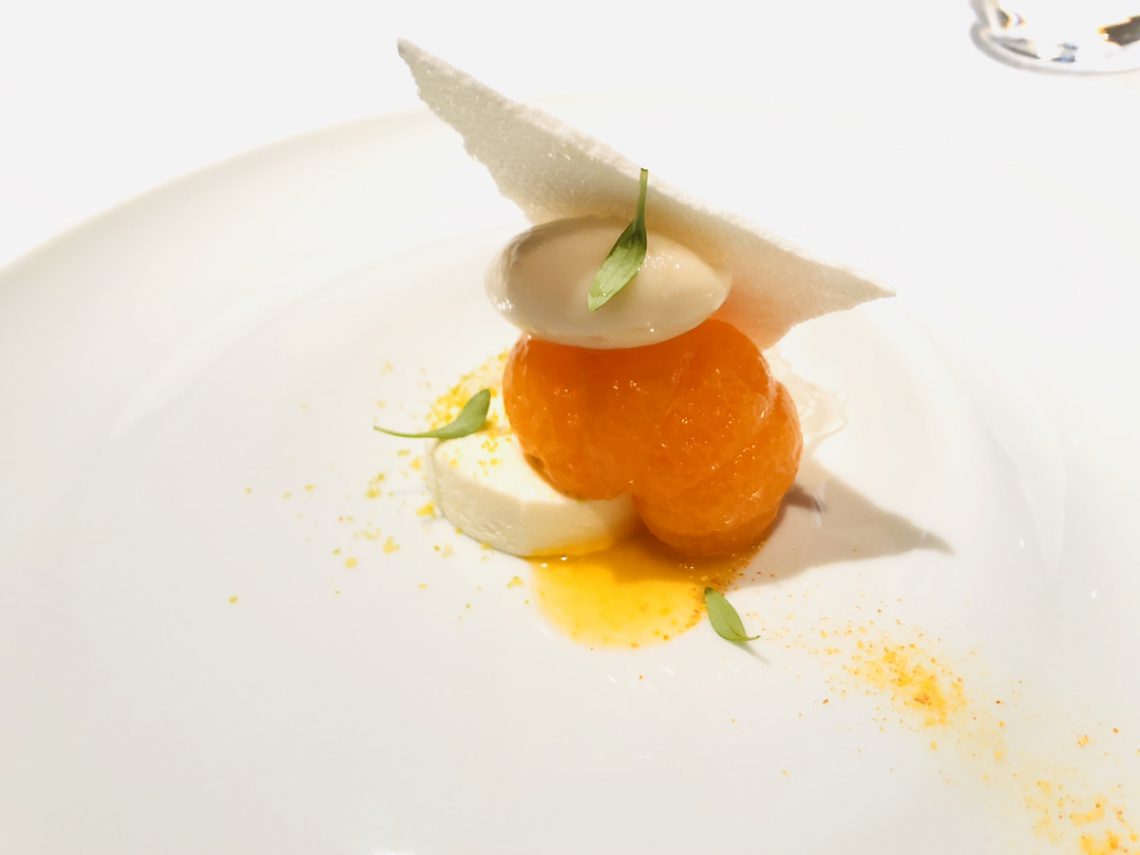 Mandarin Orange Compote
White meringue, Cheese and Lemon Jelly. A very creative dish, this dish produced an explosion of different tastes in my mouth. I enjoyed it very much.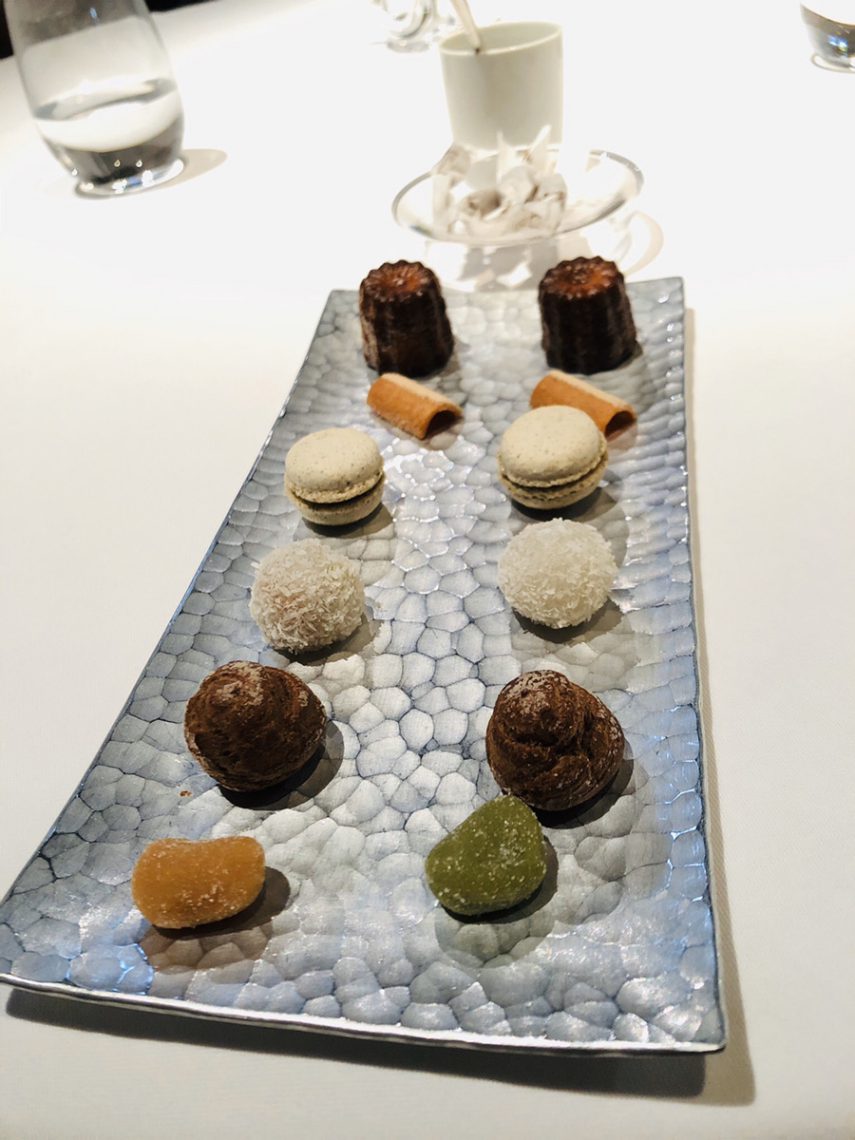 Dessert
Coffee/Tea with Mignardise (French bite-sized confectionery)
There was no particular order that we had to eat these. But they were all very good. I chose tea instead of coffee, the sweets would have went well with either the coffee or tea in my opinion. The tea was from Taiwan.
The meal took about 3 hours to finish. A bit of a longer lunch, but it was nice to slowly enjoy our meal and the course had many different items on the menu. Enjoying French cuisine with fresh seasonal ingredients was something very special. I think that those from France might be quite pleasantly surprised to find the difference in the tastes when Japanese ingredients are used to produce something almost entirely different. I enjoyed lunch this time, however I would also like to try the dinner, as I have heard that the dinner is an entirely different experience altogether. Motoi had exceeded my expectations as a Michelin restaurant and I felt is definitely deserving of its status. I recommend those reading this blog to give Motoi a try, you won't be disappointed.
Restaurant Information 
Business Hours ※Reservations required
【Lunch】12:00 p.m.~ 3:00 p.m. (Last order at 1:00 p.m.)
【Dinner】6:00 p.m.~10:00 p.m. (Last order at 8:00 p.m.)
Closed Closed every Wednesday and Thursday
※Open on for dinner on Thursdays in April and December.
Directions 【Subway 】10 minutes walk from Exit 1 at Karasuma-Oike Station on the Karasuma Line.
【Bus】Kyoto City Bus (Route 4,17,205) to Kyoto Shiyakusho-Mae bus stop. A 10 minute walk after getting off at Kyoto Shiyakusho-Mae bus stop.
【Car】35 minutes From Kyoto-higashi, interchange, 40 minutes from Kyoto-minami, interchange
Seating: 32 seats(special private room seats 2~8 guests)\※ Privately reserve restaurant for up to 26 people. Please inquiry for details if interested in privately reserving restaurant.
※ Reservation possible for up to 20 people seated together at 1 table.
Smoking Smoking is not permitted.
Wi-Fi: None
Parking: No restaurant parking available for Motoï. There is parking available nearby the restaurant.
Children: ※Children 13 and older are permitted (no children's menu is available, therefore children that can eat an adults course will be counted as an adult).
※Any Children 12 and under are not permitted at the restaurant.
※Guests that arrive at the restaurant with children under 12 will be refused entry.
Dress code :We ask that guests not be dressed to casually (t-shirt or short pants). We recommend smart casual or business casual attire for lunch and business casual or semi-formal attire for dinner.
Motoi Reservation