Enjoy Tempura, and the umami of luxury ingredients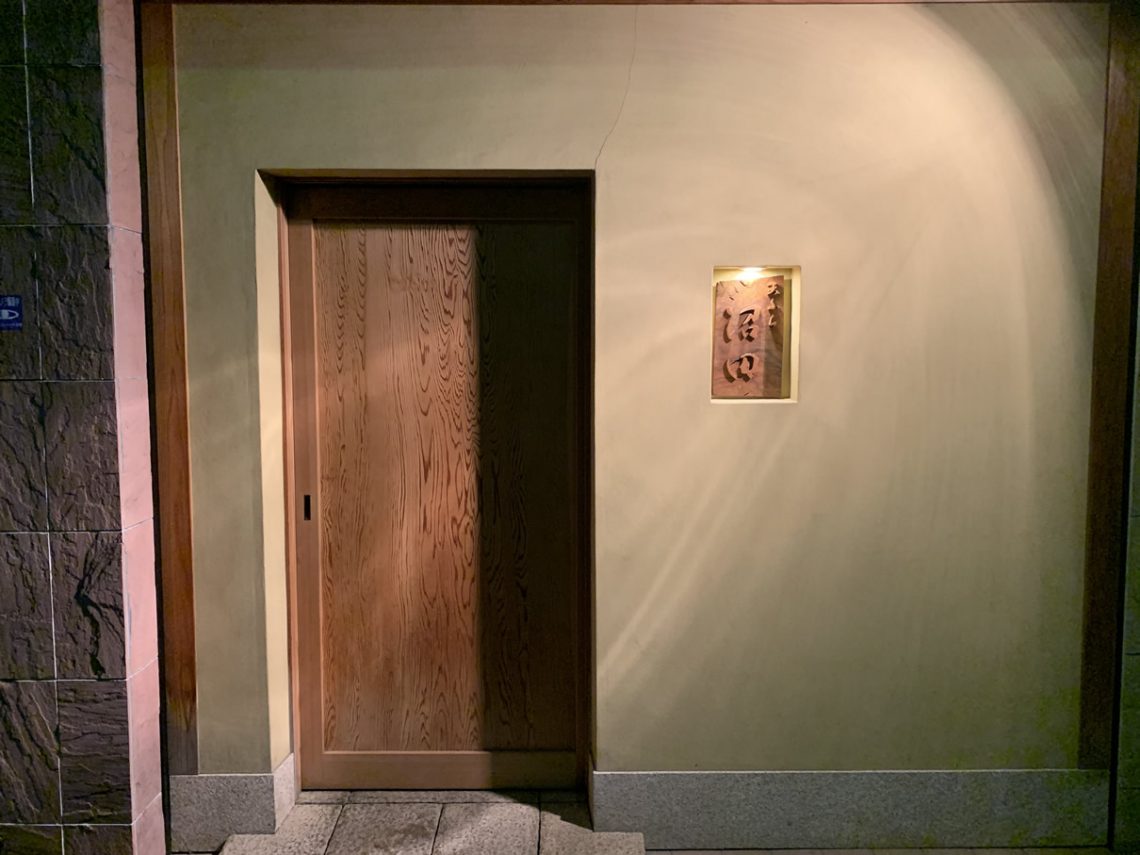 It has been said that much of tempura involves using quality ingredients because involves the comparatively simple cooking method of frying. 
Located in Tenjinbashi, Osaka Tempura Numata is rumored to have some of the freshest and most delicious ingredients during each of the four seasons, and creates a course that you can enjoy and experience with all your senses "visually, auditorily, and kinetically". The fact that it isn't listed in the Michelin Guide is one of the things that have many Japanese people stumped.  However, even so, they are actually quite happy that it is not listed. After all, they wouldn't want reservations to become impossible to make if it became more well-known. 
While Numata is only open for dinner, its sister-restaurant Tenboshi is located nearby, we decided to visit Tempura Numata this time.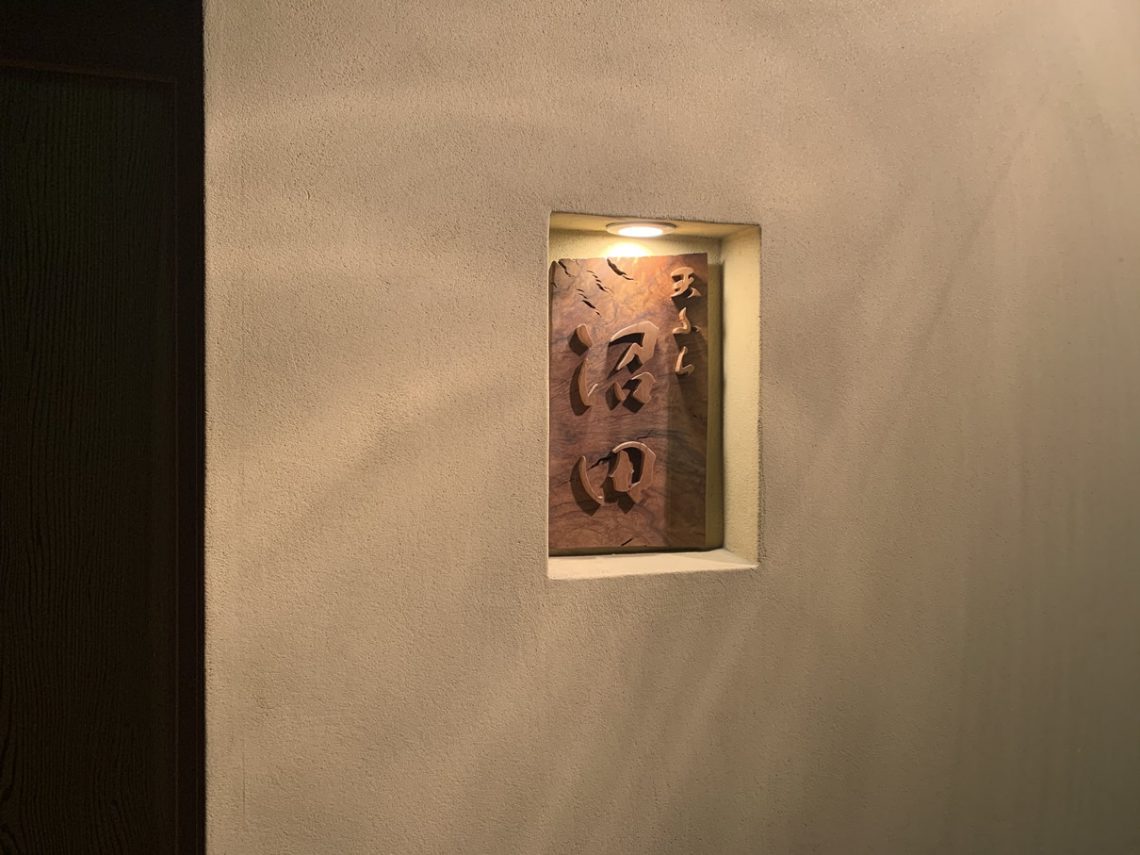 At the entrance is a rather elegant looking sign, and is a single door that is quite visable from along the road, making it easy to find.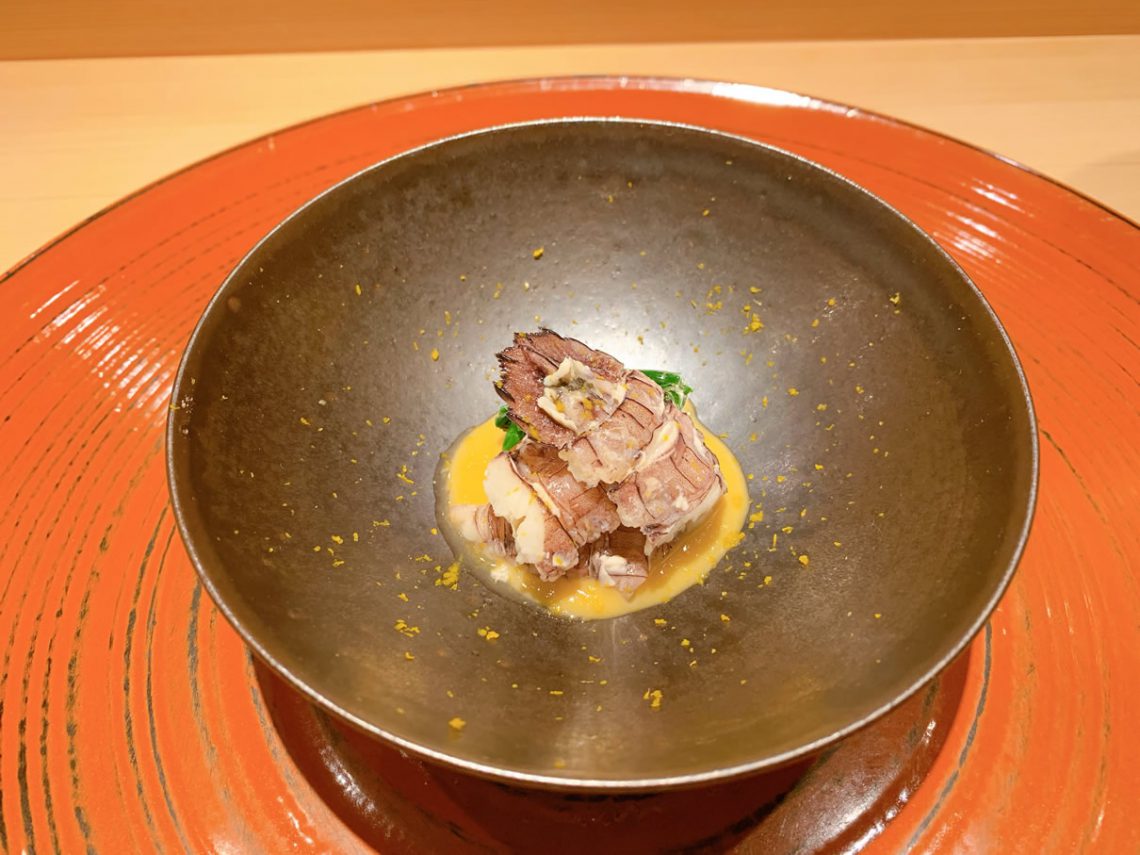 The first dish immediately brought out was "Shako" or mantis shrimp with Yuzu, a citrus fruit. The acidic taste and the miso blended together very well, and whet our appetite.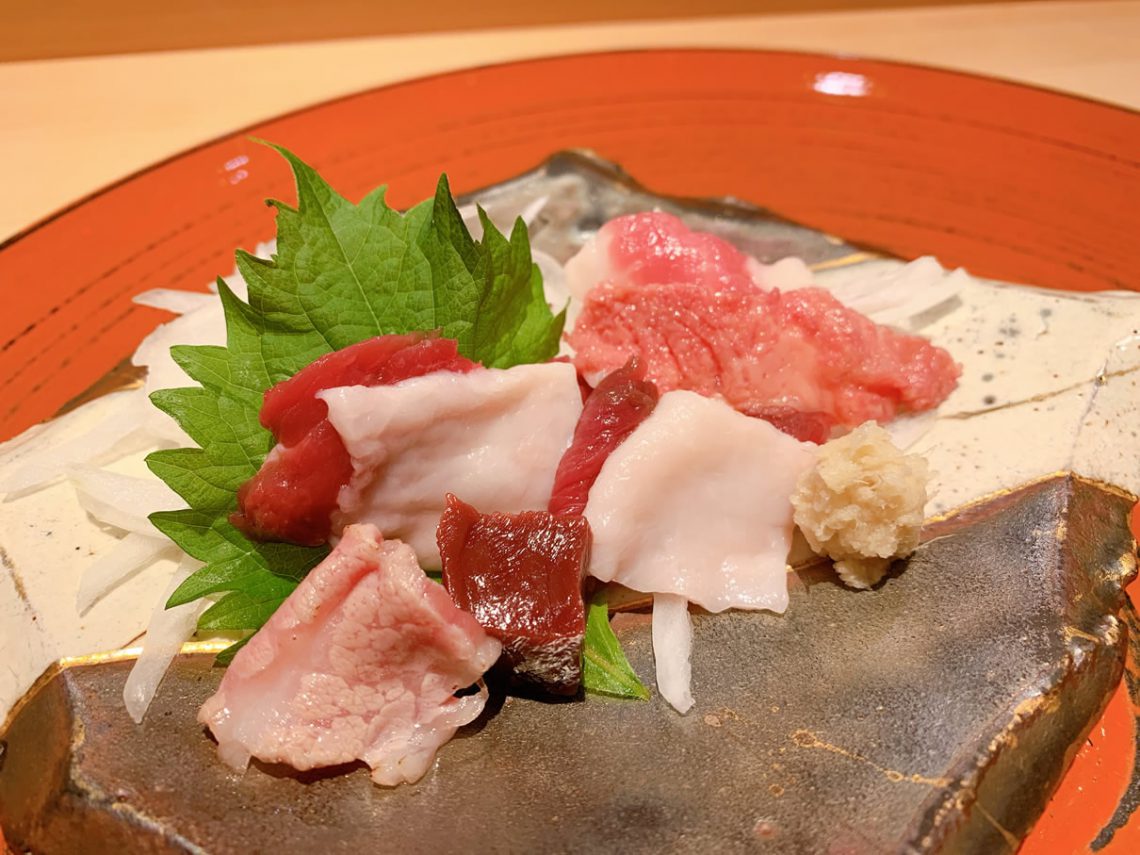 Horse Sashimi
Guests have the option of ordering this individually ala-carte. Different cuts of the sashimi are brought out, this dish is great for those that love horse sashimi.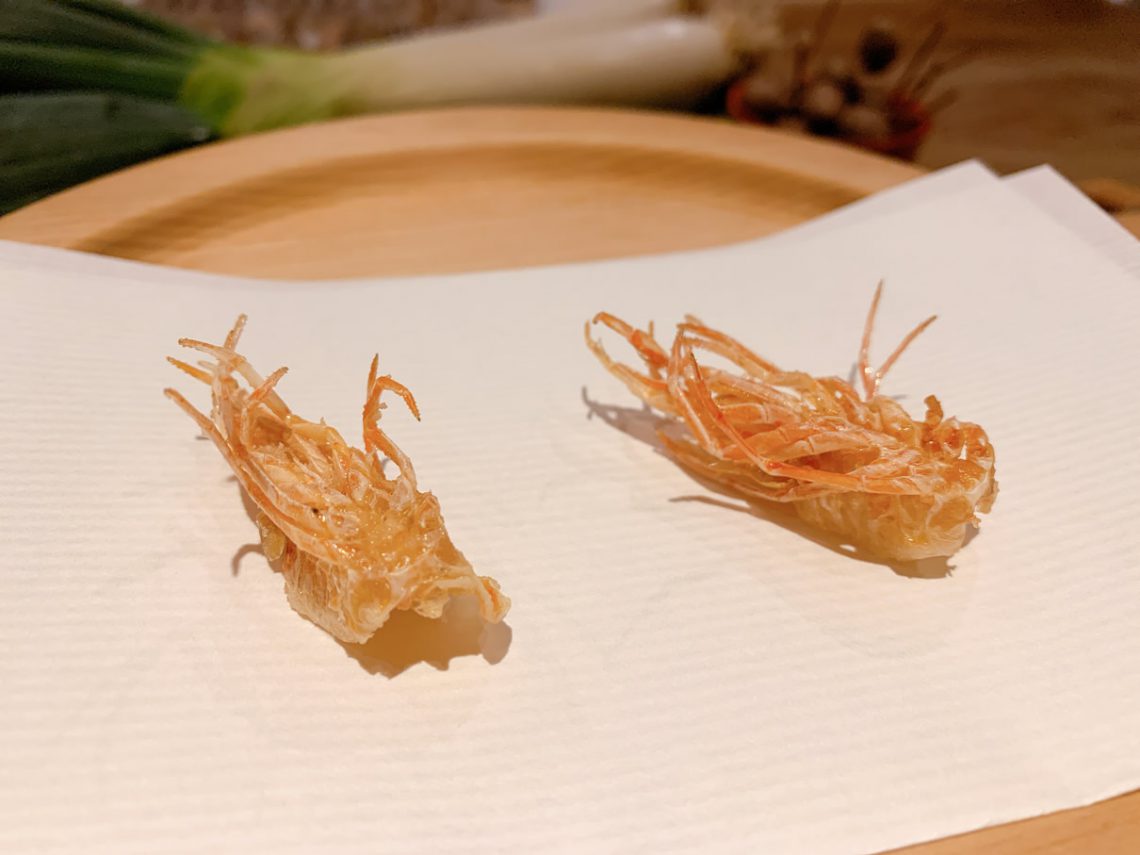 Shrimp head
This one was nice and crispy and goes great with beer or Japanese sake.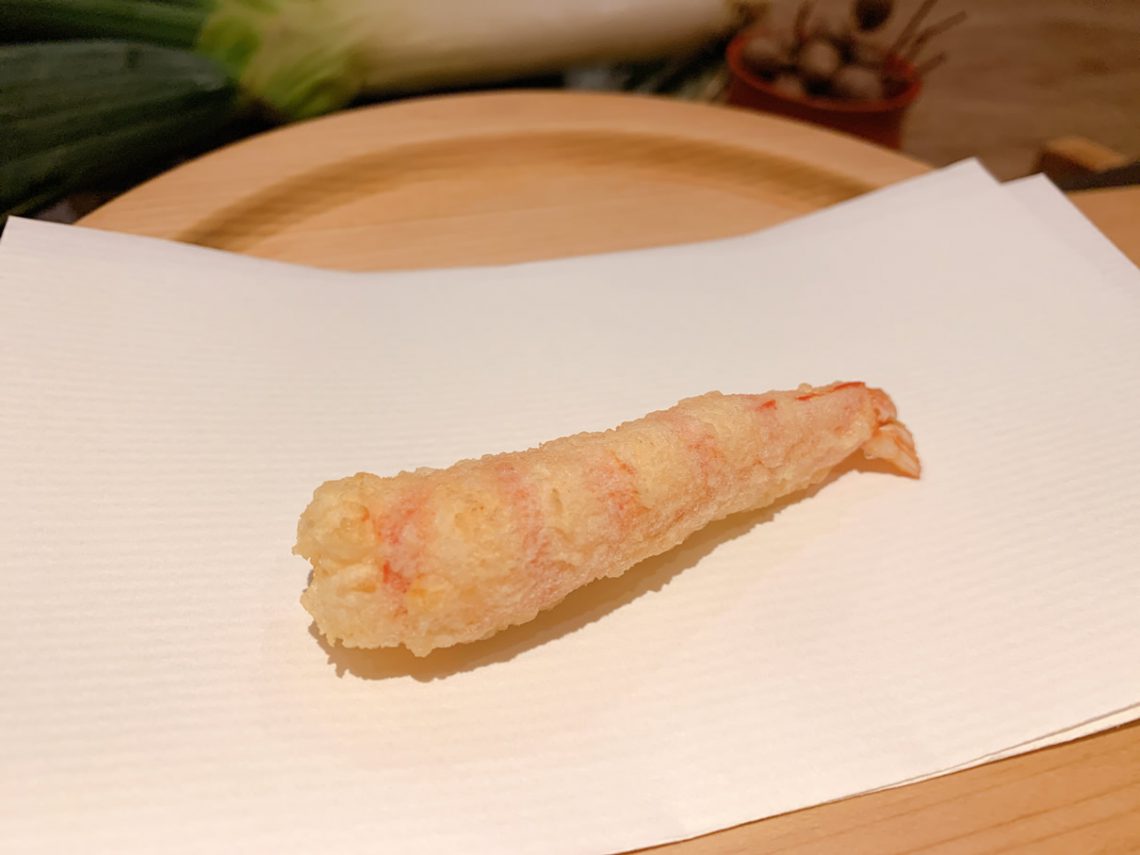 Shrimp
Wrapped in a batter, the inside was nice and hot and very delicious.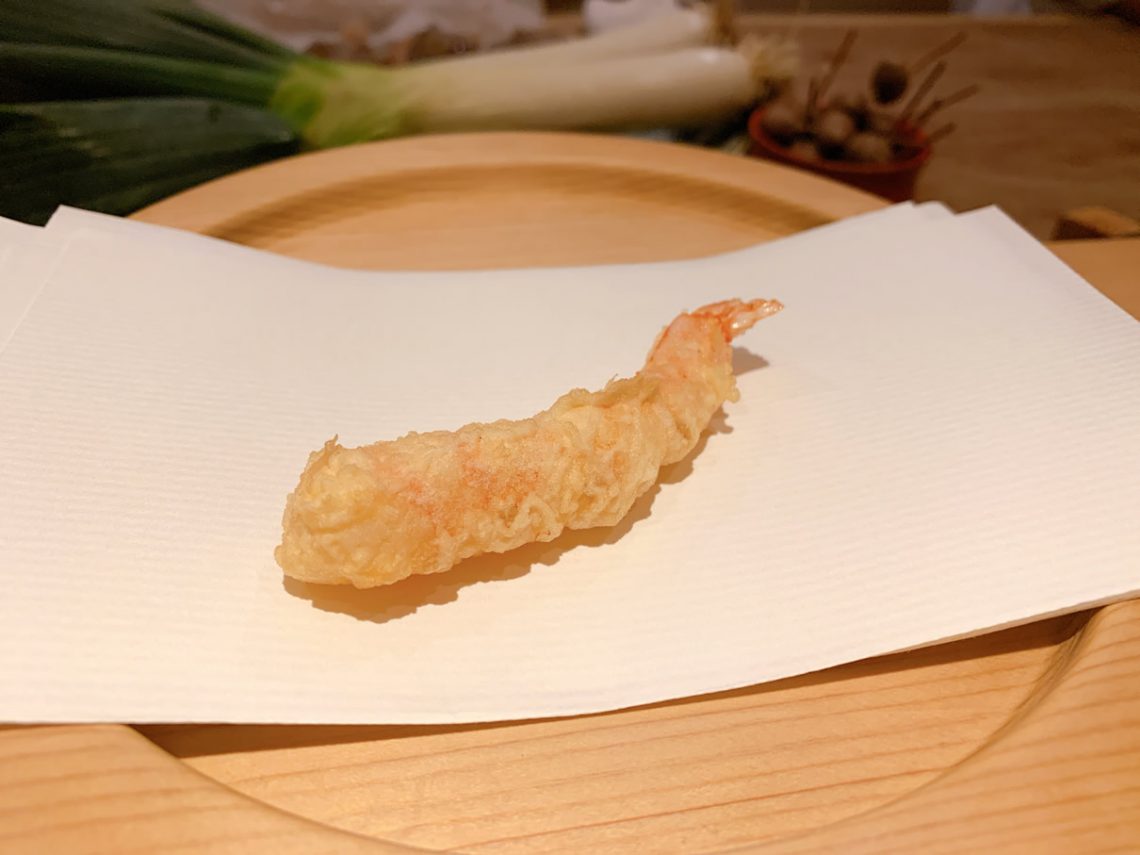 Shrimp (#2)
This shrimp was deep-fried differently than the first, and in a different temperature, this one had a slightly crispy texture and was quite enjoyable. I was surprised how much the taste could change, based on only adjusting the heat of the oil.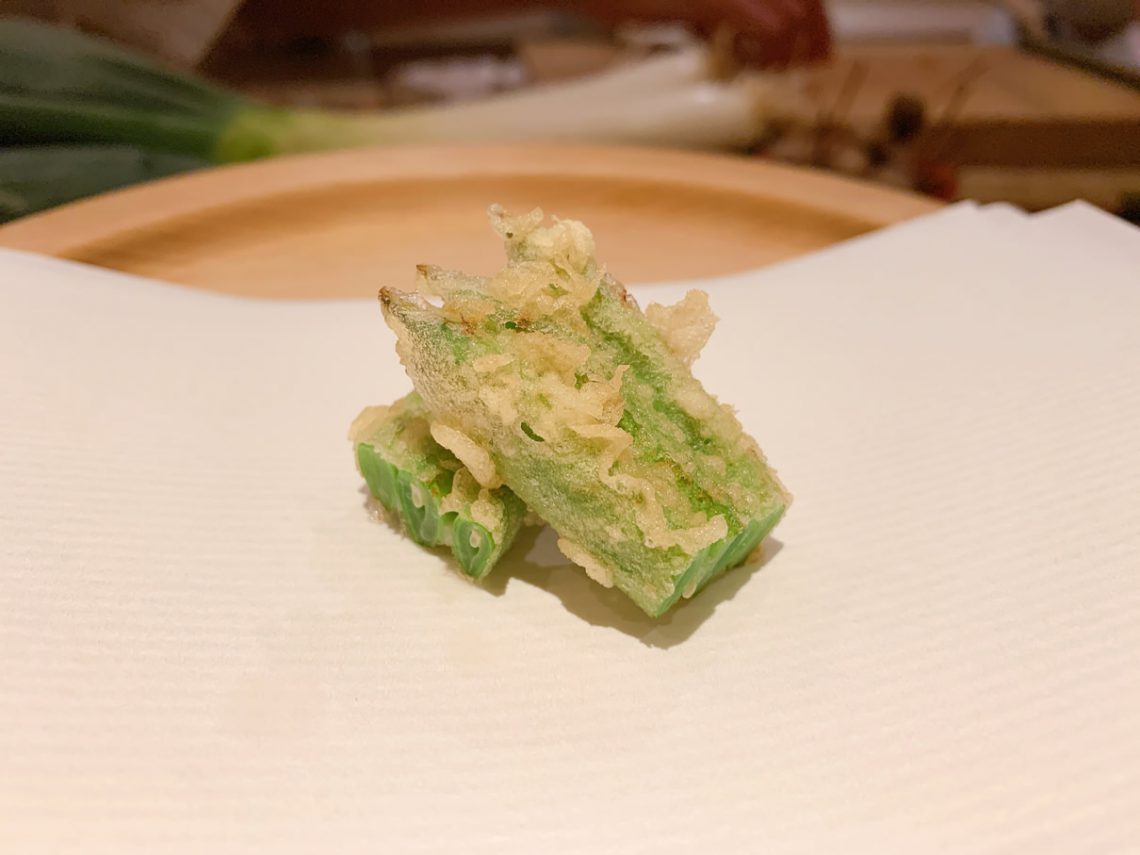 Green Pea
While this one had the natural sweetness of a vegetable, I was amazed at how much moisture this vegetable was able to retain after deep-frying it.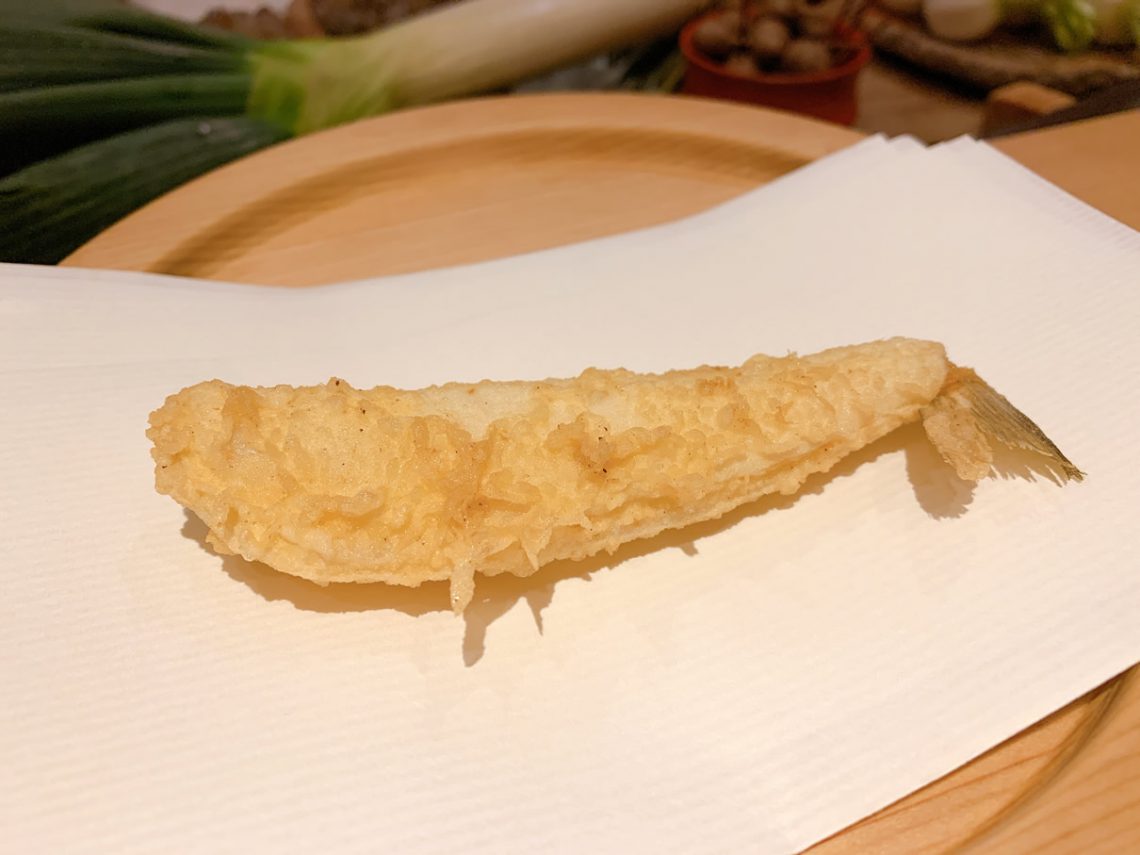 This white-fish is was really great! It's texture was light and fluffy. I felt that they were able to bring out the maximum amount of umami in this dish. I feel overall tempura is better at doing this than just frying fish.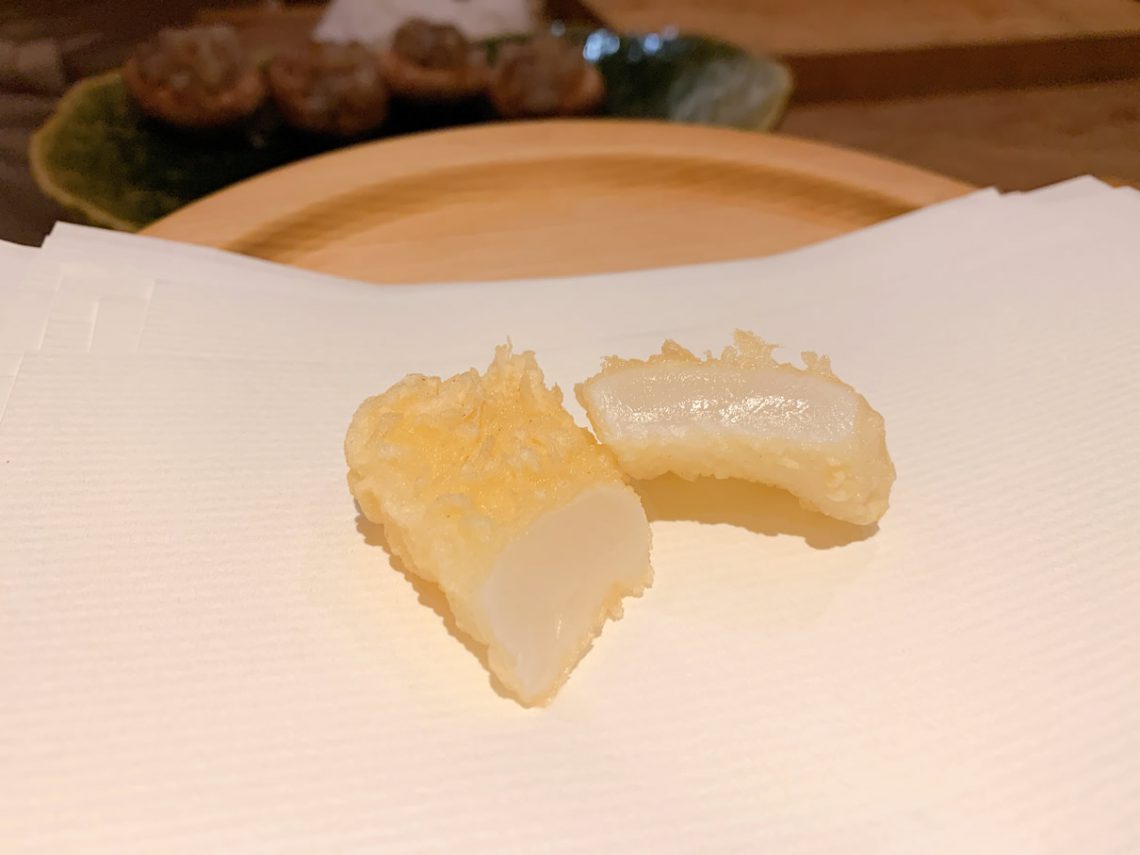 Squid
This squid too also had a great balance of moisture and umami and I enjoyed it very much.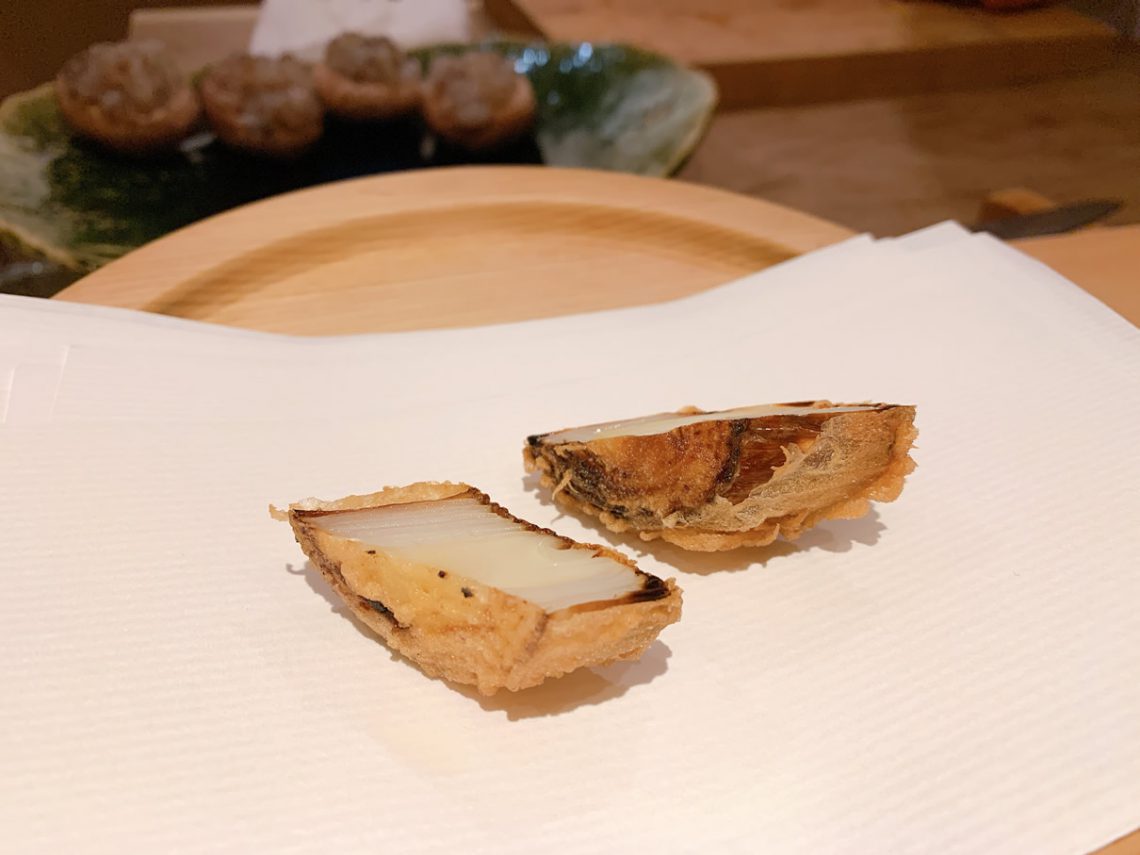 Baby Onion 
This was really good. 
The outer sides of this one were slightly scorched. The sweetness of this onion with the slight tart taste was a great combination. 
This technique of scorching vegetables in tempura was very impressive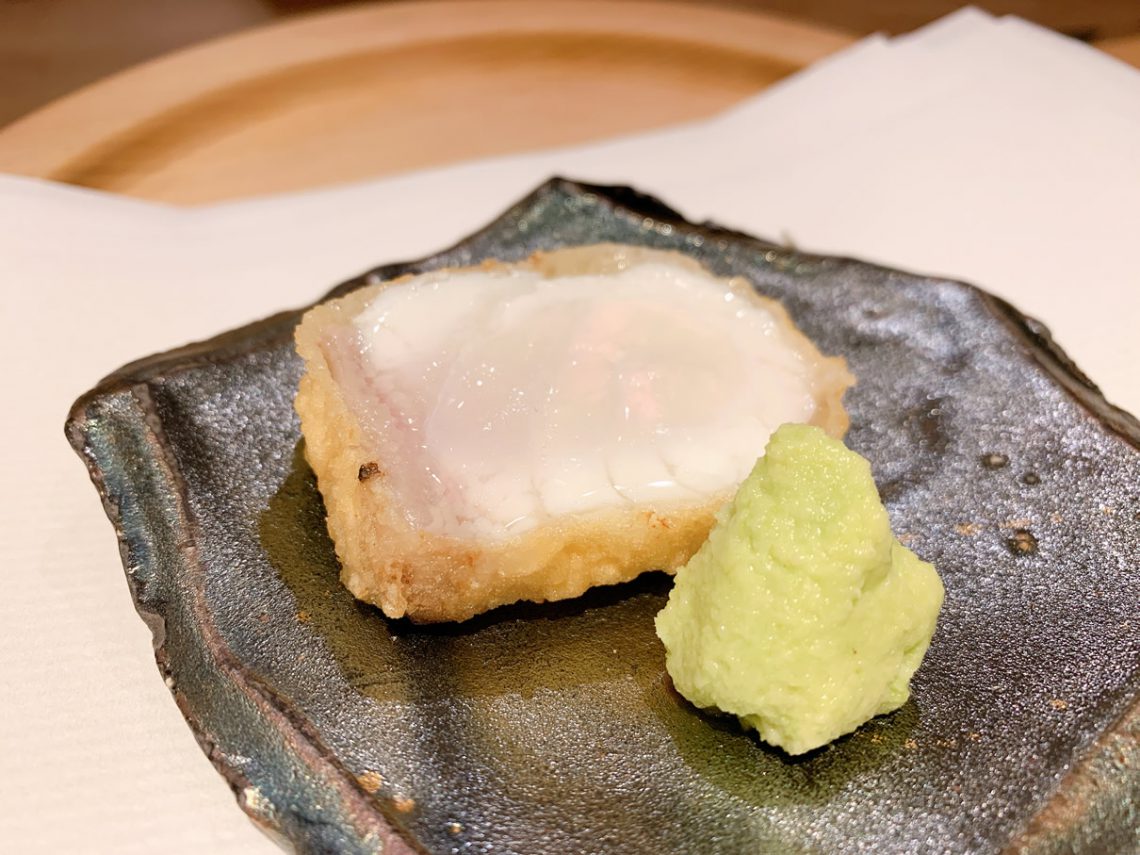 "Kue" (Longtooth grouper, a seasonal fish).
The next two consecutive pictures may look like the same but they are different parts of the same fish. 
The sweetness of the belly and the fat have a superb balance.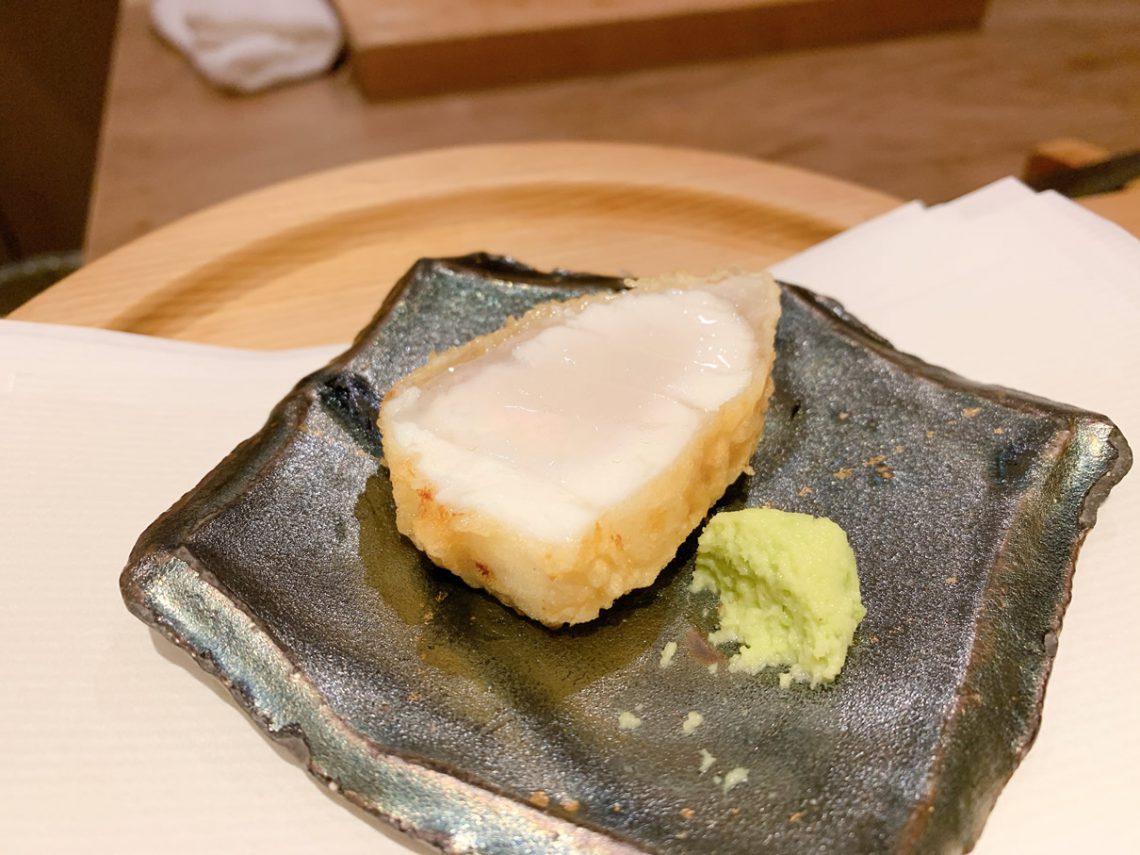 One of the distinctive features of Kue (longtooth grouper)meat is that it has a beautiful lustering surface, even though the meat is quite lean. I think  that because it is Tempura that I was able to taste the difference between the different parts of this fish.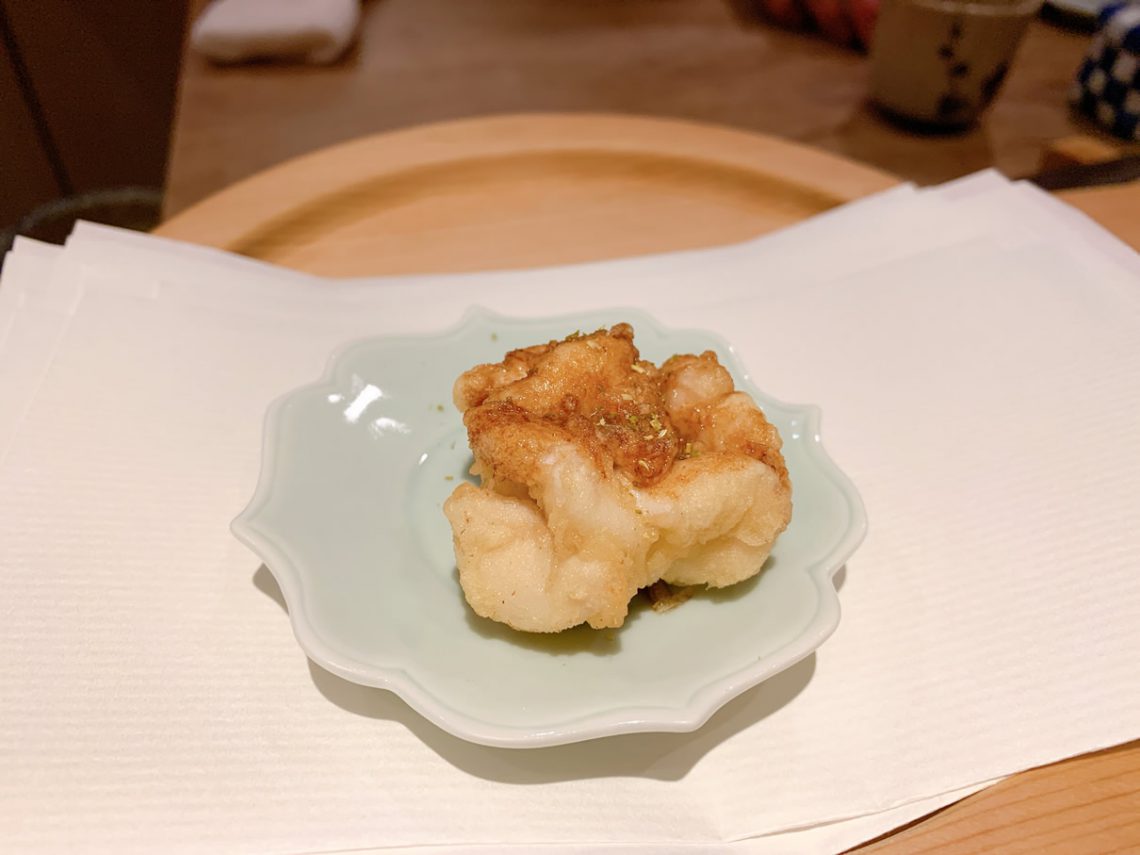 Shirako (milt) 
The sweet creamy taste of Shirako (milt) and the Koromo (batter layer which envelopes the ingredient) have a great balance.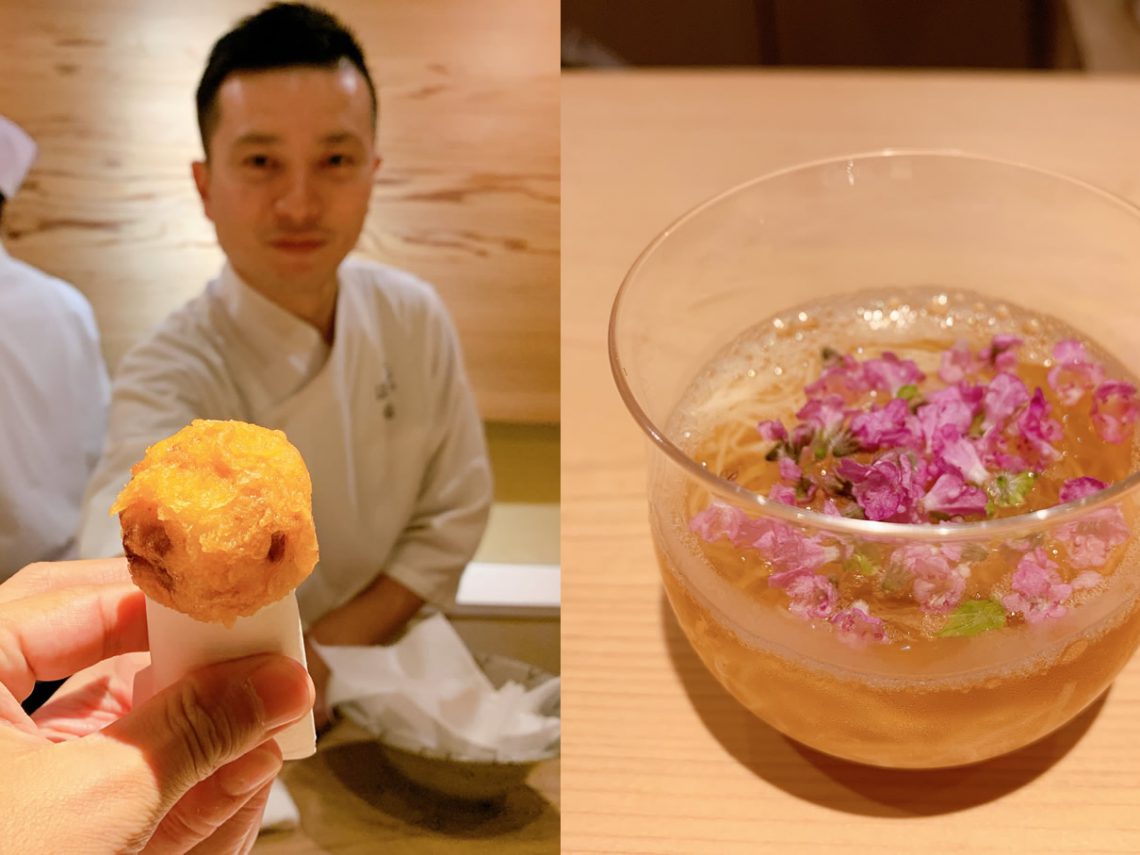 I was happy that the chef handed this one to me personally. This dish was a vegetable that was a deep-fried dish along with a small dish designed to serve as a palate-cleansing dish before the next dish to come. Though some visitors may be a bit surprised by the chef suddenly handing them the a dish by hand, this is quite normal and part of the culture. Chefs adhere to strict codes of cleanliness and hygiene while they work. Gloves are not a good idea, and I would certainly not want to visit any sushi restaurant that had the chef making sushi with gloves on-it is well-known that gloves are unhygienic and are breeding grounds for bacteria. Good chefs also rely on tactile feel to gauge the quality of the ingredients they are working with.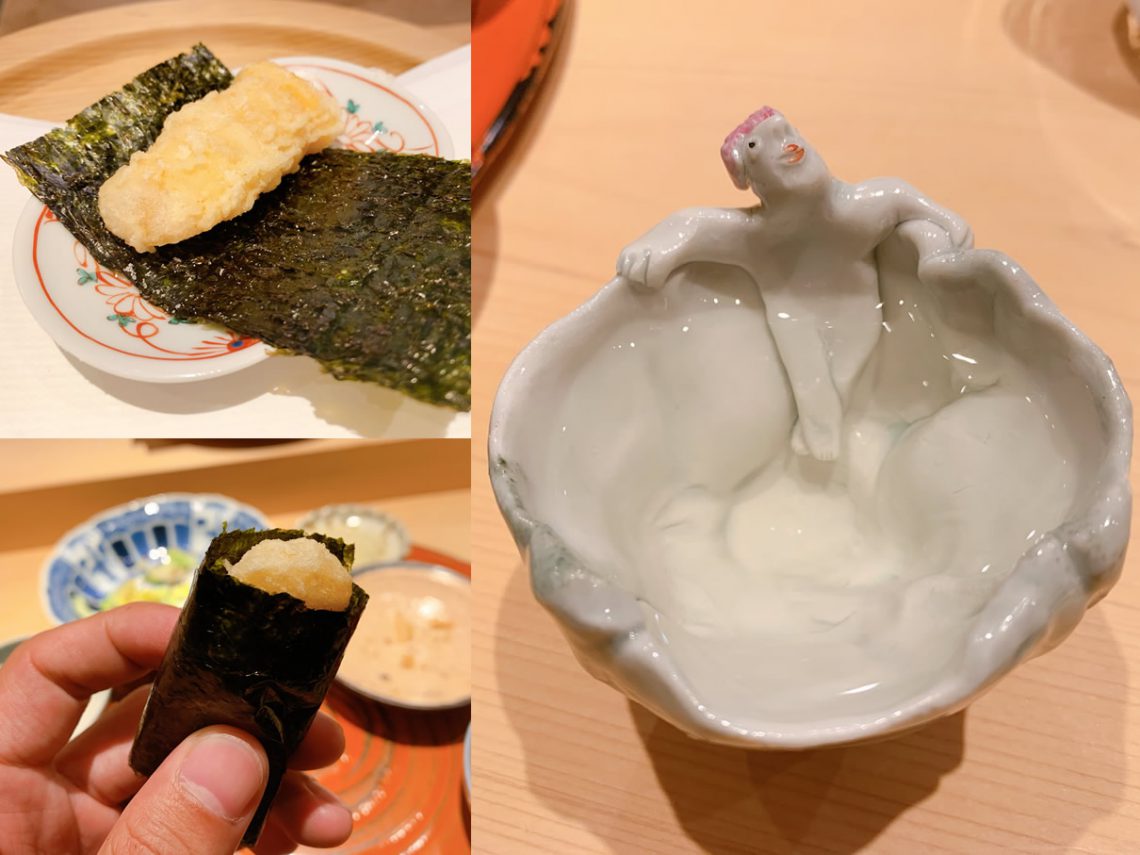 These "Te-maki" or handrolls contained something that seemed very mochi-like (rice cake). This was served with an "ochoko" or sake cup, its design was very interesting. It reminded me of man relaxing at an onsen (hot-spring).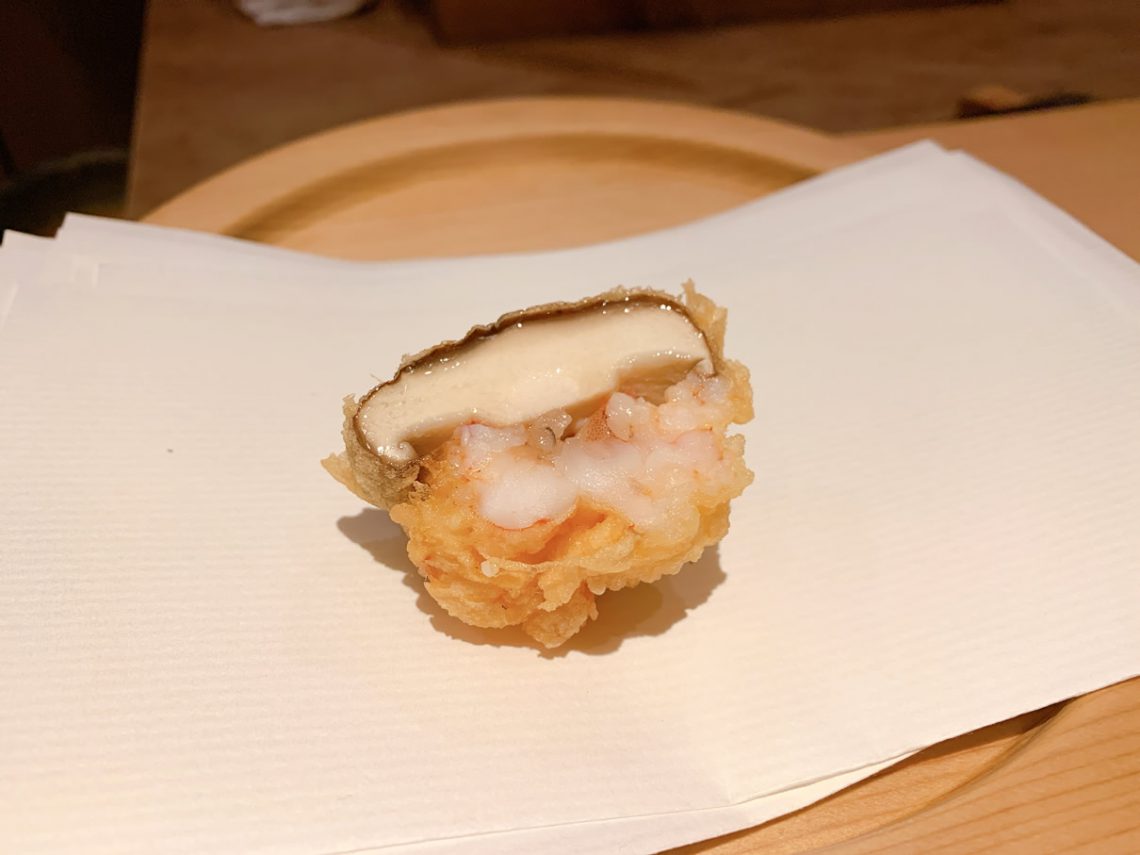 Shiitake Mushrooms and Shrimp Tempura 
This set of shiitake mushrooms and shrimp may be a specialty dish. 
This was really surprising. This dish, which retained the moisture of Shiitake mushrooms and matched very well along with the shrimp, I have never seen anywhere else.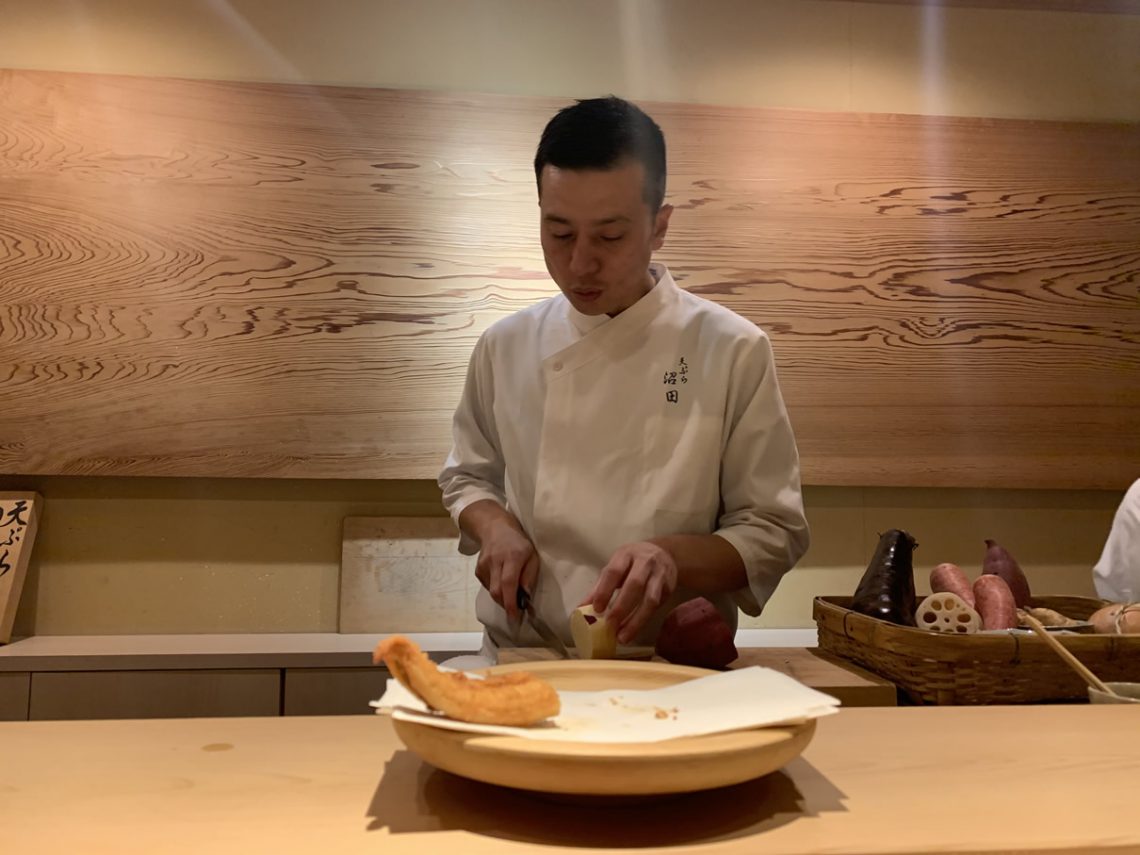 Anago (Conger-eel)  Tempura 
The chef allowed me to take a video of him making this with his permission. I was a bit late and only one piece was remaining when I decided to take it though. This one freshly made, deep-fried right before you, presented and cut right before your eyes. 
The sizzling sound when it was fried and the crackling sound when it was cut, stimulated our appetite. Actually it was so good that I decided to place a separate order more on top of what was already included in the course.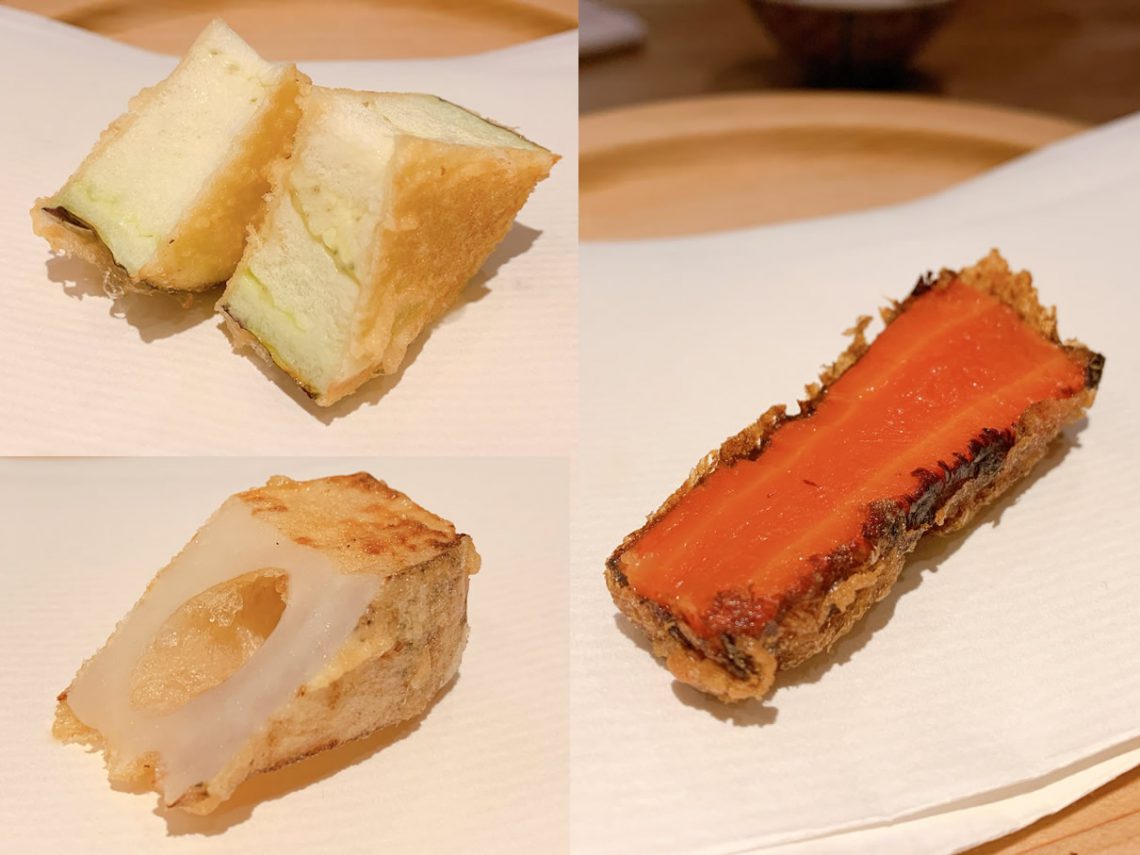 Eggplant, Lotus root, and Carrot Tempura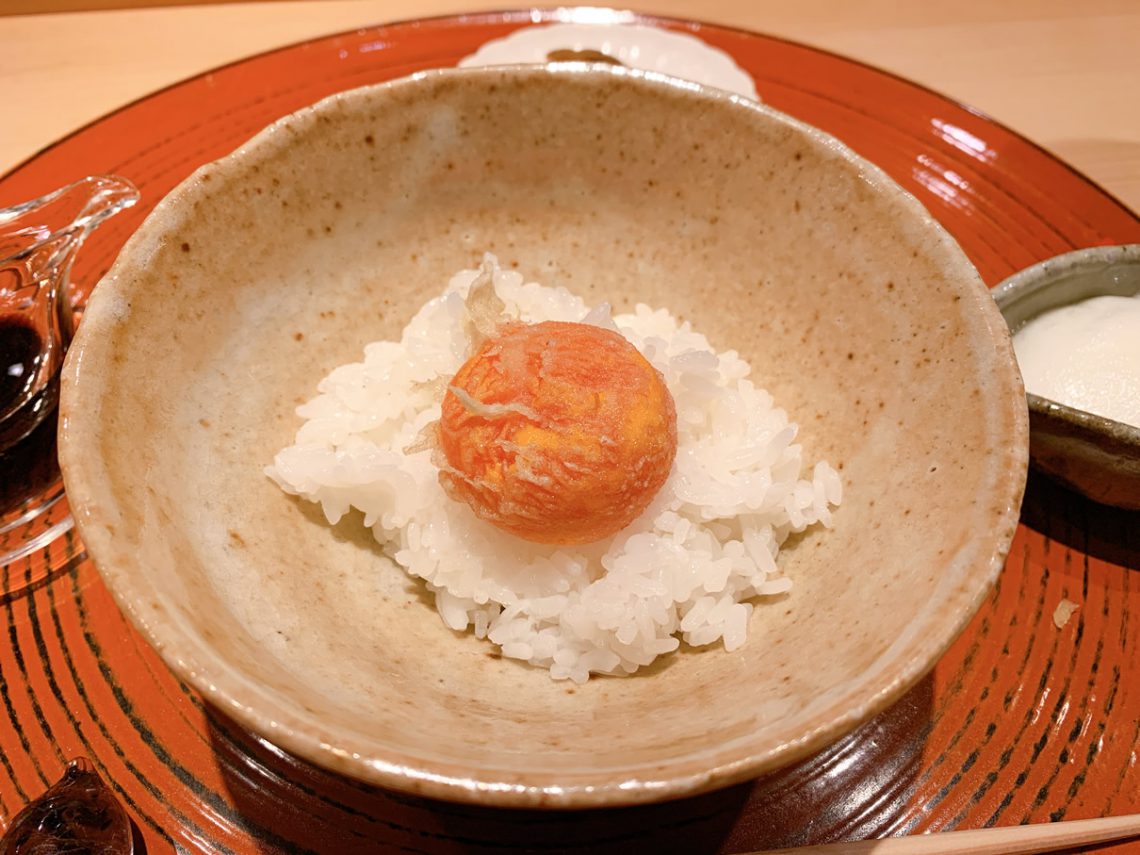 The last rice can be selected from egg-cooked rice, Tencha (Ochazuke), and Tendon, but this egg-cooked rice is the best.
This rice dish is one of the last dishes to finishes the course as is traditional in Kaiseki meals. 
We were able to pick from "tamagokake gohan" (egg on rice),  "Tencha" (tea-rice), and "Ten don" (tempura rice bowl). We decided to go with the tamago kake gohan. This dish that consists of rice with an egg, along with soy sauce and perhaps a few other topopings, is a very simple dish, but this one was probably one of the best Tamago kake gohan dishes I have ever eaten.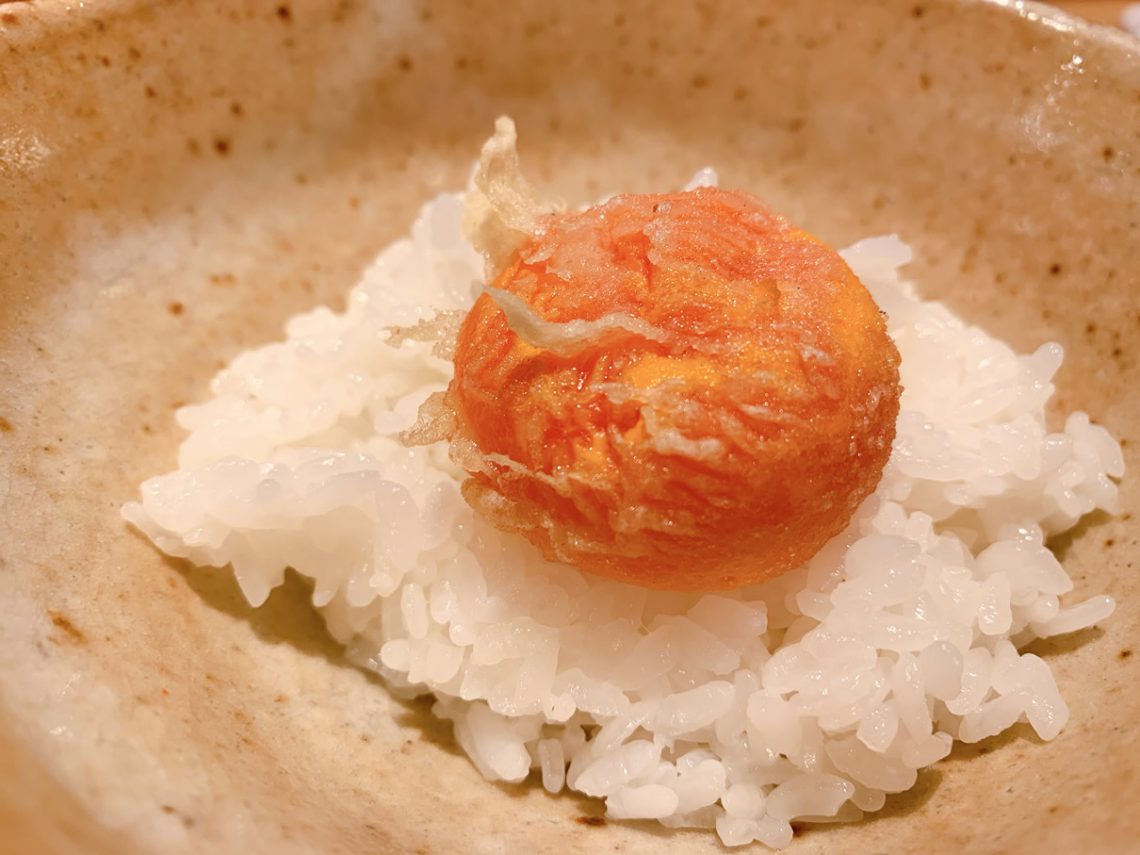 The yolk of the egg was very quickly deep-fried to seal in the umami, and the yolk along with the rice were the perfect complement to each other.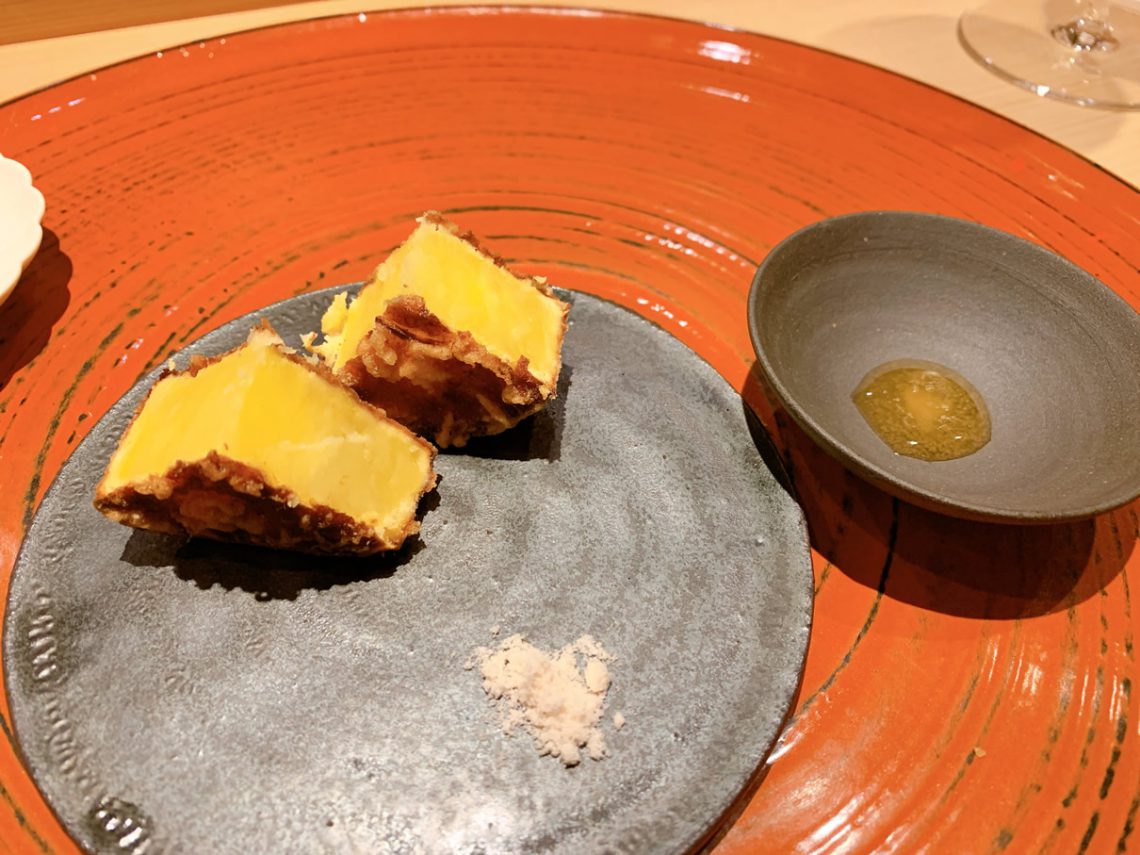 For dessert sweet potato along with honey. A splendid dish.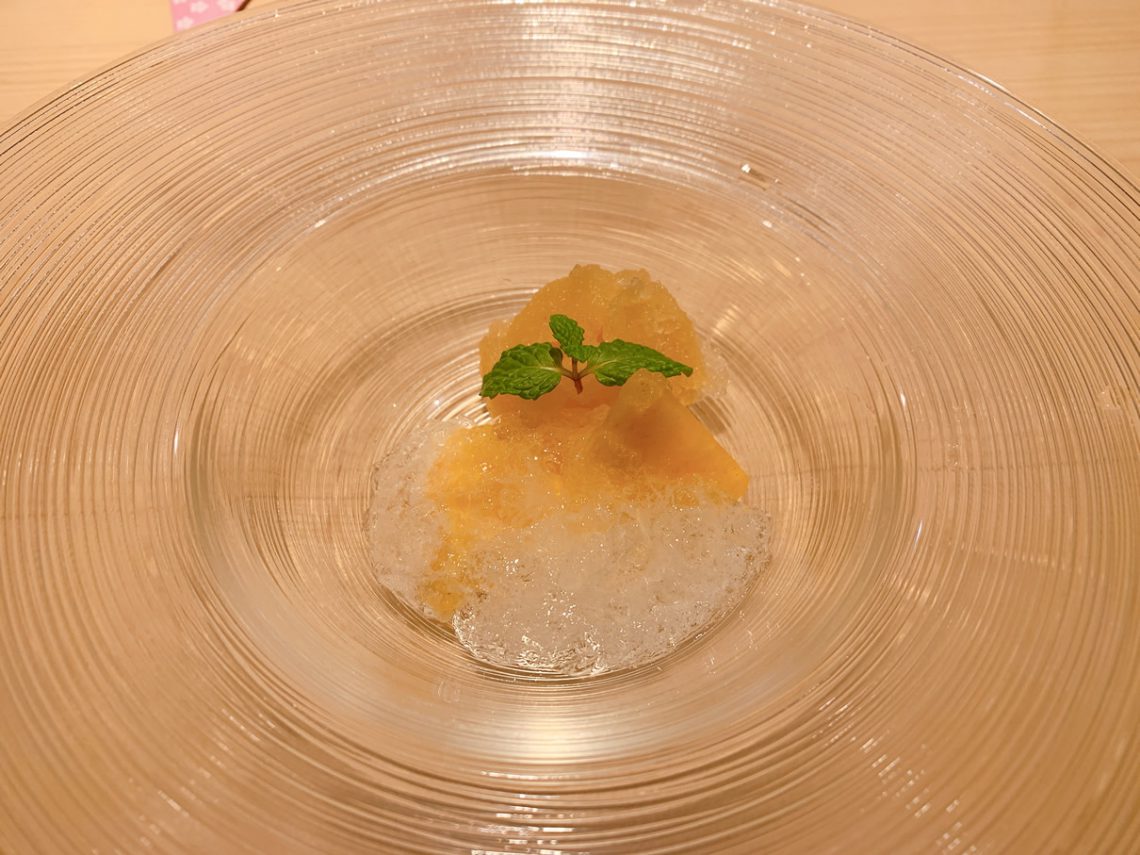 This fruit with ice dish is designed to be a palate-cleansing dish to finish the meal, wonderfully satisfying.  
In Summary
Tempura Numata
Those that visit Tempura Numata will surely wonder why this gem of a restaurant is not listed in the Michelin Guide. However this is likely a good thing, as I would not be too thrilled if it were listed- reservations would likely become extremely difficult to make. However, that being said I still would like others know about how great of a tempura restaurant it is. 
For those that would like to enjoy really delicious tempura, Tempura Numata is a must. It should definitely be on the checklist for everyone visiting Japan, I believe it really is on par with the best tempura restaurants, and I'm confident if you love tempura, you will be sure to love it. 
Restaurant Information
Restaurant: Tempura Numata / Tempura Tenboshi (sister restaurant) 
Restaurant Info: https://myconciergejapan.com/restaurants/tempura-numata/
Reservations: https://myconciergejapan.com/tempura-numata_reservation/
Business hours 
【Numata】
17:30 to 22:30 (2 service rotations)
【Tenboshi】
Lunch; 12:00 to 13:30 (Lunch not available on Mon, Tue, Wed)
Dinner: 17:00 to 22:30 (Last order at 22:00)
Closed Mondays
(Tenboshi: Lunch not available on Mon, Tue, Wed)
Seating 
【Numata】
9 Counter seats

【Tenboshi】
11 Counter seats