Deserving Michelin 3 Star Restaurant, making use of luxury ingredients and special techniques
"Kohaku" located in Kagurazaka, Tokyo, is a Michelin 3-star Japanese restaurant which pursues its originality by using various ingredients from around the world such as truffle and caviar and creating their own innovative  dishes that still carry the heart or essence of Japanese cuisine.
I had very high expectations for our visit at Kohaku, being a very popular restaurant among both Japanese and international guests. Reservations apparently are very difficult to make as everyone wants to get a seat there and many customers makes reservations in advance.
After experiencing the cuisine and the hospitality of the chef/staff,  I have to say that Kohaku that I was surprised as it had surpassed all my high expectations in every aspect.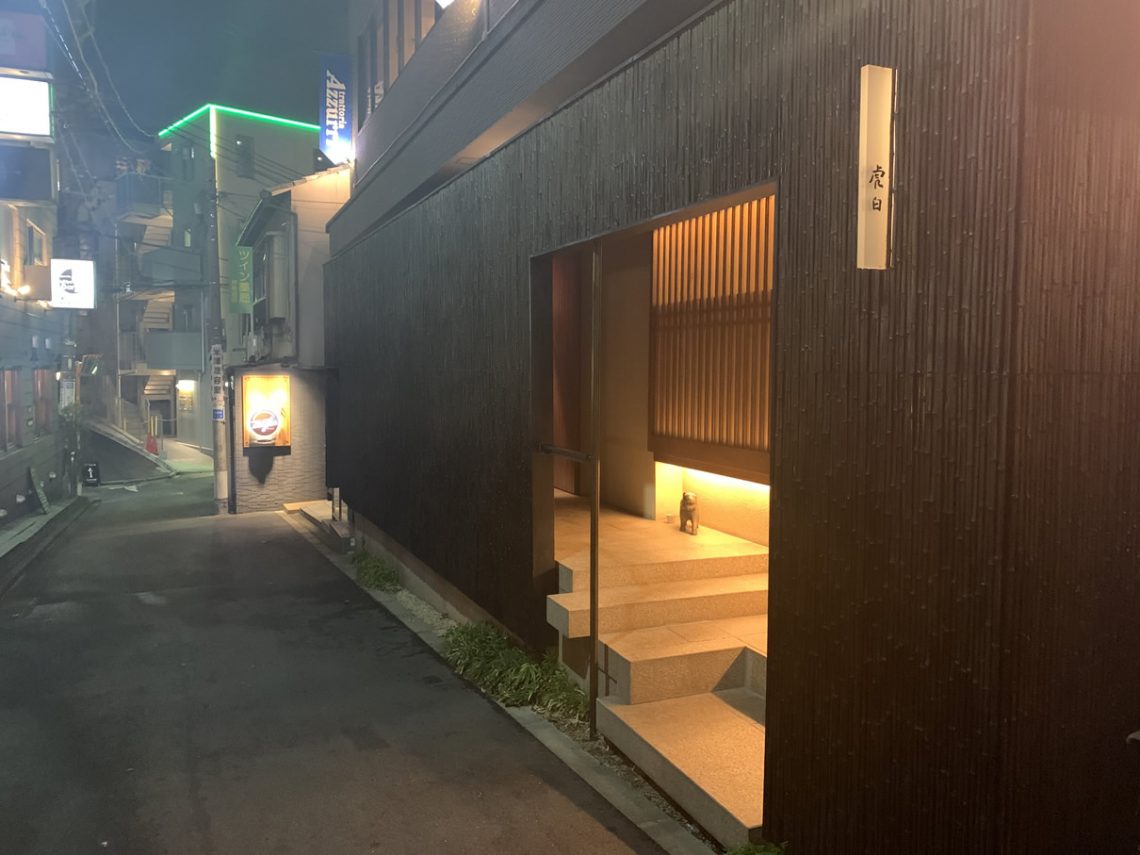 After a short walk up Kagurazaka, we entered an alley and we could see the front entrance of Kohaku.
After walking through a gently illuminated passageway, we opened the door to a warm welcoming atmosphere.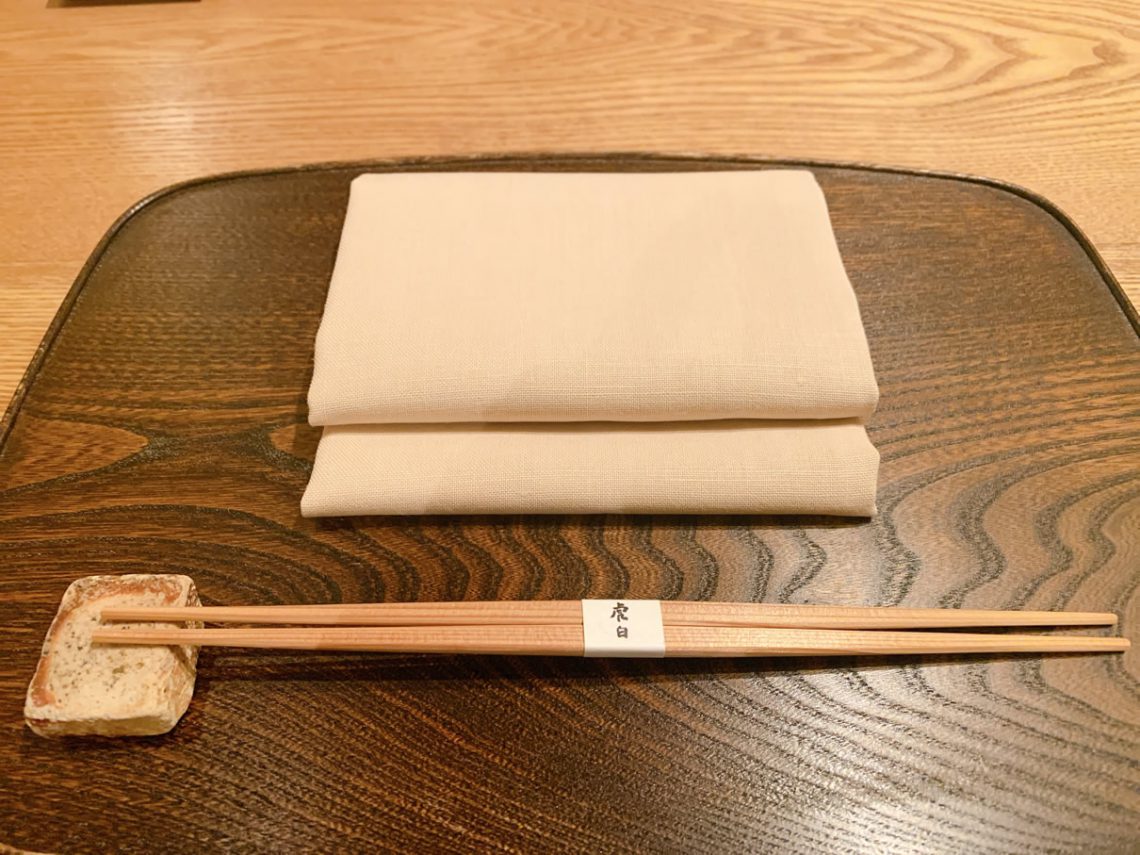 Although we wanted counter seating we secured reservations for table seating for this visit. I thought it would be kind of difficult to talk to the staff, but the chef and hostess came to greet us and it was really nice talking to the chef and staff for a bit, sometimes when our food was brought to our table.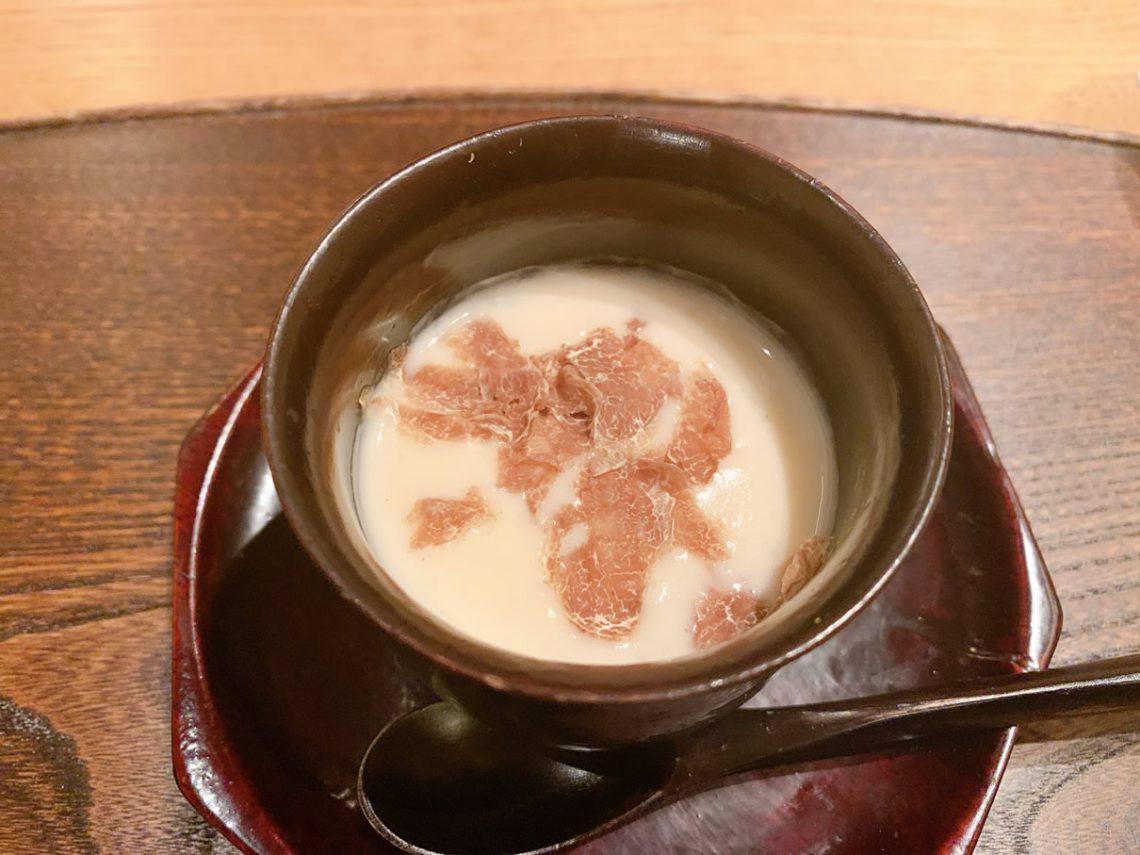 White Truffle Chawanmushi
The chawanmushi served to us was fragrant and warmed our bodies. It contained the delicacy truffles, the particular one served to us was white truffles, which worked outstanding well with the rich savory taste of the chawanmushi. 
About Chawanmushi
Originating from Nagasaki, Chawanmushi  is often translated as a "savory custard" is rarely understood until it is eaten at least once at a reputable restaurant. Chawanmushi started popping up over 300 years ago during the Edo period and although many people unacquainted with chawanmushi and hearing the word custard might envision this as a dessert,  chawanmushi is actually eaten as a dish in a meal, because chawanmushi contains savory rather than sweet ingredients (the "savory" here does not mean "delicious"; it means "not sweet." ) It is a steamed dish — chawan means dish, musu means to steam —its texture is rather pudding-like.  Since egg custard is too difficult to eat with chopsticks, it's one of the few Japanese dishes that is eaten with a spoon.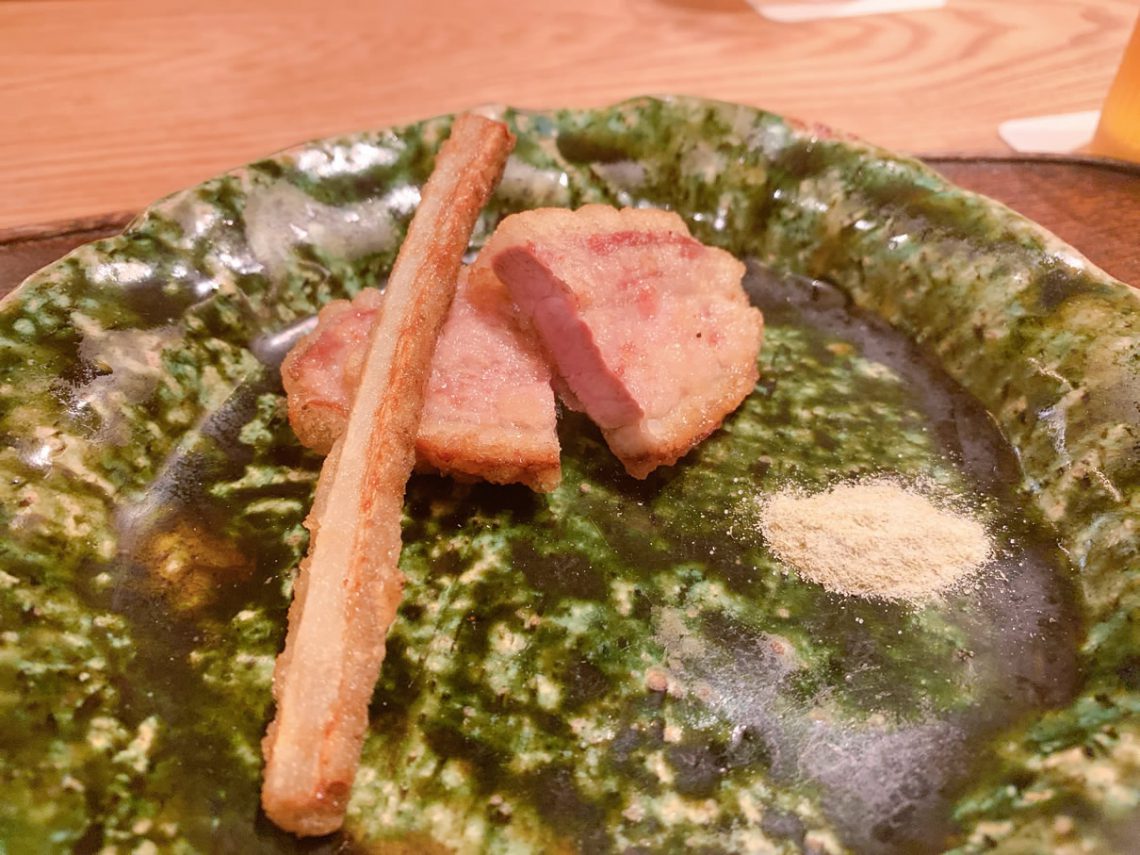 Fried Dish Wild Duck with Burdock Root
The burdock root (gobō ) and duck served in this dish was fried and contained a crispy outer texture. This dish was one that really surprised me. At many kaiseki restaurants, a dish with meat is rather reserved later during one of the main dishes. However, this was a pleasant surprise and worked quite well after the chawanmushi we had just consumed.
Story about Burdock Root 
As for the burdock root, it may be unknown to many outside Japan or those in the West, however this root vegetable has an interesting crispy texture and was introduced to Japan around 1,000 years ago via China. Although used originally for medicinal purposes, it has plenty of fiber and other alleged health benefits. An interesting story is that POWs held by the Japanese were given burdock root to eat, which they mistook for tree roots and interpreted as an act of cruelty. However, this story is explained in a book on the war crimes trials (Hiroku Tokyo Saiban) by Ichiro Kiyose. Apparently, the prisoners couldn't understand what the unfamiliar gobō was. Given a literal translation of the two characters, they thought that the guards were trying to mess with them by telling them it was "ox tail" (a mistranslation) when it was actually just a root vegetable. The prisoners also reportedly claimed cruel treatment by being give "rotten beans" which was just natto, fermented beans that are normally eaten by many people in Japan. So while this issue did come up in the war crime trials it was found to be the result of misunderstanding rather than a crime.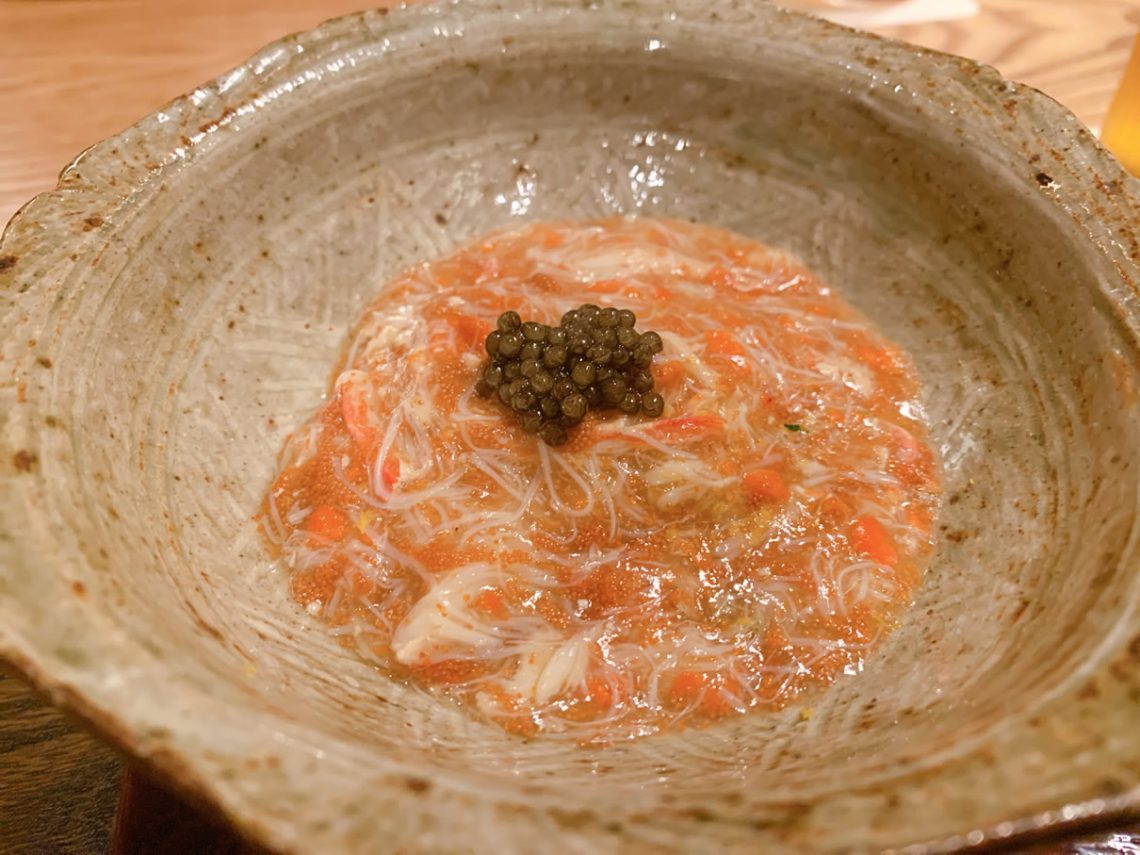 Seiko Crab (Snow Crab) Caviar 
Seiko Crab is a type of Snow crab, and a seasonal dish served in winter (particular early winter) . This dish contained the creative idea to add the delicacy caviar to snow crab, something I have never seen before. 
The snow crab is caught in the coldest waters in the Sea of Japan, primarily on the west coast of Japan (as far north as Hokkaido, and as far south as Tottori Prefecture), where fishing season for the snow crab opens around November, and harvesting continues until around March of the following year.
The Japanese snow crab is loaded with concentrated "umami" (savory taste) that crab-lovers crave, and appeals to the palate with a distinctly sweet flavor note.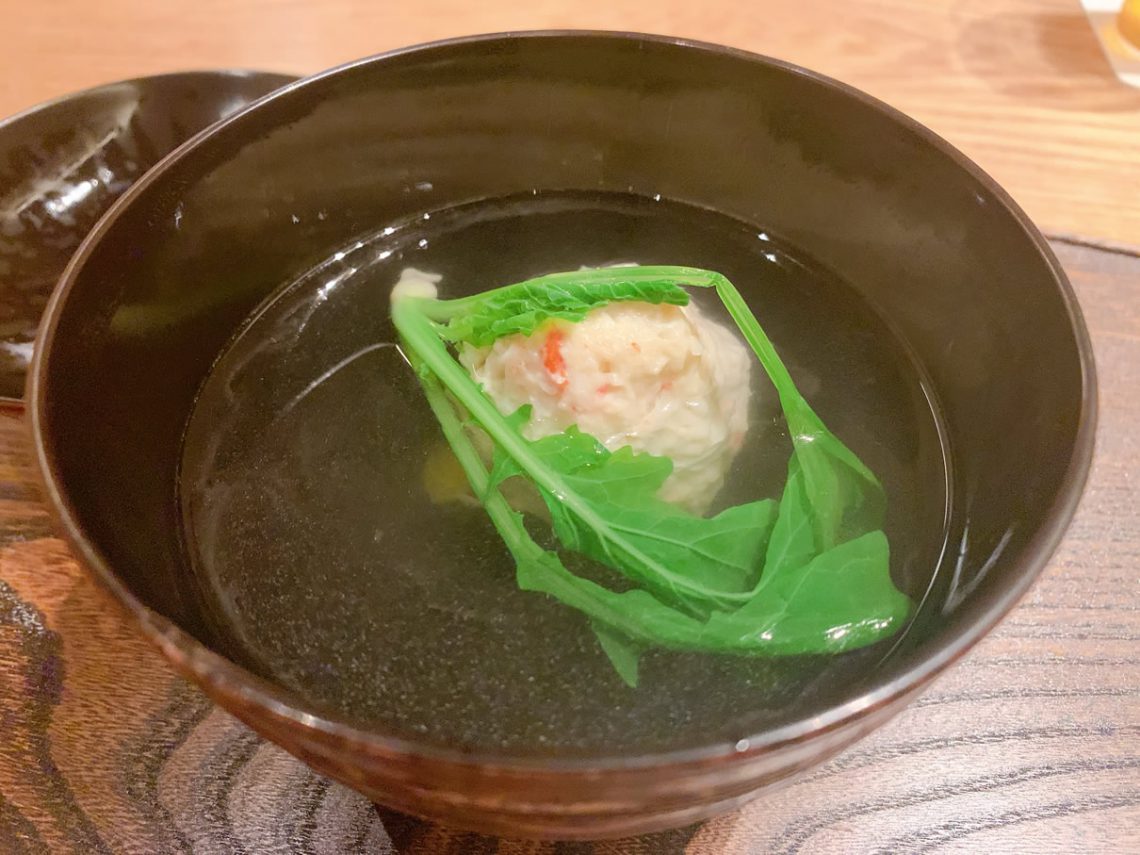 Matsuba Crab Soup with Fritter 
Matsuba is another type of snow crab and a highly sought-after delicacy. In 2019, a Matsuba snow crab was auctioned off in Tottori, Japan for a whopping 5 million yen (over $46,000) . It's the highest-ever price paid for a snow crab at an auction.
This fritter in this dish was entirely made of crab, and was very good, quite light tasting and the taste balanced very well with the soup.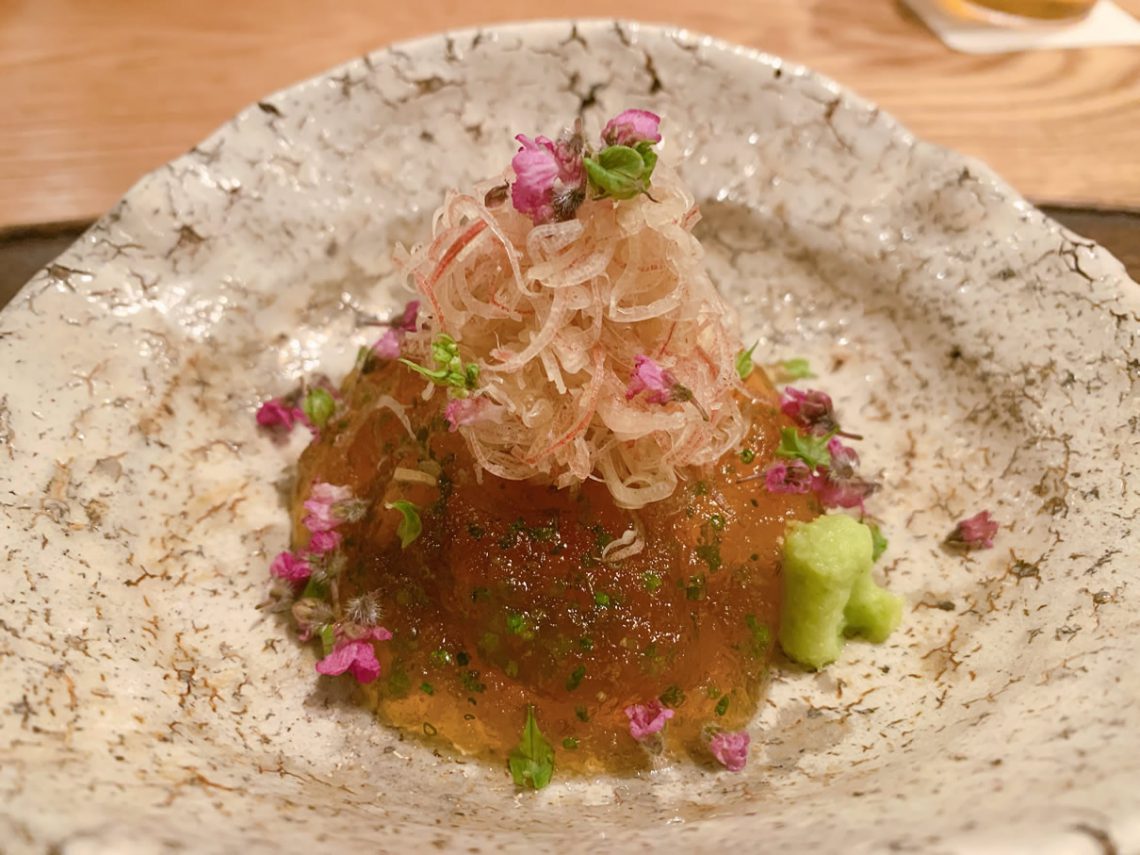 Fugu (Blowfish / Pufferfish) Liver 
Fugu, the fabled poisonous blowfish/puffer fish, still manages to scare a lot of people off from even trying its fabulous taste. However it is perfectly safe to eat. This fish is a seasonal fish that is eaten in winter. 
History and Story of Fugu
In Japan, fugu remains have been found dating back to the Jōmon period (ca. 10,000 BC–300 BC) . In the mid-1500's, Usuki daimyo Otomo Sorin sent his samurai out to fight neighboring clans. But fate wasn't on his side – he lost his castle to the enemy. Help came eventually from Shogun Toyotomi Hideyoshi who in his conquests to unify Japan, sided with Sorin and with his help brought the various southern daimyo (feudal lords) under his rule. Having conquered all of Western Japan, Hideyoshi set out to take over Korea. Now, that's were the fugu comes in. Many of his soldiers were from the mountains and didn't know much about fishing. While waiting for more troops to arrive in Shimonoseki, the starting point of his conquest, they had a bit too much time on their hands and saw the locals catching fish and thought that they could do it too. They soldiers caught a lot of fugu and cut them up with their unskilled hands, puncturing the poisonous inner organs. The death toll was devastating to his army. Fearing that his expedition might end before it even started, Hideyoshi was infuriated and declared fugu prohibited.
However, people on the southern shores of Japan had figured out and had always known how to enjoy the poisonous fish long before Hideyoshi's war and they continued to prepare it – though serving fugu had become strictly an underground business.
In 1888, then Japanese prime minister Hirobumi Ito spent some time on government business in Shimonoseki, staying at a private guest house. The waves where high right after a typhoon and no fisherman wanted to go to sea. "Sorry, we can only serve dried fish," the guest house couple told the mighty statesman. Ito being Ito, the strong character who later managed to accomplish what Hideyoshi had failed to do by bringing Korea under Japan's thumb, he demanded fresh fish, no matter what.
He got his fresh fish – an especially tasty fish for that matter, a fish he had never tasted before. Asking for the name of the fish after the meal, the guest house owners reluctantly admitted, that the fish was actually the prohibited fugu. Having not only survived the meal without harm but greatly enjoyed it, Ito got the law changed: fugu was made legal again. First only in Yamaguchi Prefecture, where Shimonoseki is located, later the other prefectures followed. Today, there are now strict regulations that require chefs that prepare fugu, have a license. In addition, fugu caught from the sea are more dangerous due to the bacteria that has built up in the fish, fugu served at luxury restaurants today come from farms that raise fugu in a controlled environment making this fish very safe to eat.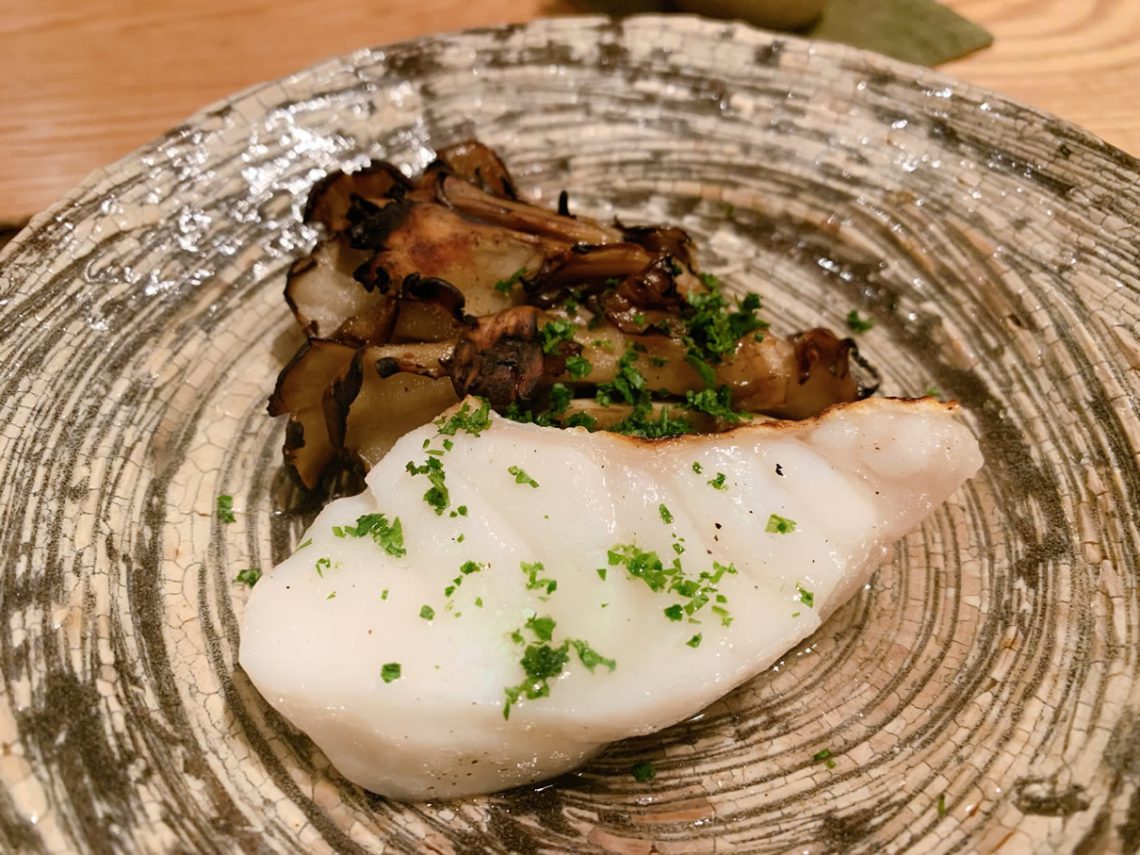 Charcoal Grilled "Kue" (longtooth grouper) and Maitake Mushroom (Hen of the Woods Mushroom)
The fat on the Kue or longtooth grouper was very nice and subtle, the aroma of the mushroom was nicely enhanced by the charcoal grill. 
Kue (Longtooth grouper): This fish can actually be more expensive than tuna (per pound). It has a light pink color to its flesh and is famed for its rich flavour,
Maitake Mushroom (Hen of the Woods Mushroom): Though some may know this mushroom as "hen of the woods", in Japan, this mushroom is known as maitake. Literally translating to "dancing mushroom," this healthy fungal delicacy can be found in Japanese hardwood forests. The white, tough base grows into numerous feathery leaves – those can simply be pulled apart once removed from the stem, no knife is even necessary. Maitake have a strong flavor for a mushroom, a rich in an earthy, spicy flavor that makes them a nice choice for sautéing.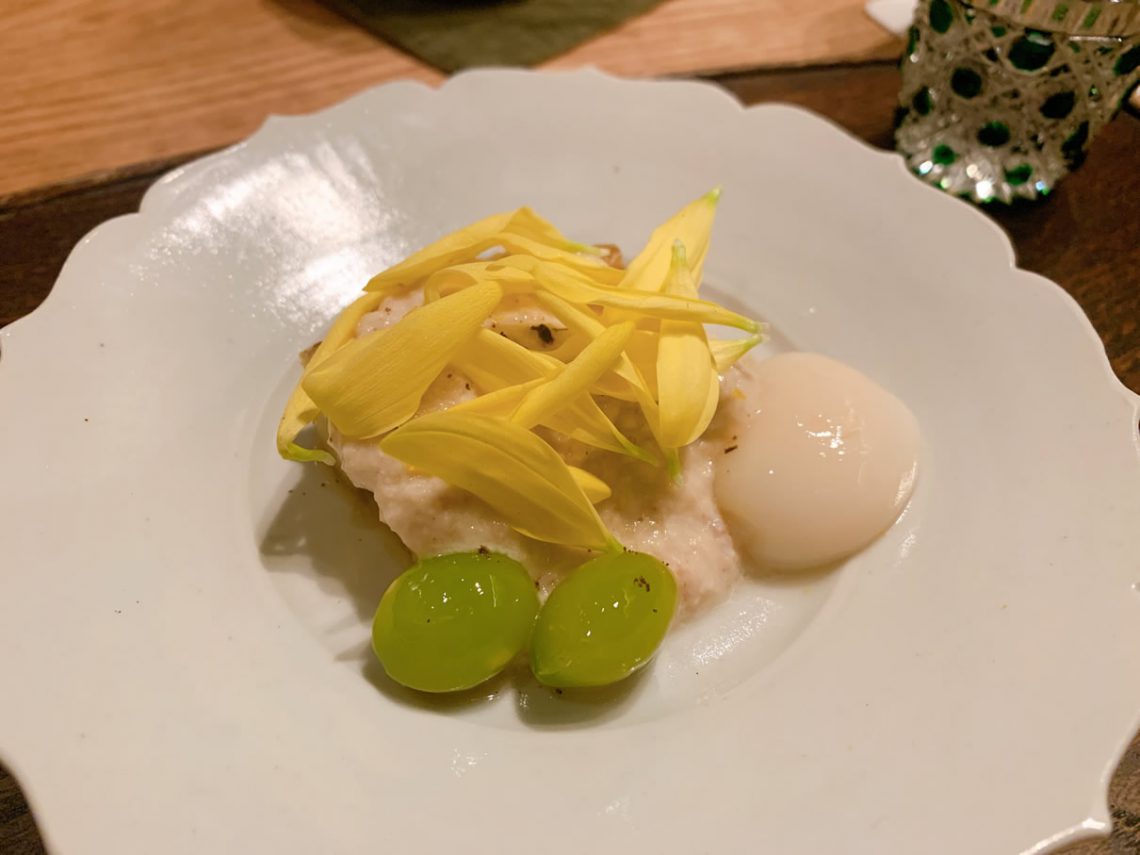 Eggplant
"Shirako" (Fish milt)
Eggs
"Ginnan"(Gingko nut)
Each ingredient seemed random, but all the ingredients, especially Shirako and Eggplant, created a great synergy when tasted together. And the Ginnan on the side was a perfect something to nibble on with some alcohol.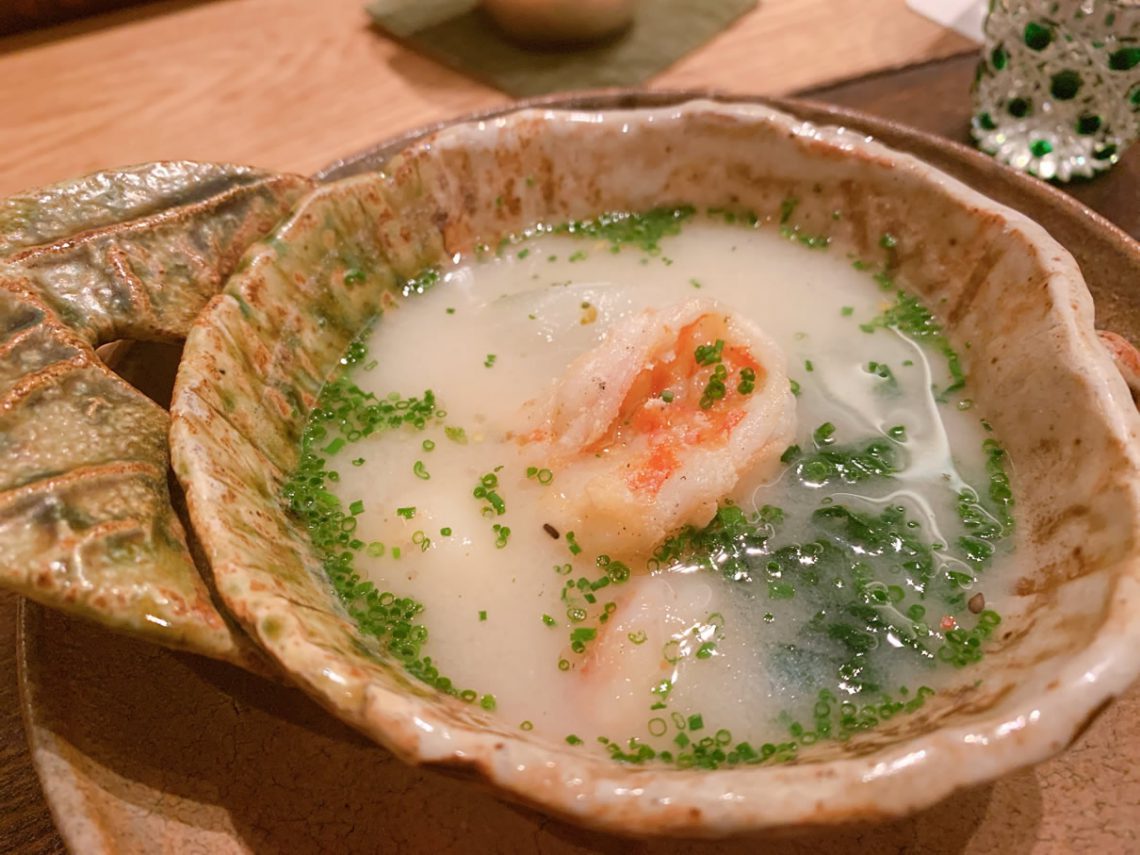 Prawn miso soup
The exquisite balance between the gentle sweet Umami from the prawn and the flavor of white miso was amazing about this dish, which is one of the newly created dishes by the head chef.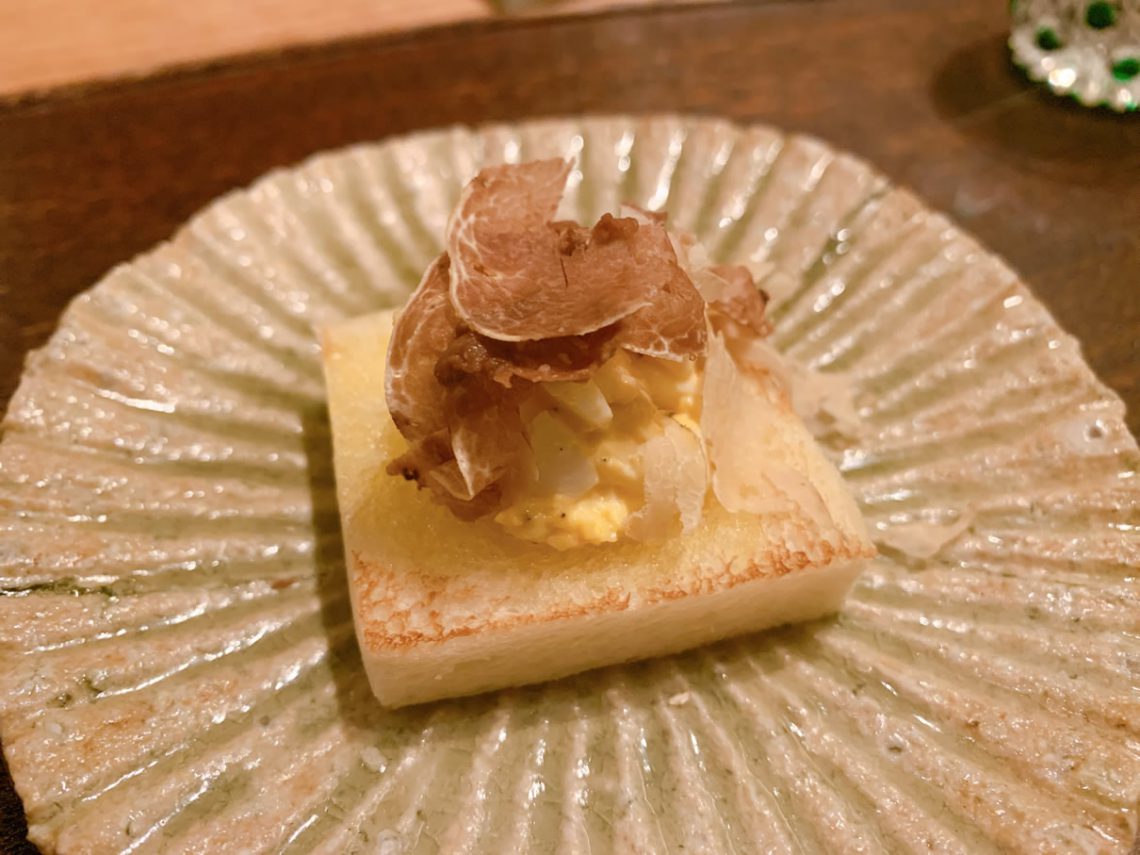 Bread and egg with white truffle on top
A dish with a western touch. With the fluffy bread enhancing the flavor of truffle and egg,  it felt somewhat like a luxurious afternoon snack.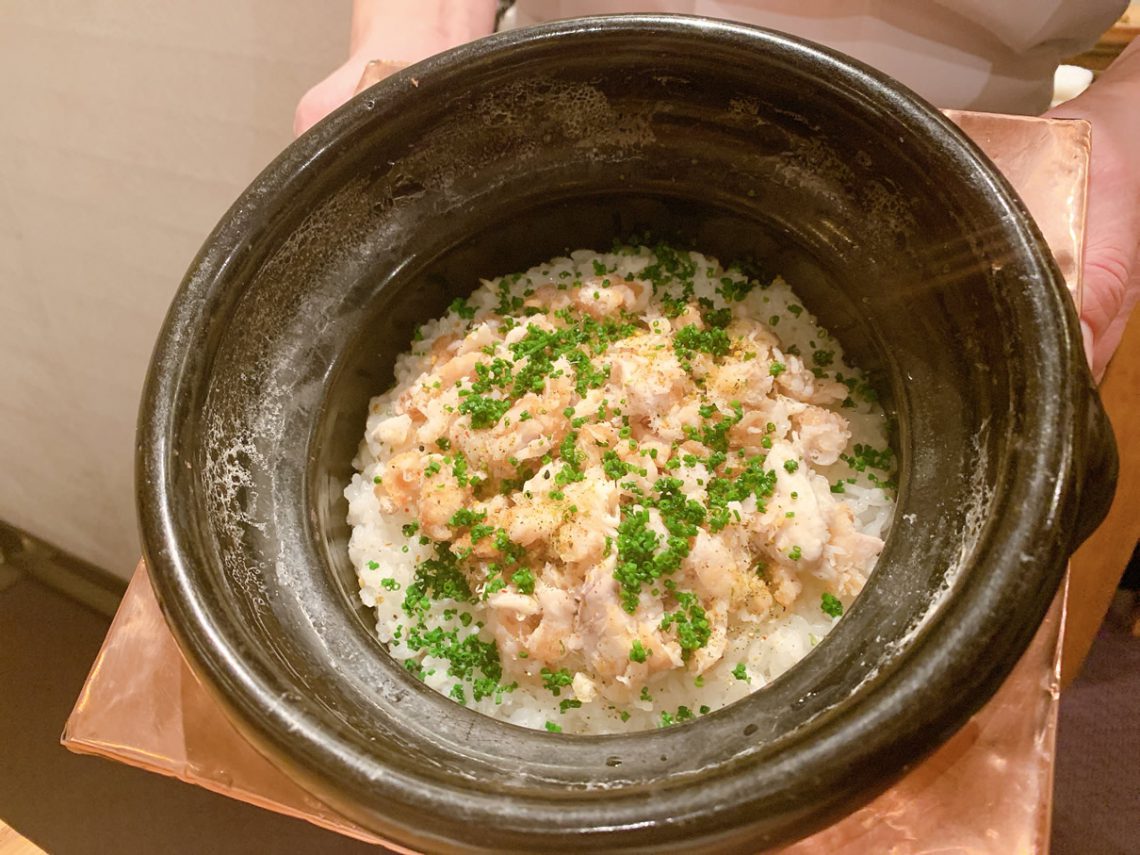 Tai Gohan (rice cooked together with red snapper)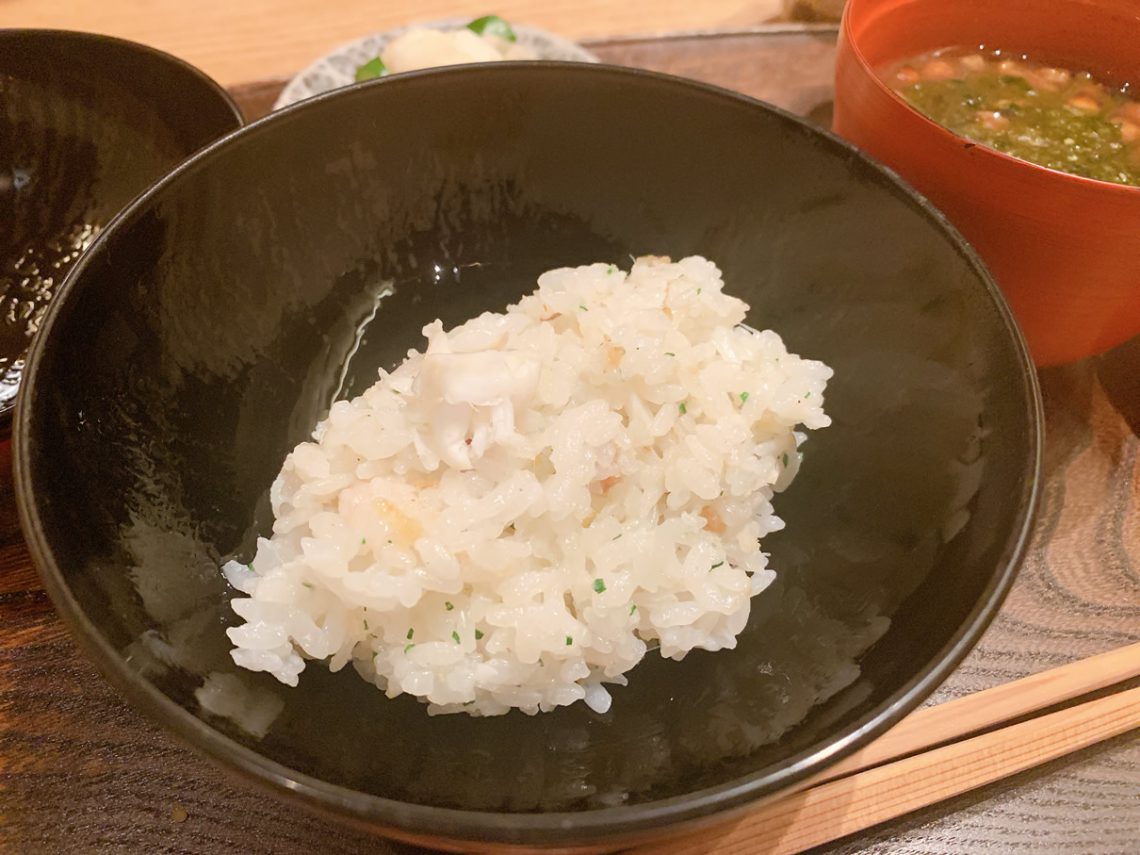 The gentle flavor made me have seconds and thirds, making it the perfect dish to finish the course.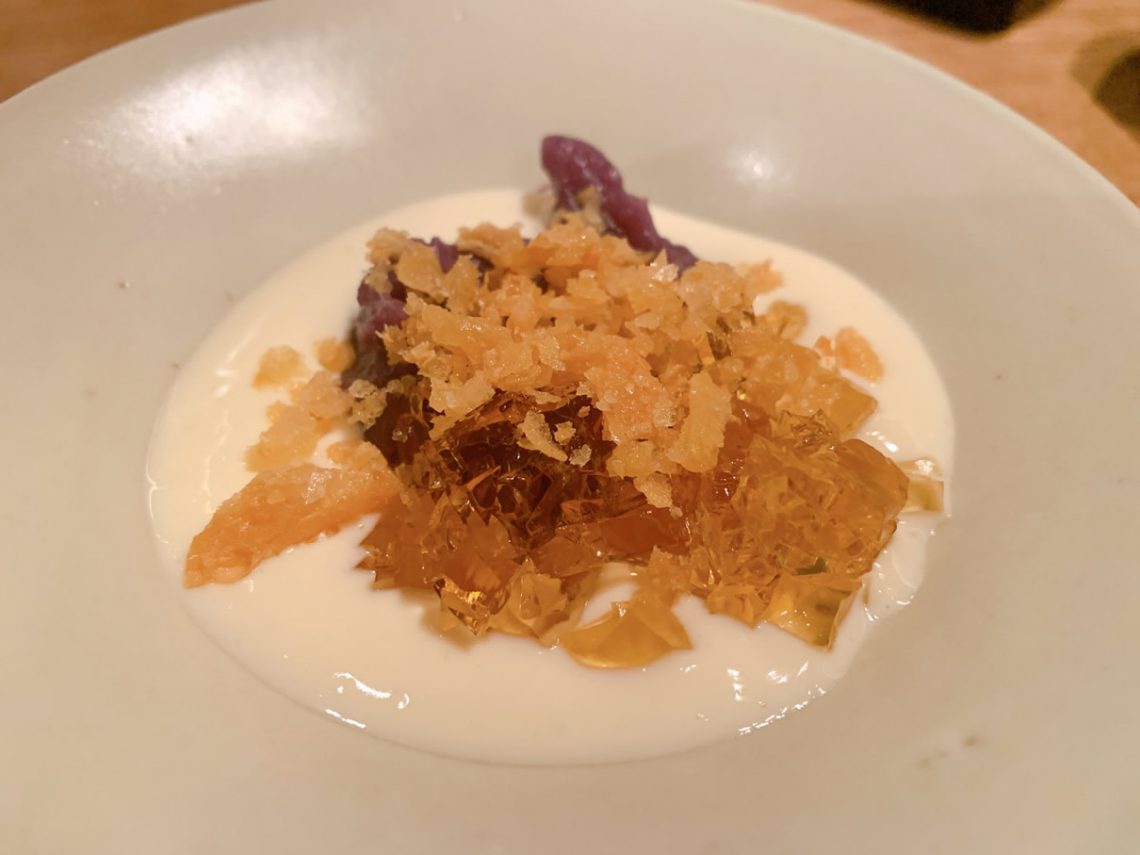 Lastly, an assortment of desserts.
Cheese, Murasakiimo(Special type of sweet potato that is purple inside), Yuba(Tofu skin)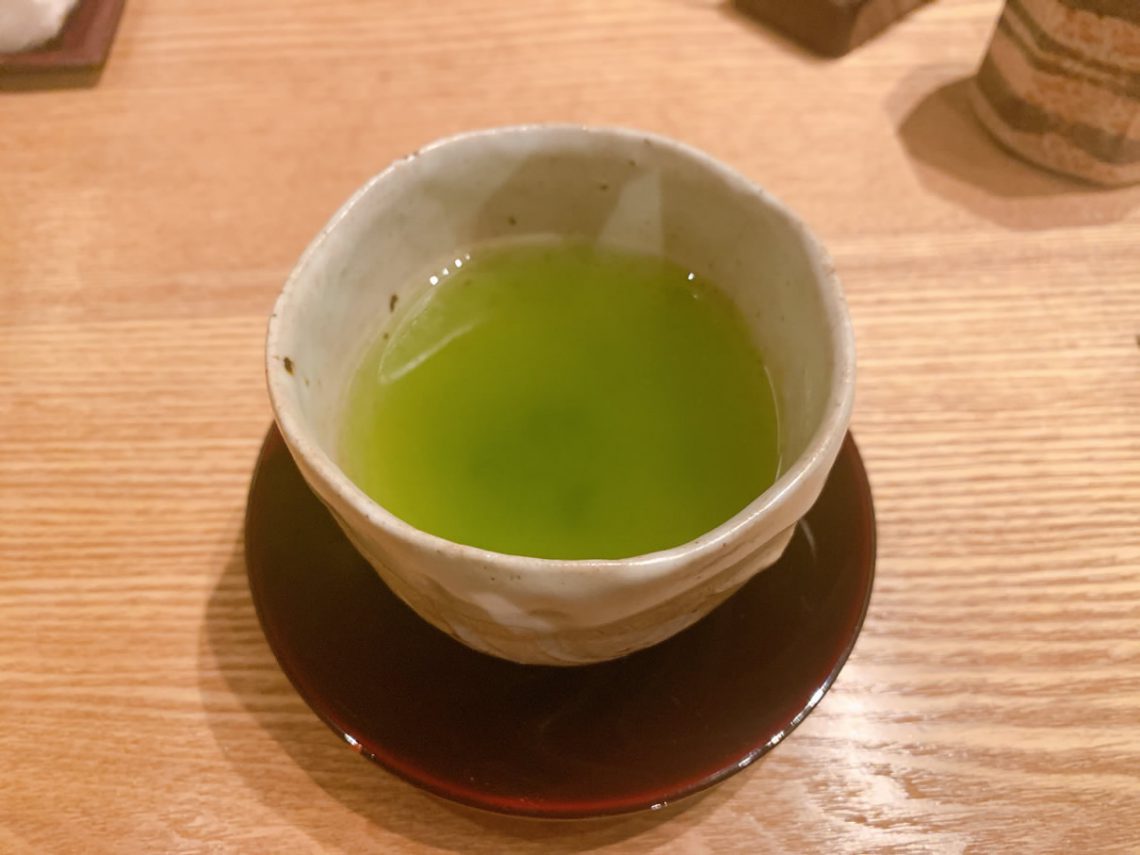 I had some tea after the dessert, while thinking over the various cuisines I had just enjoyed.
Summary
Each and every one of the cuisines had its own individual form of impact, but also created a kind of symphony as a whole. I was a bit worried that it would be too much food for me, but the amount of food was perfect, I was able to get my fill, without being too full. While Kohaku is much different from the traditional restaurants in Osaka and Kyoto, Kohaku has its own creativity and spectacular techniques which stand out. 
Another thing about the restaurant that was great, was that the staff were great, very friendly and allowed me and my group to have an awesome time. A restaurant you definitely would want to go back to throughout the year, however reservations are very difficult to make due to its popularity, therefore we recommend making reservations in advance. We were very happy with the experience at the table seating, definitely worth the paying a visit, even if you are unable to get a seat at the counter. 
Restaurant Info
Kohaku (Michelin 3 Star Japanese Restaurant) 
Restaurant Info: https://myconciergejapan.com/restaurants/kohaku/
Restaurant Reservations: https://myconciergejapan.com/kohaku_reservation
1F, 3-4 Kagurazaka, Shinjuku-ku, Tokyo
Open 5:30 p.m. to 10:30 p.m. or closing
Closed on Sundays and National Holidays 
Seating 
[Counter]  6 seats
[Table Seating ] 3 Table Seats Seating Max. 4 guests each 
         1 Table seating Max. 6 guests.  
・3-minute walk from Iidabashi Station on the Tokyo Metro Subway Yurakucho Line or Namboku Line
4-minute walk from the West exit of JR Chūō Line(Stop at every station)Iidabashi Station
A 6-minute walk from Ushigome Kagurazaka Station on the Toei Oedo Line
・8 minutes walk from Iidabashi Station on the Tokyo Metro Tozai Line